PROVINCETOWN – In the 1950s, 1960s, and 1970s, "surf fishing was king here on Cape Cod," said Paul Newmier, manager of Blackbeard's Bait & Tackle in Eastham. "People came from all over the country to go surf fishing here."
In something hard to imagine and yet true, the last bait & tackle store in the surfcasting mecca of water-surrounded Provincetown, Nelson's Bait & Tackle, closed late this summer.
"Surf fishing has basically disappeared," said Newmier. "My store is the last one on the Outer Cape."
As yet another sign of the changes occurring on the Outer Cape, Blackbeard's is now the only bait & tackle store in the 26-mile stretch of what was once prime surf fishing from Provincetown to Orleans.
"Surf fishing has basically disappeared"
Rich Wood, who owned Nelson's for the last 11 years, said, "We make our money in July and August. You know halfway through July what's going to happen, Well, halfway through July, I was double digits minus what was I was last year, which was worse than all previous years. It was trending even worse."
So he (pardon the pun) cut bait.
"This is a retirement part-time type of gig," said Wood of a bait & tackle shop. "This is not a year-round profession raise-a-family type-of-thing." Wood also owns Beth Ann Charters, which is successful, he said.
Wood said, "When we started, there was a shop in every town from here to Orleans. There were two in Wellfleet that were seasonal shops."
"Five or six years ago, I bought the guys out in Truro," said Wood. "They called it quits."
"I ran (the Truro store) for three years. The first year, we made a little money. The second year, we made a little money. The third year, we lost all the money we made the first two years," said Wood.
"To me, it wasn't worth it so I shut the shop down," he said. "Then the two shops in Wellfleet shut down, and the revenues (at Nelson's) continued to go down."
Now, other than Blackbeard's, the next option is Goose Hummock in Orleans, said Wood. "They're a year-round sporting goods store," he said. In other words, they don't focus on bait and tackle.
The biggest competition, said Wood, is from the Internet. "There's a lot of Internet sales of fishing tackle," he said. "The only thing you can't buy on the Internet is fresh or frozen bait, and local knowledge about what is going on, where the fishing is good."
But, Wood said, competition is not the main thing knocking Outer Cape bait stores out of business.
Put simply, Wood said Outer Cape surf fishing is not as good as it used to be.
"There's two types…," said Wood. "If you go to the Cape Cod Canal, you're going to run into fishermen who are serious and spend a lot of money on rod and reels. That type of fisherman hasn't been coming to the Outer Cape for years."
"What we get now are families that go to the beach to catch fish for fun. The hard-core fishermen will buy a rod and reel that costs $500. I could sell combos that sell from $49 to $89," said Wood.

Cause & Effect or… Two Sides To Every Story
"If I had to list the reasons that fishing in Provincetown and on the Outer Cape has diminished, I lay it squarely at the feet of the National Seashore and their restrictions on access," said Wood.
In June 2015, Cape Cod Wave did a story on those restrictions:
T
his is the other side of the story.
Chuck Leigh, owner of Truro Real Estate, said he has been fishing the Outer Cape for 65 years. "I'm originally from Coney Island, New York. I grew up surrounded by water, and I started fishing the Cape when I was 16," he said.
Leigh said there were no regulations during his earliest days of fishing the Cape, before the National Seashore was created. "It was free and it was wild and it was perfect," he said. "When I got my own dune buggy, I'd ride out in the dunes and just explore."
There is a certain mist of nostalgia to this story. "One of the greatest things I loved about fishing prior to the arrival of the National Seashore was the solitude," said Leigh. "But with the arrival of the National Seashore, it started drawing people. It drew crowds. Not long after that, there were regulations on beach driving."
"It was free and it was wild and it was perfect," he said. "When I got my own dune buggy, I'd ride out in the dunes and just explore."
Newmier remembers that "September and October were the busiest months on the Outer Cape. Every other car coming on the Cape was going fishing." After the peak of the 1950s through the 1970s, "the blizzard of '78 shut down some of the beaches."
"From Eastham, you used to be able to drive to Race Point," said Newmier. "You used to be able to drive onto Lecount (Hollow Beach). You used to be able to drive onto a lot of those places. That kind of went away, that period of time," he said.
"And then they discovered the piping plover," he said, "and they started shutting all the beaches down."
While not all the beaches are shut down, the point is well taken. For most of the prime weeks of summer, a large portion of the seashore is closed to off-shore vehicles because the endangered bird nests there.
It is not just fishermen who lost out, said Wood. "People used to pile two or three kids into the back of their vehicle and drive out on the beach, stop and empty all their stuff out on the sand and have a great day on the sand," he said.
"When people don't have the ability to go out on the beach and the sand, and you have to go to a parking lot to go on the sand, you are missing something," said Wood.
As to the possibility of walking to enjoy the beach, Newmier asked, "Have you been to the Outer Cape? Do you know how big it is?"
If the fish are biting 1/2 mile or more down the beach, the chase can become un-manageable. And there are times and narrow spots on beaches where even walking past roped-off plover nests is difficult to impossible.
"No one on the beach ever wanted to destroy the birds," said Newmier. "But there's always been groups that didn't want people on the beach in cars. They didn't want to see a car go by. And so the bird became a reason for it. 'Oh, the birds are in danger.' "
Leigh said, "I fished at night all the time. I used to see piping plovers scurrying about all the time. Of course we watched out for them."
"They're an endangered bird," said Leigh. "They're endangered because they're not a very bright little bird. I blame it on evolution, survival of the fittest. They just don't fit in any more. Everybody blames it on the humans, but the humans have a place on the planet too."
Increasingly near the beaches of Outer Cape Cod, seals have a place too.

Seals Eat Fish
"Seals are a major part of what has turned people off in the last few years," said Newmier. "You can't fish. Guys are having their fish taken right off their plug. If you catch a fish, you have a one in three shot of bringing it in without a seal getting it first."
Leigh agreed with that assessment. "The seals made fishing a waste of time. If you are lucky enough to catch one, a lot of times a seal will take it right off of your line," he said.
"They scare away the fish. They ruined the fishing," said Leigh. It took decades after the National Marine Mammal Protection Act was passed in 1972 for the seals to become a problem.
"In the old days, in Provincetown in my youth, there was a bounty on seals," said Leigh. "If you brought a seal nose to town hall in Provincetown, they'd give you five bucks."
"The seals that were around then were harbor seals," said Leigh. "And then were very few of them."
"Now the seals are gray seals," said Leigh. "They are huge, they are monstrous. They ruin the beaches. They eat vast amounts of fish, and shit vast amounts of waste."
"The seals are what put the nail in the coffin as far as Rich Wood (and Nelson's Bait & Tackle) is concerned," said Leigh.
Wood added one other reason into the mix: "I think things have changed," he said. "I hate to use the word 'global warming,' but the water temperature has changed. Two degrees makes a difference."

The End Of The Seagull Motel In North Truro
"My family has been here since the Mayflower," said Dana Pazolt, owner of the Sea Gull Motel, in North Truro.
The Sea Gull, with no frills and a prime location, often attracted fisherman and their families. It closed forever on October 5.
The Sea Gull is now being rented on a monthly basis to Stop & Shop for their employees of the Provincetown store, he said. "I have mixed emotions, but I'm thankful to Stop & Shop," he said. He also has an oyster farm and a lobster business, he said. "I've got 800 traps," he said.
Pazolt said that because the hotel is a monthly rental instead of a daily hotel rental, "the town of Truro will lose $20,000 a year in tax revenue that they will never get again."
Why Stop & Shop needs housing for its employees is another story entirely.
"The end of the Cape is dying," he said. "We're losing a restaurant a year. We're losing a hotel a year. That's an indicator. Holy shit, something bad is going down."
If it is not dying, it is certainly changing – especially for businesses like those of Wood and Pazolt.
In describing the events that led to his decision to close the motel and rent it to Stop & Shop, Pazolt at different times used the the descriptive terms, "tsunami," "cataclysm," and "apocalypse," as in "an apocalypse of things keep hitting us."
He cited the seals, piping plover regulations and other things. Some of his longtime regular customers, he said, were Bernie Madoff investors. "Then there was the year of no gasoline," he said, meaning when gas prices skyrocketed.
"I've had families coming here for four generations," said Pazolt. "It didn't put a smile on my face to close the doors. But it was a financial decision I had to make."
Pazolt described the Sea Gull this way: "The motel is just a motel. July was always my blue collar people with dirty fingernails. August was the shrinks, lawyers and doctors."
"I've had families coming here for four generations," said Pazolt. "It didn't put a smile on my face to close the doors. But it was a financial decision I had to make."
He lost July with the fisherman's families, he said, at the same time he lost the spring and the fall because the fishermen quit coming to the Cape. They did not come in the spring so they did not return with their families in July, he said.
While some did return year after year, he said, not enough did for him to stay in business.
"Basically, it's been death by a thousand cuts," said Pazolt.
"You're dealing with a lack of fish, a huge increase in seals, and a beach closure as soon as all the people show up. By the time the beaches open, the seals are here and they have chased away all the fish," he said.
There are certainly a lot of seals lurking near Outer Cape beaches. Walk a beach in Wellfleet or Truro and you are almost certain to see a seal in the water keeping a closer eye on you that you possibly could on the seal.
Pazolt would like to rid the Cape of seals. "Just because they are brown and fuzzy and they have brown eyes, people think they are cute. If they were alligators, we'd shoot them," he said.
In fact, he actually recommends strafing the beach with thousands of bullets just once, and letting the seal carcasses float out to sea. "Turn the beach red for one day and that will solve the problem," he said.
Pazolt called seals " a furry nuclear plant. All they do is eat, shit, and pollute the water."
Pazolt blamed a well-intentioned but out-of-touch government for most of the series of environmental changes that led to his closing the motel. "They manage things poorly in the essence of everything that they touch," he said of Congress.
Pazolt had one plea for Congress, "Stop voting for shit that you don't understand."
Of course, as was mentioned earlier, there are two sides to every story. So perhaps Congress understood exactly what it was voting for, and did it anyway.
There is one person who could look into it.

The Rachel Maddow Fishing Sign
While surfcasting on the Outer Cape seems to be dying, Wood said that fishing from boats and kayaks and such is still pretty good.
Thus Beth Ann Charters, owned by Wood, has several repeat customers. One of those repeat customers is Rachel Maddow, host of an MSNBC political commentary show.
"We're friends," said Wood. "She's a heavy duty fisherperson."
When the bait shop closed, "I gave her the sign" said Wood.
Maddow, described by Wood as a frequent visitor to Provincetown, lives in Cummington, MA, and New York City. She owns a fishing shack in Cummington, said Wood. The old Nelson's Bait & Tackle sign now hangs in her fishing shack, said Wood.
So perhaps when Maddow is in her fishing shack admiring her sign, she'll ponder how significant it is that a place as special as the Outer Cape changed as much as it has in order for her to possess such a sign.
Please like us on Facebook.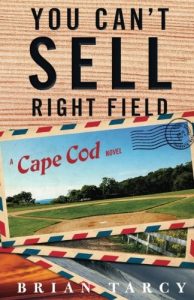 Please see, OR EVEN BUY, a novel about development pressure and softball in a small town, FROM CAPE COD WAVE — YOU CAN'T SELL RIGHT FIELD, A Cape Cod Novel