WELLFLEET – "I don't know the inside of Julia's mind," said Sky Freyss-Cole, a friend of artist Julia Salinger, "but I feel like it's this wild and fantastic place."
With a shock of gray hair that is almost always publicly adorned with some kind of ornamental headdress, Salinger, at 5'1" tall, stands out in a crowd. Deliberately.
At her recent opening at Wellfleet Preservation Hall, it seemed the shortest person in the room was ten feet tall.
Susie Nielson, owner of Farm Projects Gallery in Wellfleet, which has done a series of Salinger's art shows, said, "She's kind of out there in the world. Visually, her hair always has stuff in it. She dresses eclectically."
"She's always been someone you notice," said Nielsen. "She's stirring and beautiful."
While Salinger presents her life "as a work of art," according to Freyss-Cole and others, there is a depth to her presence that goes far beyond her inventing her own character.
Still, dressing up "in different costumes and going to events on the Cape," said Salinger, is part of what she is, and what she does. "People enjoy the celebratory nature of someone who sort of stands out in a crowd," she said of why she dresses as she does.
"Unfortunately, our society is a society of people who like to blend in and not stand out," she said.
Not Salinger. People notice her. 
She makes sure of it. But it's more than her look which lures you in.
Salinger, with all those artistic endeavors and a scientific leaning from her childhood, is what people often call a renaissance person. But Salinger scoffs at that. "I think of Leonardo as the Renaissance," she said.
And yet this poet, actress, artist, installation artist & more certainly fits the classic description.
'I think she's an original." said Christopher Busa, founder and editor of Provincetown Arts magazine.
"She's a creator by nature," said Patrick Riviere, of Truro, an actor, teacher and administrator in the theater, who has witnessed Salinger's recent foray into acting.
"She is a very special soul," said Riviere. "I've been in this business my whole life. I've met a lot of people. I believe she is one of the special ones."

A New York Upbringing With A European Mentality
Salinger, 61, was born in Tarrytown, New York "at South Memorial Hospital when it was just a little house. It's since become very big."
Her father, a doctor, was part of Albert Einstein Memorial Hospital. He was an internist and oncologist who worked mostly in the Bronx, she said.
She spent her first couple of years living in the Bronx, and then her childhood in upper Manhattan, she said. In the New York of her 1960s childhood, she said, "everybody was in a theatrical mode."
Both of her parents, she said, were "really wild characters." Before Salinger and her sister (she has two half sisters too) were born, her parents lived for nine years in Switzerland. 
She is Jewish and her father went to medical school in Switzerland because "in the 40's it was very difficult for Jews to be admitted in medical schools in the United States. Antisemitisim was rampant," said Salinger.
Those nine years in Europe, she said, came home with her parents and straight into her upbringing.
"Both my sister and I grew up with a European mentality," she said. "Just silly things. Like when we were kids, we could drink wine at the table. And then when I became a teenager, my house was always the party house."
But her first drama happened long before those teenage party house years. Of course, as with almost anyone, it's complicated. And decades later, it still defines some part of her. 
"I had a lot of anger at my Dad," she said. "He left when I was 7."
Before then, she said, she was "very gregarious… I was always entertaining my family. I can see that in old photos. There is one of me with a stethoscope, taking blood pressure."
"When my Dad left, I went into a dark period," she said. "It was very tough for me."
She had always been a good student but after her parents split up, she said, "I didn't want to go to school anymore."
None of her friends parents were divorced. That point became amplified by her daily existence. "I felt like an outcast," she said. "It was very traumatic," she said of the divorce.
She cut her hair very short. "I was a little odd, and very bright," she said. She wore a kerchief on her head. She had her first public costume.
It went on for a while, she said. "In elementary school photos, I always dressed differently," she said. "I always had my own style."
Years later, with dressing up such an important part of her personality, the dynamic has changed from a statement that started as childhood sadness into what she now calls her "celebratory nature."
Her childhood and her parents are very tied into her being, and to her art. "Having distance and time makes you realize what you gained from your parents," she said.

A Childhood Of Creating & Caring
"My parents were interesting characters," she said. "They were both activists. I went to various rallies throughout the city. I learned from both of them to treat everyone the same, with kindness."
Part of that learning came from working along side her father in his medical practice in the Bronx. "You never know where someone has come from," was a message she learned. "You need to listen to everyone's story with a sense of compassion."
Salinger's own story includes a lot of those lessons she learned in her father's medical office when she worked for him as a teenager. Her father was an oncologist, she said, and a lot of his patients were terminally ill.
"I had a good sense of humor," she said. "I got everyone laughing." She recalled her father wouldn't charge people who didn't have money. Instead, he accepted food as payment, she said. "African-American, Italian, German, Jewish, everyone would bring food to the office," she recalled.
All of these ingredients fed her soul. Hers was a creative soul from the  beginning.
"When I was a kid, I had like three toys," she said. "Crayons, Lincoln Logs, and building blocks. I wasn't really into dolls. Maybe a little into Barbie, but not because of Barbie but because of her fashion statement. I spent a lot of time alone, creating."
"I was always very artistic from a very young age. I was always drawing, always making things. I started writing at a very young age," said Salinger. "I started writing poetry at about age 8."

Arts Camp, "It just opened my eyes."
"I always wanted to be an artist," said Salinger. "It wasn't until years later that I was practicing serious art."
But there was a time in her youth beyond her crayons and Lincoln Logs stage when she found herself immersed in art and the mentality of creativity.
For about three years, starting at age 13, she attended an "arts camp," Bucks Rock Work Camp in Milford, Connecticut. "It was great place for artists, musicians, clowns and more. Later in life, some instructors there became quite well known," she said.
"I loved it there. I flourished there," said Salinger. "It just opened my eyes."
"I just saw all these people creating… It was one of the greatest moments of my life," she said.
"Those things had been brewing inside me at a young age," she said.
Back in New York, she attended and graduated from Bronx School of Science where she was involved in art classes, "a little bit of acting," and some yearbook editing, said Salinger.
And while all of this creativity burned inside of her, a bigger voice at the time was telling her to be practical. Salinger's mother was, and remains years after her passing, very instrumental to what Salinger did and became.
When Salinger was thinking of college, she said, "ever since my parents were divorced my mother drummed into me that you have to make it on your own."
"She was teaching me about the stock market when I was 12," she said. 
Art, in other words, wasn't considered exactly practical.

Finding A College, Then Finding A Mentor
Salinger first attended Syracuse University as a student in the Newhouse School of Communication. 
"I hated it. I absolutely hated it. It was way too big for me," she said. "Here I was this kid that had so much freedom growing up and I was with all these kids who were going wild. It was the first time they had freedom in their lives. I was past that."
And, she said, the classes were too big.
When her father discovered Salinger was unhappy, he suggested she look into a school that was "started in the mid-70s. It didn't have grades. It had all the arts disciplines. Humanities… My Dad said this sounds like something you might like."
So she transferred to SUNY Purchase College in Harrison, New York "and I absolutely loved it," said Salinger.
The college allowed her to design her own curriculum which included a months-long trip to the Catskill Mountains to write an environmental impact statement. A group of students "hiked and camped for a month with four professors," she said.
"I loved it. It was just the coolest thing," said Salinger.
"I think I realized that science can be related to art, and art can be related to literature, and literature to dance in some way," she said.
"It was a fascinating time," she said.
This was when she found a mentor, Irving Sandler, who wrote "The Triumph Of American Painting: A History Of Abstact Expressionism."
"It is a book that has shaped generations of collectors," Amy Cappellazzo, chairwoman of Sotheby's fine art division, told The New York Times in 2016.
He was an interesting mentor to have in many ways for Salinger, a future Cape Cod artist. Before Sandler wrote his book, published in 1970, "he lived in Provincetown and he was a dishwasher at Ciro and Sal's," said Busa. 
"Sandler was here in the 50s," said Busa. "He interviewed all kinds of artists."
Salinger said, "He saw something in me and he was very encouraging. He was the person who oversaw my thesis. He got me my first real job in the art world. When I graduated, he had big hopes for me."

The Ronald Feldman Gallery, Working With Andy Warhol… 
Her first job, beyond a couple of very interesting internships, was at the Ronald Feldman Gallery, which was in one floor of a townhouse around the corner from the Whitney Museum. One of her internships had been at the Whitney.
Within a couple of years, she said, the Feldman Gallery, which features contemporary art, moved to Soho when it was a run down area full of old factories. She specifically remembered a doll factory next door and there being "doll parts all over the street," she said.
"The city was so fantastic then," she said of the early 1980s in Soho. "All the grit and grime."
About this time, she started in grad school at Columbia but she didn't like it, especially compared to her work at the exciting Feldman gallery with "amazing young artists," she said. 
In contrast, Columbia was "very academic and very old school," she said. She received her Masters Degree in 1982. Her thesis was on Wassily Kandinsky and the Blaue Reiter period, an art movement Kandinsky founded in 1909..
Feldman had hired her on a recommendation from her mentor, Sandler, said Salinger. But Feldman, knowing of her qualifications from her internships and more, first told her she was overqualified.
Salinger didn't care. "He allowed me to do many different things. I made up my job so he let me do a lot of research on shows he was doing," she said.
"It was a dream to work with him. He was such an interesting character. I met so many amazing people there," she said of the job.
The gallery, she said, was for "real cutting edge artists. Ron was a visionary in terms of who he selected to show." 
One of the more interesting projects that she worked on was when the Feldman Gallery "started to reinvigorate Andy Warhol's print production," said Salinger.
According to the Feldman Gallery website, "In the 1980's, Ronald Feldman partnered with Andy Warhol to create five projects of prints and paintings: Ten Portraits of Jews of the Twentieth Century, Myths, Endangered Species, Ads, and Moonwalk."
Salinger helped research those projects that the Feldman Gallery was doing with Warhol.
For instance, for the Endangered Species print project, she researched images of specific animals that Warhol would use as his model. 
"He was soft spoken, and very bright. He knew what he wanted," said Salinger of Warhol in those meetings. 
"I think what I learned is that he was all about work. He was an amazingly hard worker. He was working all the time… I saw this incredible work ethic."

Cape Cod, Radio & All That Jazz
Just before the summer of 1982, Salinger, a young employee with a dream job at a great gallery decided to ask her boss for the summer off to go to Cape Cod.
"Summer in the gallery season is not a big thing," she said. Her boss had no problem with her leaving. "Your job will be here in September," she was told.
She had been visiting Cape Cod since childhood. Her father had built a house in Wellfleet.
She had always loved Provincetown and so she took a bus straight to the tip of Cape Cod and found "a small place to live on Winthrop Street. I had a little attic apartment for no money."
Salinger began meeting people while skating around town on her roller skates when Provincetown "was still a crazy place. You could go down to MacMillan Wharf and young men would hand you fish for free," she recalled. "It opened my eyes."
Her ears also were opened when WOMR, a new community radio station, opened and she confidently walked in and asked to work there.
"Do you know anything about jazz?" she was asked.
In fact, she did. And with the station's library of records, along with her own dedicated research, she learned a lot more quite fast. She was given a temporary gig filling in for a jazz show, whose host was away for the summer, and she loved it.
In the meantime, as summer came to end, she realized she loved her life in Provincetown. Despite having a dream job in New York, she decided to move to the Outer Cape.
It turned out, she could do her work, including research for the Warhol print project, from her new home base in Provincetown.
She stayed, commuting to Boston to do research but mostly enjoying the quirky solitude of winter on the Outer Cape.
"It was a very romantic way of life," she said. "I liked the feeling that there was a real winter. It was a small community. There were artists and musicians," she said.
While in Provincetown, she fell in love with someone 20 years older. But after a while, she said she "realized there was more to do in life. Most of my friends were 10 or 20 years older than me."
While in Provincetown, at WOMR she started two different jazz shows as well as an oral history program called, "Sands Of Time."
Salinger also started a summer concert series in Provincetown featuring world music, folk and jazz, she said. "I loved it and I met a lot of people," said Salinger.
Her radio shows had interviews with musicians and more. "I started having fans [for her concert series and radio show]," she said. These fans included people in the music business. 
So when her relationship in Provincetown fell apart, she decided to move back to New York and pursue a career in the music industry.
"It was a man's world," she said. 
"I was very bold," she said. She wrote letters to people established in the music industry and "ended up working for a woman who was a music agent, Mary Ann Topper.
"She was a real character," said Salinger.

Two Decades In The Music Business
Salinger returned to New York in 1986 and stayed until 2005.
Back in the city, her life was "very, very exciting," she said. "You know, it was thrilling."
After years of playing jazz musicians on the radio, "all of a sudden there I was walking through the door of [Mary Ann Topper's] apartment and I am actually meeting them in the flesh."
"I lived on 8th Street," she said. "My life was like 24/7… I would work all day, eat something and then go to where the performers were performing, and then hang out until 2 or 3 in the morning, and then start all over again."
Salinger was doing publicity, marketing, booking performances, working with musicians on album covers and more. "There's so many different iterations of this," she said.
She "ended up touring with some people," said Salinger. Touring with musicians, she said, "is like being their therapist."
"It was great," she said of her time in the music business. "New York was great. I had my career. I had my own apartment. I didn't have to share with anybody."
And she was "nurturing all these artists. Helping them be creative," she said. All along, she said, "I knew I was a very creative person."
Her creativity was being funneled into the projects of others. And for a long time, she loved it. 
"I stayed as long as I did because I really worked with fabulous people," she said. "When I looked back on it and saw how much these artists would bring people joy, that was what kept me going."
In the mid-1990s, Salinger got married. He was in advertising and "it seemed we got along well," she said.
After ten years, it fell apart. She found out that he was unfaithful.
But there was more to it, she said. "I didn't know how to be married. I didn't have any role models," said Salinger. Her mother had "drilled into my mind that you can't trust a man, which is probably why my marriage never worked."
She divorced in 2004, the same year she left the music business. 
Her life changed had changed a lot by then.

An Artist's Mother Dies, An Artist Is Born
Just before Salinger got married, her mother had major surgery. She was really sick. Cancer. "I knew what the drill was," said Salinger. "My father was an oncologist. I knew this wasn't good."
She was still working in the music business, getting married, trying to live her life. But, "everything seemed so stupid to me," she said.
Salinger had an intense, complex relationship with her mother. And now her mother was sick. "I realized everything else is fucking meaningless," she said.
But the musicians she had so admired still had their same requests and demands. Yet her interior monologue now said, Are you kidding me?
"I knew I wanted a change," she said.
When her mother became very ill, Salinger moved in with her "for the last month of her life. It was one of the most incredible experiences I ever had," she said. Because of that experience, she said, "I can say to you that I am so not afraid of death."
They had intense conversations about many things. "I had a close, wonderful and complex relationship with my mother," said Salinger.
When her mother passed away, the grieving hit Salinger hard. "All of a sudden, my world is broken," she said. "I go into a depression for about a year."
And then…
"And then I feel like, fuck it. My Mom is gone. I don't have anything to lose anymore. It liberated me. I'm just going to do what I want to do now," she said. And that was, "I have to let some of this out."
Salinger said, "I wanted to explore my own creative side, my own creative juices."
"I start to paint. And all of sudden all this stuff comes out of me. It's like the dam broke. Everything started flowing out of me," said Salinger.
"For some reason I wanted to paint on wood," she said. "I used pieces of wood I found in the lumber yard. I started very small. It wasn't just painting. It was mixed media. I used wire, thread, stuff I had from childhood."
It was as if, said Salinger of her mother's death, "her death was permission to say I'm doing this now… She was a fantastic mother. And she was very encouraging of my creativity, up to a point."
"I start to paint. And all of sudden all this stuff comes out of me. It's like the dam broke. Everything started flowing out of me." – Julia Salinger
That point, of being self sufficient, had been achieved. Now, with her mother's passing, Salinger found herself surprised by her own creative output.
She can recall early on in her painting life working on a piece and thinking, "Oh my God. I can't believe this is happening."
Her interior gift had been unleashed. 
"Afterward, it was so exhilarating and joyous," she said. "It was such a relief and very cathartic. Some of this stuff had to come out of me," she said.

An Artist… "I knew they weren't bullshitting me"
For a year and a half, she created. At some point, she said, she had "a body of work."
Nervous and shy, but with connections from years in the New York art world, she showed her work to her former boss, Ron Feldman and others.
Her work was received well. "I knew they weren't bullshitting me," said Salinger. "I knew there was something there."
In fact, she said of showing her art, "I was so dreading it. I didn't know what I was going to say if they they thought it was horrible."
Instead, they decided she was an artist.
She had her first show in 1999 in New York. It was a big success. "It was the only time I sold out the entire show, and I've had a lot of shows," she said. "People from my childhood came. Musicians came."
And yes, pieces were sold. She had more shows in New York.
"I was excited and it felt good that people liked my work and liked it enough to buy it," said Salinger. "For me, that was all great. But the most important thing for me was to continue working."
Her initial success was "a vote of confidence," she said. But it was more. "People who had known me a long time said, 'Oh, finally,'" she said. "They all knew, except me, that there was this real creative thing that I had kept down."

A New Life On Cape Cod, For the Second Time…
When her marriage fell apart, she separated and then divorced a year later. After a year in her own New York apartment, she began to long for Cape Cod again.
"I had thought I would never leave New York," she said. "I thought I was going to be walking down 14th Street with my wagon."
But that changed.
The hustle and bustle of New York had run its course for her. She wanted something like the opposite – nature, a slower pace. Plus there was nostalgia, childhood memories that lured her back to Cape Cod and specifically, Wellfleet.
Although she had lived in Provincetown two decades earlier, and found catching up with old friends to be very easy she "felt more secure in Wellfleet."
And when she moved back to the Cape in 2005, she began to show her art work locally. 
She rented a barn in Wellfleet for four years, and during that time she spent half of her life in New York. Salinger continued to create.
With shows in prestigious galleries in Provincetown, she said, "I began realizing I am having more of a life on the Cape than in New York."
She was meeting people, kindred souls on the Outer Cape. She was getting recognition. She decided that, "Maybe I want to consolidate everything and move to the Cape," she said.
After four years of living in both New York and Cape Cod, in 2009 she bought a house in Wellfleet. She calls it "Mermaids Grange."
It is as unique as Salinger, decorated whimsically and colorfully with her own artwork, showcasing her eclectic tastes in art. A centerpiece is an upside down multicolored umbrella which serves as a sort of chandelier.
As Freyss-Cole said of Salinger, "She always makes a grand presentation, and also pays attention to the small little details.

An Artist & Her Art
"I feel like a lot of my work comes from my internal landscape," she said. "I don't really hide anything. It's really out there, and I think that's why certain people relate to it. Because I'm honest."
"This is the way I am," said Salinger. "Like it or not. It's real."
Susie Nielsen, owner curator and artist at Farm Projects In Wellfleet, has had Salinger's work featured in shows and she said Salinger, as an artist, "has a really fabulous line quality. The ways she makes a mark, there's a delicacy but also a heaviness to it."
"Anybody can make a mark on a piece of paper," said Nielsen. "I can see years of making marks. She knows where to put a thin line next to a thin line and when to start and when to stop. That comes from years of doing it. That really is a skill."
The marks Salinger makes, said Nielsen, "are meandering. You follow through these lines and you go in and out of her work."
And Salinger's work, often featuring sparse and precise words, is more than a straightforward visual painting, said Busa, of Provincetown Arts Magazine.
"A work of art does not speak to you," said Busa. "It stares at you. The viewer is supposed to answer what is this picture saying. It's not saying anything, but it's saying something by its image."
Busa said he believes Salinger learned from her mentor, Sandler. "Julia must have picked up something about criticism of art as being nonverbal. She accepted that it is non-verbal, but then found a way to make the mute image speak."
And the message of those images comes from her internal landscape. "She's finding something objective in her personal exploration. There is a universality to it so it transcends her own life," said Busa.
Her art is quite personal. "It's speaking about the details of her life and how to make sense of them… She's exploring the psychological impulses behind the idea of making the art speak out and verbalize its nonverbal content."
Salinger said her art is "very private in certain ways. Even though I'm showing it, There's a lot of privacy about it. I think that's why people who initially get it are moved."
And while Salinger, the artist, discovered on some level that she needed her art, language is an equal passion.
"Words have always been very important to me," she said. In her art, Salinger said, "a lot goes on with moving the words around, finding the right words for the right situation. Moving things, maneuvering things, almost like a puzzle."
And in that process that she described as "real organized chaos," she said, "there is a lot of information and a lot of rhythm and pulsation that is held together by the internal structure."
But her words have found a home on more than just her canvases. "I'm also a writer," she said.
Salinger is working on a family play about her relationship with her father.  "Next year, 2021, I will be one of the featured playwrights in the Winter Play Reading Series at the Provincetown Theater," said Salinger.
In addition, she is a poet.

Poetry, Acting & More
Salinger, who started writing poetry at age 8, decided to take a poetry workshop at Castle Hill Center For The Arts in Truro shortly after she moved back to the Cape in 2005. 
"It rocked my world," she said. "It was fantastic." Her teacher was encouraging. "I started writing a lot," she said.
She took another workshop at the Fine Arts Work Center In Provincetown, said Salinger. It was the first time she read to people. "I loved that," she said. "I saw the power of words. It changed me."
"Having an audience and seeing that what you are saying moved people, that was a big thing for me to see," she said.
She continues to write poetry and is the author of a book of poems, "When I Awoke," which also features some sketches and those thin and thick lines that Nielsen pointed out work together so well.
Words in poems, plays in progress, art, and a public celebratory personality is Julia Salinger but there is even more – a new iteration that summons the kind of reaction one has to all her other iterations – yes, of course she's an actress.
"It's amazing what's happened," said Salinger, of her burgeoning theatrical work. "I personally can't get over it. If you had told me a year and a half ago that I would have done seven or eight shows, I'd say who are you talking about?"
On the other hand, she said, "I've been theatrical my whole life."
"I just love taking on other personalities," she said of acting. "Getting into the history of another person. Their body language. What are they thinking?"
Freyss-Cole said, "It's amazing to see her step on stage and take on these characters."
And Riviere, who has coached her in acting, said that Salinger "played my mother in a play that I wrote." Even though she started acting late in life, he said, she has an obvious "natural ability to be a performer."
And, he said that life experience before becoming an actor gives the actor "more to draw upon."
Salinger, Riviere said, "has a zest for absorbing like a sponge and she wants to grow and learn and she works very hard. The community is rooting for her. She has an uncanny way of drawing people to her."
He talked about seeing her in a comic role. "She is naturally funny," he said. "She has a natural comic sense. She understands comedy and she understands how to draw an audience to her."
Coming into theater late, he said, was not an issue for Salinger because "she already had an artist sensibility. She is a creator," said Riviere.
Busa said that Salinger's new theatrical voyage has "brought an internal quality that she herself is discovering. She has an ability to surpass herself."
For more stories like this, please see Longform stories 
---

** Please support independent local journalism.
See the DONATION BUTTON AT THE TOP OF THE PAGE **

---
– Please like us on Facebook.
---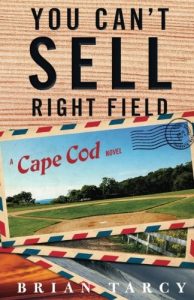 –PLEASE SEE You Can't Sell Right Field,  a novel from Cape Cod Wave about land for sale, a crooked developer, a softball team called, "The Townies," and an election.
Based on the true story of a Cape Cod development.