ORLEANS – Twas just before Christmas on outer Cape Cod, and The Ticks were performing to the love of the crowd. Yes, the whole crowd was stirring – the entire house.
"One year we did 'The Christmas Tick'," said Sue LaVallee, guitarist in The Ticks. "The basic plot was that when the tick bites you, it makes you into a happy, generous person."
Here is a VIDEO of The Ticks performing an original song, "All I Want For Christmas Is A Selfie Of Youie And Meie"
In recent years, at the annual Cape Cod Christmas Cavalcade for the Homeless organized by Chandler Travis, one band in particular, The Ticks, has caught Cape Cod Wave's attention for their theatrics, catchy songs, and pure love of the holiday season.
Asked about The Ticks at the Cavalcade, Travis said, "They're totally holiday chicks, you know."
"One year we did 'The Christmas Tick'," said Sue LaVallee, guitarist in The Ticks. "The basic plot was that when the tick bites you, it makes you into a happy, generous person."
In fact, The Ticks performances at the Cavalcade usually include many of the other magnificent musicians who play at the annual benefit held at the Old Jailhouse Tavern every December. Money raised each year goes to the NOAH Homeless Shelter in Hyannis.
As The Ticks often dress up in costumes for the Christmas show, drummer Julia Randall said, "There's been a lot of hot glue burned over the years."
Travis described The Ticks – Emma Dubner on bass, Randall on drums, and LaVallee on guitar – as "charming and delightful" and said that their performance has become a highlight of the Cavalcade.
This is an understatement, and not nearly descriptive enough of this all-female punk/pop band that defies actual description. But we'll try.
The Ticks are bouncy, exuberant, darkly humorous, while also light and joyful – and they write very catchy songs. Think of The Bangles, or The Go-Go's – only way cooler.
Now we'll let them try:
According to Dubner, "Someone said that we are a band that has our own sound."
LaVallee described the Ticks as "an original girl band from the Cape heavily influenced by the beach."
Randall recalled that a musician friend in New York City said of the band's music, "It's not bad, and I wouldn't get any better if I were you."
Travis said, "There's something a little bit primitive about them, but in a really good way, and really direct. It's a very interesting group."
---

** Please support independent local journalism.
See the DONATION BUTTON AT THE TOP OF THE PAGE **

---

An Accidental Band
Dashing through some songs in a one-rehearsal space was an unexpected thrill for Dubner, Randall and LaVallee more than a decade ago when they first played together.
At the time, the three were friends with a very successful Cape band, the High Kings, who used to practice in Cotuit.
At one point during one informal rehearsal/party, the High Kings left their instruments and the three woman picked up two guitars and a bass. A male drummer at the party set the beat.
"Emma graciously offered to play bass while Sue and I played guitars," said Randall.
"There were all these people at the party," said Randall. "And most of them played music. But there was this moment after we played where everyone just kind of went, 'What just happened?' It sounded cool. We had something because we were women, and because it sounded cool."
A band was born.
They agreed that together they created something special, whatever it was. "We have 'vagisma,' " said Randall.
They began to rehearse.
The High Kings often played at the now-closed Prodigal Son in Hyannis. They asked the three women to open for them.
"As a lark," said Randall, they did it. "But we did have this connection. And when we played, the men, their jaws dropped open. Something happened. It was different. It was special."
Of course, before going on stage for the first time ever, they needed a name. They had listed a bunch of possible names, mostly having to do with Cape Cod. "Some of them cannot be printed," said LaVallee.
The second place winner seems to have been, "The Stupid Beach Stickers," but Randall said "when The Ticks came out, everyone (in the new band) liked it."
Not unexpectedly, say band members, there are some in the public who do not like the name since tick bites are notorious for causing Lyme disease, a debilitating disease affecting people on Cape Cod and other parts of New England.
"Emma got Lyme disease," said LaVallee. "It's not like we are worshiping the tick at all. It's just a cool, punk-sounding name."
They went through two male drummers before Randall, who had never played drums before (just as Dubner had never played bass), became the drummer.
They all admit they are not great musicians but say they are getting better.
What they do have is a distinctive sound, that joyful stage persona, and the ability to write catchy songs. "We all just have a lot of music in us," said LaVallee. "I'm not saying I am a great guitar player. But I love every song we have written. They just come out."
While they do actually know a few other songs, they mostly play Ticks songs.
In fact, in a 2013 Cape Cod Wave story on Cape Cod original music, Randall said the Ticks answer to a request for cover songs is, "We only play our own songs. We don't know any other songs."

Meet The Ticks
The Ticks are a theatrical band. With that, and the holiday season, in mind…
(To the tune of "Rudolph The Red-Nosed Reindeer") Sue LaVallee, the sweet-voiced guitar player, grew up outside of Buffalo. And if you ask her about job, she'll say she's a Mom who works part-time at Trader Joe's.
(To the tune of "Santa Claus Is Coming To Town") You better watch Julia Randall, You should know why. This drummer teaches at Mattacheese Middle School and her drumsticks can fly. Her Centerville-born backbeat is coming to town.
(To the tune of "Frosty The Snowman") Emma Dubner, the bass player, is a jolly stay-at-home mom. With three young kids and a nursing degree, she's from Harwich with aplomb.
Okay, now that that's out of the way…

Sue LaVallee, Guitar
As a girl growing up near Buffalo, LaVallee "was really into ice skating. I would dream and fantasize about being Dorothy Hamill," she said.
While she was obsessed with skating, she was exposed to music. "We had a piano in our house. I took lessons in first grade from a very odd piano teacher named Mr. Finch. He didn't talk."
She learned to read music in first grade, but never took any more lessons. As for the piano in her house, she continued to play it once in a while the whole time growing up. "I never got trained but I always had an interest. It was there, so why not?"
LaVallee attended McGill University in Montreal, where she received a BA in geography. She thought she would look for a government job in geographic information systems, but instead decided to travel. She took a job teaching English in Japan.
"I didn't know a single word of Japanese," she said. "And I didn't know anyone in Japan."
She lived outside of Tokyo. She stayed a year, came back to the USA, and then went back to Japan a second time for a year and a half, when she lived in Sendai "where the Tsunami hit." she said.
She went back to Japan the second time, :LaVallee said, because "I wasn't done yet. I was just starting to learn the language. It was an opportunity to live in a city, a nice city by the ocean and mountains."
She loved it. "It's the safest place I'll ever be in my life," she said.
But LaVallee said, "I had to leave because I was starting to turn Japanese…. It was funny. I was even bowing on the phone. But it was good, you know. You immerse yourself in the culture."
The other place she had immersed herself in, when not in Japan, was Cape Cod.
Her brother was living in Marstons Mills, and he drove an ice cream truck for some friends running an ice cream business in Hyannis, said LaVallee. While on a family visit to see her brother, an ice cream truck driver quit and LaVallee decided to stay on Cape Cod and sell ice cream.
"It was great. I made tons of money. I enjoyed it, absolutely," said LaVallee. "There's a long history of ice cream vending on Cape Cod. A lot of back stories."
She continued to sell ice cream in the summers for a few years, while enjoying some youthful adventures during the offseason. She was a volunteer park ranger, receiving a stipend and housing while giving tours in the Grand Canyon.
"I always had the ice cream job on the Cape to come back to," said LaVallee. "I just kept coming back."
She lived a winter in Costa Rica. She worked in the Florida Everglades giving tours. She spent a month in Mexico.
After three seasons of selling ice cream, she burnt out on it and went into landscaping. But she continued to have the Cape as a base while traveling as much as possible.
"I really lived that part of my life to the fullest," she said. "And then you hit a certain age, meet a guy, get married and have kids. That's where I am now. I am totally into the 'Mommy' thing."
She now lives in Hyannis.

Julia Randall, Drums
Julia Randall grew up in Centerville and went to Barnstable High School.
Asked what she dreamed of being as a child, Randall said, "I don't remember that well. I'm not a very good planner."
When she was in elementary school and middle school, she played the trombone. "I picked the trombone because it was the biggest and I thought it would be kind of weird. I was already counter-culture, I guess, in fourth grade."
As a child, she recalled liking theater and animals. At one point, she thought she wanted to be a field biologist, "then later, I definitely wanted to be an actor."
She went to Emerson for two years and studied acting.
She ended up at Boston University, where she received a degree in elementary education, and later went to the Teachers College of Columbia University for a Master's degree in secondary science education.
After receiving her bachelor's degree, Randall taught English in Japan. She was in Japan at the same time as LaVallee, but not in the same city.
"I liked Japan a lot because the people are so nice. It was very interesting," said Randall. "The language is so bizarrely different than ours, it was very hard to learn. And there were things I didn't like about it. I didn't enjoy the food. It was pretty sexist. And really polluted. People just litter."
"Once I came back home to the Cape, I was like, oh my God, this place is like a frickin' fairy land, it's so beautiful," said Randall.
"And then I went to the Beachcomber and I saw the Incredible Casuals," she said. "The crazy Incredible Casuals. I loved it. I love to dance. It was just so much fun. I got to go to that crazy place and dance like a maniac with a bunch of freaks."
"I thought they were the greatest, but I barely spoke to them," she recalled. "Back in those days, it would get crazy. It would get weird in there. They would have guest stars. Once, Chandler asked me to sing, 'Pop goes the weasel.' He didn't even know I could sing. He was just like, 'How about you?' "
While Randall established a tight circle of friends on the Cape, she moved to New York. At the time, she landed a role in a play called, "Charlie, Victor, Romeo," re-enacting cockpit conversations of airplanes that crashed.
"It's a really beautiful play," she said. "It became really popular with pilots, air traffic controllers, people who worked for the NTSB (National Transportation Safety Board)," said Randall. Mostly, it involved reading technical lines such as air speed and altitude. "They are trying to trouble shoot when things are nuts… it's all about their training."
She performed 350 times over a three-year period, said Randall.
It was a wonderful experience, said Randall, but she ended up moving to the Cape full-time. For one thing, there was that tight circle of friends.
She now lives in Harwich.

Emma Dubner, Bass
"I'm a Cape Cod girl," said Dubner. "I grew up in Harwich. I'm a Rough Rider."
She grew up in a musical family, and dreamed of being an actress. "I am the oldest of four. My Dad played guitar every night whether we wanted him to or not. He got me into liking (the band) REM when I was 12. My Mom sang. My sister now plays violin," said Dubner.
With music surrounding her, Dubner said she was also especially fond of theater. "I was a total theater junkie," she said.
She belonged to the Harwich Junior Theater every summer. "I am a story teller for better or worse," said Dubner, "and that's what theater can do."
"When you can act, you can be in these fanciful stories and it's a wonderful escape," she said. "It's almost like continuing your childhood. It's okay for a 5-year-old to play 'pretend,' but when you are 12, you better have a good story and some good lines or jokes," she said.
Dubner, the Cape Cod girl, liked theater so much that she went to Boston and studied acting for two years at Emerson College. But she quickly realized "I'm a speck in a crazy universe of something I didn't want to be a part of," she said.
"I didn't want to, maybe, suffer as much for my art as I should have," said Dubner. "I didn't like being in the city and having no money and having to wait tables hoping to get a part. I just wanted to create."
And she said, "I have a sister with Downs syndrome and another sister with special needs, and we are really close. They are part of my life so I came back to the Cape."
Dubner, the youngest of The Ticks, moved to Centerville in 1999. At the time, she was a preschool teacher.
She lived in an old barnhouse on a farm owed by the artist, Steve Swain. "I rented a room at this wildly underground place," she said. "It was this subculture of artists and scientists."
She described the scene she found as, "What everybody can do when they put their mind to it."
"Steve Swain used to have these random parties and bands would play there," recalled Dubner. "The Incredible Casuals would play there," she said. Travis, who organizes the Cavalcade, was a founding member of the Incredible Casuals.
"This was the tail end of the happenstance of that crazy culture," said Dubner.
"That's how I met Julia," said Dubner, "through Steve at one of these random parties. And I met Sue through the Prodigal Son. Sue and I would go to open mic nights at the Prodigal Son. We met drinking one night."
She said, "There was a lot of people connecting us on our path to rock and roll."
Dubner now lives in Marstons Mills.

The "Scenes" That Created The Ticks
The Ticks were, in a sense, created in Cape Cod's coolest Petri Dish.
Mix three talented theatrical women into the scenes of two of Cape Cod's most popular bands from more than a decade ago – the High Kings, and the Incredible Casuals – shake their brains around in Steve Swain's crazy artist's barn and then toss them and some guitars into the Prodigal Son, and like magic, the Ticks were born.
It's a little more complicated than that, but there is certainly a bit of alchemy to it all.
As Randall pointed out, "Two of us picked up brand new instruments."
Dubner said the first time she picked up a bass guitar, "I thought, oh my God, this is even easier (than the guitar). Needless to say, it's not, but that's why I am a punk rock bass player."
Although they have become better musicians, they make no claim to great musicianship. Instead, they point to their songwriting.
"Each of us adds a little something," said LaVallee. "An Emma song becomes a Ticks song. A Julia song becomes a Ticks song."
All three of The Ticks write songs, and they all sing.
After they formed and began playing out, "We went through a phase where we got a lot of attention," said LaVallee. "Chronicle (the Boston television news magazine) did a story on us. The Globe did a story on us."
They got gigs in Boston, Providence, and New York City. The Ticks put out an album in 2002, "So Young, So Bad." In 2005, they put out a second album, "Pick Me."
While they were getting great bookings, Randall said, "Sue and Emma each have a family. They've done many Ticks gigs very pregnant." Randall also had challenges. "We would play in Boston on a school night and then I would drive home and I'd go teach 7th grade the next morning."
That eventually slowed way down. But they have kept writing and playing together. "We really need to record again," said LaVallee. "We have more than 70 new songs."

The Christmas Cavalcade & The Ticks
The Ticks will be at the Cavalcade for Christmas. You can count on them.
"It's always warm and fuzzy," said LaVallee. "We definitely put a lot into it." But as for credit for the event, she said, "It's all Chandler Travis. He does miracles."
And Randall said of the Cavalcade, "It raises so much money. Some of my students have lived at the NOAH Shelter. So I get it. They need the money."
Raising money for such a good cause has inspired the Ticks to be very creative through the years.
"We've done some crazy stuff," said Dubner. "We've done some ridiculously crazy stuff. I don't know what gets into us at Christmas time."
This year, in one of their least theatrical yet most daring performances, they wowed the crowd with the "Hallelujah Chorus" from Handel's Messiah. They also performed a Ticks original, "All I Want For Christmas Is A Selfie Of Youie And Meie, (And I Also Want Peace On Earth)."
"The first year, we made up a song about being tied to the Christmas tree, instead of being tied to the whipping post," said Randall. "It had funny lyrics about being trapped at the mall."
The band, even at regular gigs, has always been theatrical,said Randall. They would dress as clowns, or Secret Service agents, or secretaries, or whatever else came to mind. In time, that mindset crept into their Cavalcade performances until their two-song limit became something of a one-act play involving half the musicians at the Cavalcade.
The band has performed their version of "A Christmas Carol" featuring the three Ticks as ghosts, and Chandler Travis as Ebeneezer Scrooge. They have done The Grinch Who Stole Christmas, and Jesus Christ Superstar, which is actually more of an Easter story than a Christmas story.
"One year, we did The Nutcracker," said Randall. "That was Emma's brainchild. It was psychedelic."
---

** Please support independent local journalism.
See the DONATION BUTTON AT THE TOP OF THE PAGE **

---
– Please like us on Facebook.
Our large collection of local music stories and videos – MUSIC
---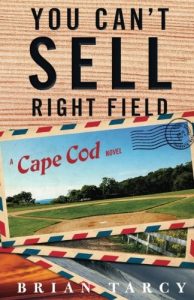 –PLEASE SEE You Can't Sell Right Field,  a novel from Cape Cod Wave about land for sale, a crooked developer, a softball team called, "The Townies," and an election.
Based on the true story of a Cape Cod development.