FALMOUTH – Since 2006, there has been an eight-foot long sign nailed to the outside of Marc Finneran's house that reads, "Town Hall Needs an Enema!"
But for the past month, Finneran, who finished third in the May 20 Falmouth Selectman's election, had covered the word "enema" with his name from a campaign sign, so that it now reads, "Town Hall needs a Finneran."
Despite Finneran's efforts, Falmouth Town Hall will be getting neither an official Finneran nor a symbolic enema any time soon.
But the man with the sign, who garnered 2,600 votes in the May 20 election, said he plans to stay involved in the town hall scene."There's certain things I do that nobody else will, or does," he said just after election results were announced. "Can't go backwards."

Seeing Patterns, Negative Or Positive
"I get my information everywhere," said Finneran.  "I've got a sixth sense for how things operate. That's just how my mind works. I can see patterns."
It sounds like a conspiracy theory. "A conspiracy is simply more than one person planning something," said Finneran.
Selectman Mary "Pat " Flynn described Finneran as a "fixture" at selectmen's meetings. "Most of the time he sits there, absorbing it all. He may occasionally get up and comment on something."
But Finneran is enough of a known presence that Flynn said she has voted to keep him off of several committees he has volunteered for. One of the committees Finneran volunteered to serve on had no other volunteers. Nevertheless, he was perceived as toxic enough to not be appointed.
"When you decide you want to be on the committee, you are very interested in the work of that committee," said Flynn. "You want to work together with other people to achieve a good result. I don't think that's what he brings to the table. He didn't acknowledge other people and he didn't appear to respect other opinions. He is disruptive to the process by the manner in which he speaks."
"It's hard to describe," said Flynn. "Sometimes he sits away from the group. He doesn't give and take. He makes remarks that are more negative than positive. He brings up incidents, and we don't know if they're factual."
Finneran disputed that. "So that means that their argument is that everything is positive?" asked Finneran, who added, "I will stress, I do my homework."
And back to Flynn. "You can't rely on his information," said Flynn. "He always comes at a problem with a negative point of view. We have a totally different attitude of government and perception of government. He is always looking for what's wrong."
And finally … "Pat Flynn hates me," said Finneran.
"It's not that I don't like him," said Flynn. "I just don't like what he says. But sometimes he can be very humorous."
"My motivations are proper," said Finneran. "My methods are different, I guess."

Throwing Politically Incorrect Elbows
"If your house is on fire, I suppose I could say," said Finneran, changing his voice to a British accent, "Excuse me sir, but it appears that you house may possibly be on fire or" changing to a gruffer persona, "Wake up asshole, your house is on fire!"
Years ago when Finneran was a bartender in Falmouth, he said he had friends who worked at other bars and, "I was always willing to lend a hand, or an elbow, or whatever was necessary."
"I've been sticking up for other people all my life," he said. "That's what I'm doing. Defending those that can't defend themselves."
Cape Cod Wave interviewed Finneran for 2-1/2 hours one day before the election, and for 1 hour two days after the election. In addition, Cape Cod Wave talked to him briefly at Town Hall just after the election results were announced.
Prior to the election, Finneran was hopeful but not optimistic enough to plan a victory party. "I wouldn't be so presumptuous," he said.
After the election, he said, "It's not about me. The people of this town lost."
In both interviews, he was defiantly politically incorrect as well as vehemently proclaiming he'd listen to others more than others have listened to him.
Before the election, Finneran said he would listen to everyone, including those who disagreed with him. "If Hitler's got a good idea, I'm on his side. It's about the idea. It's not supposed to be about the individual." And, he said, "If I get behind that desk, I'm going to ask all the same questions and they better answer. They better answer those questions. They can't ignore me any more."
After the election, he said, "The board is all completely comprised of people of the same ideological bent and I don't see that as positive or healthy for people who don't have any representation."
"He does not play it safe," said Hilde Maingay. "Instead of saying, could you please… he would not say that." Maingay, an eco-toilet activist who has attended many of the same wastewater planning meetings as Finneran, has found him to be an unlikely ally.
Finneran said, "There are people I ally with who are not of my political bent at all."
"People perceive him as dumb because of his mannerisms," said Maingay, "but I think he's extremely smart. He has a photographic memory. We explained eco-toilets to him once and a year and a half later he could explain the whole thing back to us completely. He totally understood it. I can't say that about other members of the selectmen, who took no interest and didn't understand it."
"I think they all wish he would go away," said Maingay, "because he knows a lot and he's smart."

Naming Names
Finneran told Cape Cod Wave that, "Everybody knows (one public official) is a crook."
He said (another public official) has his snout in every trough."
He has named names at public meetings. "I have seen him in action on town meeting floor," said Robert V. Antonucci, longtime town meeting member and the former Superintendent of Falmouth Schools. Antonucci, a Falmouth resident, is the President of Fitchburg State University.
"Everybody has the right to criticize government," said Antonucci. "But at town meeting, he went over the edge into personal accusations. He is criticizing everything wrong with the town without offering any solutions. There is a right way to be a dissident. And there's  a wrong way to be a dissident," he said.
Antonucci added, "some of what he says is not off base. More openness in government, and more accountability. He brought issues to our attention, which is good. But when people begin to get personal, they get off the track and are not looking at the issues. Disagree with me about the issues, fine, but don't attack me personally."
Finneran did not attack Antonucci. But at a town meeting, he named another name and Antonucci called him out for it on town meeting floor.
"I'm obviously onto something," said Finneran, "or there wouldn't be this much fear around there. I just want to hold them accountable. All that I present really is arithmetic and common sense and logic … I'm just the person trying to put the facts out to the populace."
As for using names, he said, "Political correctness isn't logical to me. It's a tool wielded by one side. I'm out there defending the defenseless. I have never gone there and presented any information that I thought was false."
"There is definite lack of transparency," said Finneran. "I give facts, arithmetic. For that I'm chastised, brutalized."
But even his supporters have, at times, asked him to tone it down. "Marc is a diamond in the rough," said former selectman, Ahmed Mustafa, who supported Finneran's bid for selectman. "A diamond is a gem, but when you take it out of the ground you have to polish it down and get the facets to shine," explained Mustafa. "He is in the process of being shined. He's still in the rough. We've talked to him a couple of times. You can't use a person's name. Just talk about what's wrong without using the name."
And Matt McNamara, who was Finneran's campaign manager, said, "It's human nature for people to want to get along and play nice." McNamara, has served six years on the Falmouth Board of Appeals, and previously served as a Selectman in Dennis. "And sure, he didn't play nice. He gets up in a public meeting and says something about someone and he uses their name. But talk about not playing nice. Pat Flynn has put him down publicly at every opportunity she can.  Some could question what Pat Flynn's motivation is."
Flynn said, "Nothing derogatory has ever been said about him. I think the biggest issue with Marc is, why is he doing this? He approaches it in a very negative way. That's something that turns me off. I work with people who have different approaches to issues. If you're not going to have a positive attitude, it can be very difficult."
"He doesn't appear to want to be there for the right reasons," she said. "It's always, 'This is wrong, these people are frauds, this person is something else,' He's not a team player. His behaviors do not demonstrate that."
Finneran said, "It's just a picture they paint of me. What makes them do it? What's their motivation? Why don't they just confront what I say? There's some people in this town that quite possibly should be in jail. The waste and incompetence is incomprehensible."
"People look at me. I could be smiling, and they think I'm not," said Finneran. "I have no idea why. I have one of those faces. Old ladies like me, for some reason, but other people think I'm aggressive."

The Making Of A Dissident
Finneran was born in Worcester and raised in Vermont. Sitting in his mother's house in Falmouth Heights, he said, "This house has always been in the family."
"I was a bit wild as a youth," he said.
His mother was an elementary school teacher. "My father was a lobbyist. Before that he worked for the state," said Finneran. "I could repeat it in school: my father is the chairman of the state housing authority and executive director of the the interdepartmental council on aging. All welfare started in the 60s and he was in charge of initiating it and implementing it from the start."
Growing up in Vermont, I knew all the governors of Vermont," said Finneran. "They knew me by my first name. My father was a big deal. When he was a lobbyist, he ended up buying the motel where he did business. A lot of it was sleazy."
Finneran said that when he was growing up, he never had a specific goal of a career. Three things he remembers wanting were an AC Shelby Cobra, a barber's chair, and a cigar store Indian." He studied civil engineering for three years at Vermont Technical College. He did not graduate.  "I was a divorced father of two working nights going to school during the day," he said.
Finneran was married twice, once for five years and once for six years. He has three adult children and three grandchildren.
With a house on the Cape in the family, Finneran moved to Falmouth in 1984.
He works in "construction, any kind of whatever," he said.
For more than 20 years, Finneran did not closely follow town government.

The Sign
In 2006, "A neighbor of mine was dealt a wrong deal by the building inspector," he said. "As soon as I started investigating, just stuck my nose under the tent, I started finding out more."
According to Finneran, a house near his house was allowed to be a residence for more than 40 illegal immigrants, including several in a converted garage. It became a neighborhood battle, said Finneran, who said he was "stalking my neighbors."
When Finneran's neighbor, who was his friend, was out of town, he said he would had a five gallons of three-quarter-inch crushed stone in his yard and occasionally he would pelt the neighbors roof with a stone or two "just to wake them up," he said. "There was 40 of them. I don't know why they didn't kill me." According to Finneran the neighbors in the overcrowded house were up all hours of the night, and used the backyard as their bathroom.
He put signs on his lawn accusing the building inspector of allowing the illegal apartment. He said he was told his signs were illegal. So he nailed a sign to his house.
"Remember when Batman said, 'This town needs an enema,' " explained Finneran. "There are some real pieces of shit in town hall."
Flynn said, of the sign, "I think it represents his point of view. That's the way he looks at things."
"It wouldn't have been my first choice," said McNamara. "but it didn't offend me."
Mustafa said, "People took it completely out of context. In the old days if you were sick, what was the first thing your mother did to you? She gave you an enema to get the germs out. That's what he was referring to."
A resident of Trotting Park Road, the same road as Finneran, Elsie Andrade, 85, said,  "I always thought that it was funny. He is outspoken, but it's in the right direction."
The overcrowded house eventually emptied out, said Finneran. But he had already stuck his nose under the tent.

Going to Town Hall
"Everyone was complaining everywhere you went," said Finneran. "They were complaining about the town in general and the way it's run." He had many discussions about town government at the Elks Club, he said. Eventually, he began going to town government meetings. "I left the Elks because it was useless to argue with those people," he said.
"I had to learn everything I could about what was going on," he said. "It became an addiction. If I saw things going wrong, I thought it would be as simple as letting people know what is going on."
"I see waste, abuse and fraud," said Finneran.
In September 2012, Finneran had a public scuffle with DPW director Raymond Jack, who long been a target of Finneran's accusations.
Jack declined to comment about Finneran for this article.
"They've construed me to be something that I'm not," said Finneran. "How about somebody comes at me pushing, swinging fists? And I'm the negative one."
Flynn said, "After a while, negativity wears people down. It wears on you and wears on your psyche and makes you focus also on what is wrong."
Finneran said there should be focus on waste, abuse and fraud. He said it comes in many shapes in town, and he pointed to the recent town election approving approximately $100 million for two articles dealing with wastewater.
"These people judge their worth by the size of the projects they do," he said.
Of course, the majority of Falmouth voters just approved those projects. And they did not elect Finneran as selectman.
Nevertheless, he still has questions. "We need a town-wide purchasing agent, that way everyone would know that there is someone looking over their shoulder," he said.
Finneran has many issues he feels passionately about and he said he has to continue to attend meetings and raise issues. "The average person out there can't, don't, or won't speak for themselves," he said. "They depend on me greatly."
"It started about five years ago," said Finneran. "The little old ladies in the grocery store would come up and grab you by the bicep. I don't know why they always grab you by the bicep. Then they look around to make sure no one is looking and they say, 'You keep it up. I like what you say.' "
The waste, abuse and fraud Finneran claims to see angers him. "I look at it as if they're robbing my mother," he said, "and after that it's easy."
I give people math, they give me politics back,"  said Finneran. "Not everybody's cut out to take the kind of abuse that I have. This is a shoot-the-messenger town."
Please like us on Facebook
For more stories like this, please see Longform stories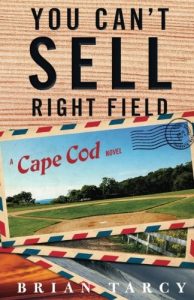 A Cape Cod land deal, a softball team and an election.
From Cape Cod Wave: YOU CAN'T SELL RIGHT FIELD, A Cape Cod Novel
If you like this, and find a local journalism alternative valuable, please slide the below slider and support Cape Cod Wave. We do not charge for content. We do need your support. Thanks!