CHATHAM – The little bit that the tourists see at the Chatham Municipal Fish Pier is the rock star stuff. Fishermen on boats coming in are, as town Wharfinger Michael Ryder said, "the last of the cowboys."
"They know they're in the spotlight," said Rick Thompson, facility manager for Marder Trawling of New Bedford, one of two companies renting space in the Chatham Municipal Fish Pier. The other company is Red's Best of Boston.
"It's unbelievable. The tourists gather round." said Thompson. "And we've had some celebrities. A western musician filmed a music video on a lobster boat."
There's a lot to like about the job on the fish pier, he said. "I love it," said Thompson. "Look at my office."
"These are independent people. They are hunters, that's the mentality. And fishermen are survivors. They make a living, or they wouldn't be doing it." – Chatham Wharfinger Michael Ryder
"We will average 3,000 visitors a day in July and August," said Ryder.
What mostly isn't seen is the hard work.
Ten to 12 million pounds of fish move through the municipal fish packing facility every year, said Ryder.
"There is no such thing as the word, 'easy' in the fishing industry," said Thompson.
---

** Please support independent local journalism.
See the DONATION BUTTON AT THE TOP OF THE PAGE **
---

A Convenience In A Difficult Industry
"You just pull up and they lower the bucket," said John Our, owner of the 42-foot fiberglass R/V Miss Fitz, which brings product to Marder at the fish pier. When they arrive at the pier, the fishermen lift bins full of fish into a bucket that, Our said, "holds about 500 to 600 pounds of product."
A chain then raises the bucket and it is dumped down a chute into a lined cardboard vat.
There are 1,600 pounds of fish in each vat, and, in the summer, 26 to 27 vats per tractor trailer, said Thompson.
"It's very convenient," said Our, 56. He has been fishing for a living for 37 years.
The 95-foot by 42-foot building was built in 1946 and has had several different lessees, said Ryder.
Ryder has been working at the fish pier since 1983, he said. He was in the Coast Guard, spent 20 years as a commercial fishermen, and has been Wharfinger for seven years. "I have seen six different lessees in that time," he said.
Each lessee now pays the town $15,000 a year, he said. There is also a fuel lessee that pays the town for each gallon pumped, he said.
The town has many operating costs, said Ryder "including the fuel systems, water and electric in and on the packing building, docks and the parking lot. Also water and electric for the Wharfinger building and public restrooms. All repairs and maintenance of the buildings, parking lots, bulkheads, docks etc. are the Town's responsibility, plus dredging around the Fish Pier and numerous other expenses."
About 15 years ago a complete renovation was done on the outside of the packing building, said Ryder.

A Lot Of Fish
The Miss Fitz came in recently with a load of mackerel. It is mackerel season, explained Our.
"There's not a real big market for mackerel," said Thompson, just before Our's boat arrived at the fish pier. "It's mostly in New York City, where there's a lot of ethnicity. It's nothing that flies off the shelf."
Thompson said he occasionally eats mackerel. "If it's done right, it's good. You just need to get the right recipe."
What Happens Inside The Chatham Municipal Fish Pier: 3-Minute VIDEO
So then where was all this mackerel going? "The bulk of it is bait for lobster boats," said Thompson.
According to Ryder, several species of fish go through the packing facility during the year.
The majority of the species are spiny dogfish, skates, mackerel, monkfish, lobster, bluefin tuna and scallops, said Ryder. There are lesser amounts landed of cod, haddock, pollock, halibut, redfish, bluefish, various types of flounders, he said.
The season will determine what is caught, said Ryder.
"All summer long, starting probably in May is when the skate wings come in," said Ryder. "And in June, the dogfish start coming in. About the end of October they switch over to mackerel. And then over the winter, monkfish is what they catch. And other species like sea scallops and lobsters and some codfish, haddock, pollock – groundfish."
According to Ryder, it varies but 87 boats currently use the fish pier. Most boats have one owner, but a few fishermen own more than one, he said. The biggest boat, the largest that the regulations allow, is 50 feet long, he said. The smallest is 25 feet.
The average boat, said Ryder, is between 35 feet and 45 feet. There are scallopers, lobster boats, draggers, gill netters, long liners, handliners, and charter boats, he said.
Generally, said Ryder, one to three fishermen work on each boat.
"There's a lot of good guys out there," said Thompson.
In this weather dependent industry, things are busier in the summer, said Thompson.
"It's weather related," said Ryder. "On the crappy days in the winter, you have off. It's an up-and-down lifestyle. When the weather is good, you can fish for three weeks straight and then turn around and have three weeks off due to the weather."
Thompson said at the fish pier, "In the wintertime, we work 40 to 50 hours a week. In the summertime, we put in long hours, 70 to 80 hours a week," said Thompson. "We'll fill two tractor trailer trucks a day. It's crazy."
And that is just on the Marder side of the fish pier.
Offloading can take anywhere from 15 minutes to an hour, he said. And because of the tide, "they all seem to come in at the same time," said Thompson. Thus, the boats line up, waiting to offload.
Thompson has been in the fishing industry for more than 40 years. He began by trucking fish for three or four years, he said, and he fished for 14 years. "Fishing is a young man's game," said Thompson. "I've got the arthritis to prove it."
After Thompson stopped fishing, he said he ran a tuna buying facility out of Gloucester for ten years, and he has been working at the Chatham facility for 15 years, he said.
Thompson was with a different company before Marder took over three years ago.
"I've been going at it since 1974," he said. But he now enjoys working at the fish pier and, he said, "I like to have my nights at home in my own bed."

Fishermen Fish
Fishing, said Our, "was it for me. I didn't see anything else I wanted to do. That's what this community was when I was a kid. Fifty to 60 percent of the town was involved in fishing… All my friends fathers were fishermen."
"I learned it from my father. My father was a lifetime fisherman," he said.
Ryder said that fishermen do things their own way. "They are not people that want to be told what to do. They just shut off and go to work."
Thompson said, "I deal with about twenty boats, three to five people on each boat. There's drama sometimes. Fishermen do what they do and they know what they want."
But Thompson and Ryder, both former fishermen, understand. "Those guys have to watch what they're doing much more than we do on land," said Thompson. Besides the obvious physical labor, Thompson said fishermen are dealing with "insurance, upkeep, weather, the ocean."
Plus, said Thompson, "coming and going out of this harbor is pretty sketchy. Once you get all that weight on the boat, if you hit a sandbar you could roll over.
It's a lot to think about. And they have their reasons to do what they do. "They're independent," said Ryder. "These are independent people. They are hunters, that's the mentality. And fishermen are survivors. They make a living, or they wouldn't be doing it."
"They used to make a really good living," said Thompson. "Now they make a reasonable living and they've really got to bust their tails to do it."
Our said, "You can make a comfortable living if you are willing to work, and make changes and be adaptable to the fisheries."
"You go every day they let you go," said Our. "We go six days a week in the summer. In the spring, we go every third or fourth day."
And the fish they target determines where they go, said Our. "For the monkfish, we go about 110 miles. Dogfish and skate, we go eight to ten miles. That stuff is closer to land. And mackerel is a couple miles east of the beach."
They are hunters but although they are taking a small boat into a big ocean, there is nothing random about their pursuit, said Ryder. "They know what they're going for before they leave. They don't know what they are going to catch, but they know what they are going for."
"There are characteristics for each species," he said.

John Our, A Fisherman's Story
"I've only moved about a mile and a half since birth," said Our, who remembers going out lobstering with his father when he was 5 years old.
While most of his friends' fathers were fishermen, only a few of his friends became fishermen, said Our. "Only me and a few others," he said. "Probably less than five of us are second generation."
On his early trips with his father, "quite honestly, I spent a lot of time in the bunk at that age," said Our. But over time he began helping out, and after graduating from Cape Cod Regional Technical High School in 1980, Our fished for a few years with his father.
"Fathers and sons don't get along too well when on a boat," he said.
He got his first boat, the Miss Molly, in 1988. "That boat went up on the rocks during the No-Name storm (of 1991) and it punched the keel out of it," said Our.
He built his current boat, Miss Fitz, in 1992.



Fishing, he said, has changed a lot. "Chatham was a big codfish port in the 60s and 70s," said Our. "Hook and line for codfish and haddock. Most of the fish were caught with hooks. Today it's more with gillnets and otter trawl, which is a dragger."
"I gillnet," said Our. "The past five or six years, I have not targeted cod. The quotas are so low, it's not feasible for me."
Our said there are myriad changing regulations that make his job difficult. "You should be in my business if you want to be confused," he said.
"There used to be a trip limit; you'd get so many pounds per day," said Our. "That lasted up until about ten years ago. Now they do catch shares. Each boat is allocated a different percentage based on its history," he said.
When the regulations involved trip limits, Our said, fishermen would discard excess catch at sea.

Competing With "50,000 Unlikely Fishermen"
"The problem is the seals," said Our. "The seals have devastated my industry in the last 15 years. In the last ten years, it's gotten really bad."
Although the seals don't bother the mackerel, he said, "the seals rip the skate right out of the net. They ruin the net and they ruin the product so you can't sell it."
Thompson said, "Seals eat something like 30 percent of their body weight every day. When the boats start coming in, it's like a dinner belt. They learned to eat fish right out of the gillnets."
Fishermen point to a famous video shot of thousands of seals on Monomoy island, from April 2016, as evidence of the size of the seal population.
"We have a huge seal problem that's larger than the government realizes," said Our. "There are 50,000 'unlikely fishermen' out there," he said, "and there's almost nothing that I catch that they don't want."
---

** Please support independent local journalism.
See the DONATION BUTTON AT THE TOP OF THE PAGE **
---
See our fishing stories
See also The Seagull & The Dock Worker
See also Cute Seal Jumps While Fighting Seagulls For Fish At The Chatham Fish Pier – VIDEO
– Please like us on Facebook.
For more photos from across Cape Cod, please see Scenic Cape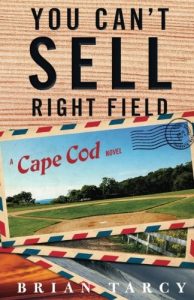 A Novel By Brian Tarcy
A softball team called the Townies. A slick developer with a sketchy story. A town divided over a zoning change….— YOU CAN'T SELL RIGHT FIELD, A Cape Cod Novel