CAPE COD – Here is a video of scenes we have shot all over the Cape for the past year or so, with brand new original music by the Grab Brothers. This is the world premier of the song, "Stranded In Time."
I had been toying around with this video since well before the Covid-19 pandemic took over everyone's life. Recently, it seemed a good time to revisit it.
Cape Cod Wave Magazine has collaborated with a few musicians who have generously added music to videos we have shot through the years.
We have several collaborations with The Grab Brothers, whose music seems to work particularly well with nature videos we have shot.
This may be our most interesting collaboration as the song was written specifically for this video. For this, after I had edited together a rough draft, I sent it to songwriter Larry Grab asking, "Want to write a song?"
He immediately and graciously agreed. When I suggested I was hearing an opening lyric in my head (I've been writing bad lyrics with no where to put them for decades), he even agreed to use it: "Stranded in time, with you on my mind, the world's still amazing to me…" and he wrote the rest.
We're all stranded in time right now. Here's how the Grab Brothers and Cape Cod Wave Magazine have spent a bit of it. We hope you enjoy it, and please visit the Grab Brothers webpage and buy their CDs. They are great.
Please like us on Facebook
– If you like Cape Cod music, here is a 6,000-word story that Cape Cod Wave did on the Cape Cod original music scene. We interviewed 20 musicians, four club owners, and two radio deejays – Cape Cod Music And The Joy Of Being Originally Alive
And here is a link to our growing collection of local music stories, and more than 100 music videos of local bands playing original music  –  MUSIC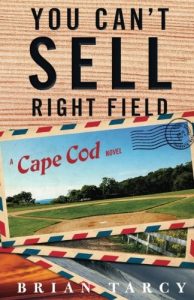 – A Novel By Brian Tarcy of Cape Cod Wave
"This is a terrific read. Brian Tarcy's style and sense of humor make it easy reading, while his subject matter is of more importance than most communities realize. If you care about growth in your community and the lack of thoughtful planning, you owe it to yourself to read this thoughtful piece of fiction that is all too real in smaller communities in our country."
— YOU CAN'T SELL RIGHT FIELD, A Cape Cod Novel