Is there a Cape Cod music scene? Listen.
The waves are a natural rhythm, and the seasons set the tone. "People have asked me to describe what Cape Cod is like," said John Beninghof of the Old Silver Band of Falmouth. "I tell them it's like Jamaica four months of the year, and it's like Soviet Russia the rest of the year."
(See also, Cape Cod music slideshow)
(See also, our growing collection of 2-Minute Videos)
Beninghof is exaggerating on the length of the Soviet winter around here. But his general sentiment was shared by many musicians who make their home on Cape Cod. Get what you can when you can, and then create the rest of the time.
There is a scene, yet as Kami Lyle, a singer and trumpet player who moved to Harwich from Nashville with her husband, Joey Spampinato, a creative force in the nationally known band, NRBQ, said, "I don't think that people think, 'I'm going to go to Cape Cod and make it big."
And yet, there is a "there" here.
Just listen.
"I was part of the Boston music scene and when I moved here ten years ago, I thought my life was over," said outer Cape singer songwriter, Sarah Swain. "But it was the start of everything. There are some unbelievable musicians here, and really creative. It opened my eyes to a whole new way of playing. I was doing kind of moody, dark music before I moved here. But the music here is so full of joy."

What is This About?
"I don't get it," said Randy Gummow, who has run the open mic at Pie in the Sky Cafe & Bakery in Woods Hole for 12 years. "What is your story about?"
I didn't actually know. I am not a musician. I cannot even play the radio. I am a fan, I love music, and I am in awe of creativity.
I asked musicians to tell me what my story was about.
Music on Cape Cod. Original music. Geography. The rhythm of the seasons, and the challenges of musical creativity in an economic reality that involves a small town girl, a city boy, and a midnight train going anywhere – you know, that Journey song that "everybody" likes.
Cape Cod Wave contacted four club owners, two radio deejays, and 20 musicians for this story. It was impossible to contact everyone. We apologize, and admit we were wrong to omit anyone.
Listen. Yeah, go on, listen to Cape Cod and you're liable to hear something you've never heard before. Or maybe you have – everywhere.
This story is about Cape Cod's original music.
You've heard of Seattle, Nashville, and Motown. Check out Cape Cod.
There's a "there" here, and you can hear it. Or can you? Well, you can hear it some places. Most other places, it seems, are good places to hear that song by Journey again.

"Play something I know"
"Freebird!"
The young man in the blue polo shirt and the goofy grin started yelling the name of the 1974 song by Lynyrd Skynyrd before the Woods Hole band Crooked Coast played one note. "Freebird!" he yelled, and then high-fived another young man wearing a polo shirt and a similar goofy grin. "Freebird!"
Crooked Coast launched into its first song, an original, and the crowd at the front of the stage at the Landfall Restaurant in Woods Hole, 25 or so deep, started dancing and singing along. All except for that one young man in the polo shirt. "Freebird!" he yelled, and he kept yelling throughout the song.
And then a second song. More dancing, and more yelling for Freebird, but now there was no one to high five the young man in the blue polo shirt. His friends were dancing, caught up in the vibe of a band and its fans. He was undaunted. He chugged back his beer and yelled again. "Freebird!"
At the end of the second song, Luke Vose, the lead singer and guitarist for Crooked Coast, said into the microphone, "You don't even know how 'Freebird' goes, do you?"
And then Crooked Coast started its third song  The young man in the blue polo shirt finally gave up. He started to dance.
"You see it so much, you become immune to it," said Vose afterward. "We're pretty confident."
And Steve Wood, guitarist with the outer Cape band, the Catbirds, among other bands, said, "There's a Freebird in every crowd."
"Crowds are different," said Sara Leketa of Hyannis. "Some people come out to hear original music as opposed to yelling 'Freebird' ".She starts some shows, she said, with the words, "I just want to make an announcement. There will be no 'Freebird,' and no "Brown-Eyed Girl' ".
Musicians nationwide, probably, have to ignore the ritualistic shout-out to the iconic overplayed 39-year-old song. Cape musicians discounted the request as an effect of alcohol, and an attempt to be funny as well as to get attention. Not everyone that yells "Freebird," it seems, even wants to hear "Freebird." As cliché as it is, musicians said they get it.
And then there is, "In every room, you'll have someone say, 'Play something I know,'" said Vose. "There's always one little group of people."
The variation is "Play something I can dance to," which mostly means, "Play something I know."  Let's face it. Music is an emotional thing. I can hear a song I first heard when I was 15 years old, and it takes me back again to when I was 15. We like the familiar.
In fact, there is a reason that songs become hits, and why so many people like to hear them live. "You're basically a live version of a jukebox," said Ryan Buckley of Falmouth, the drummer in the cover band, Third Degree. Buckley, who this summer started a Facebook "boycott" page after a local nightclub's Facebook page called Cape Cod musicians "local crap"  is the only musician in a strictly cover band contacted for this story. He is currently the administrator of the Facebook page, "Cape Cod Sound."
He said he has been in an original band, but he learned, "It's a tough little business, that's why I'm doing the cover thing. Physically, I can't sleep in a van anymore."
Taking music on the road, said Buckley, is part of trying to grow original music. On Cape Cod, he said, "You'll get a following, but never enough to sustain you and get enough attention."
Although there is, certainly, a proven audience on the Cape for original music, it seems to be in pockets while most of the peninsula is awash in tourists and cover songs.
"When you are in an area like the Cape, vacationing for a week, you tend to gravitate to the familiar," said the DJ known as "Cat," who hosts a local music show called, "The Cheap Seats" on Cool 102. "There tends to be a market for it in tourist locations. You're on vacation, you don't want to work too hard for your music."
And musicians understand, some more grudgingly than others. "It depends on the crowd, what type of music we play. In certain places, places where there are a lot of tourists, we play more covers than originals," said Mary Lindberg of Falmouth, a singer songwriter with The Silent Trees.
"You've got to play the room," said Brian Sances, guitar player with Brian Sances and the Big 3 of Sandwich.
Most, but not all, of the musicians contacted for this story expressed a sentiment similar to that of Benjamin Lee Patterson, banjo player and lead singer for the Woods Hole band, The Brothers Rye. "For an original band, the delivery system on Cape Cod has to be wrapped in covers," said Patterson. "We play covers to make it easier for people to access our originals."
Mixing originals in with covers is a great way to get original music heard by an agreeable audience. "If you only come in with songs nobody's heard, they just stand there," said Buckley.
The idea is to get the songs that nobody's heard to become songs that a lot of people have heard.
"I don't totally dismiss playing covers," said Vose, who mixes them into his Crooked Coast sets. "They pull people in. But when you get people to hear your own tunes, you really have to stand by them."
Craigo Carlson, singer-songwriter for Paradise Rock in Woods Hole said, "We do 30 to 40 percent originals, just to get the point across."
And while almost every band does cover songs, it turns out, rather surprisingly, that not just top 40 songs have been written in the history of the world. Bands on the outer Cape, especially, make a point of performing unknown covers, said Tony Pasquale, deejay and host of "The Squid Jigger's Blend" on the Provincetown station WOMR. "Everybody out here are obsessive music geeks. When they do covers, they really dive deep."
Chandler Travis, bass player, singer, and songwriter with the outer Cape band, The Incredible Casuals, said, "The stuff that isn't original tends to be something people haven't heard. There are so many great songs that people haven't heard before." Travis is also in The Chandler Travis Philharmonic, the Catbirds, and several other bands.
One outer Cape band that Travis described as "delightful," are The Ticks. Julia Randall, drummer for the Ticks, said her answer to a request for covers is, "We only play our own songs. We don't know any other songs."
"A lot of places are happy, and I understand why, to have a deejay or some want karaoke," Randall said. Yet, she argued, especially for bars, "People are willing to get weird. That's the reason they go to a bar."

Varieties of Music
There are a lot of ways to be rich. Look around. If you live on Cape Cod, face it, you are rich geographically. What you may not know, is that you are musically rich as well.
"The history of jazz on the Cape goes way back," said Michael Pearson, owner and artist at the Harvest Gallery Wine Bar in Dennis. There's still a lot of that jazz scene on the Cape"
You can find a lot of of everything on the Cape. Besides jazz, there's bluegrass, folk, pop, punk, rap, rock, and more.
"It's the world, isn't it? All on Cape Cod," said Zoe Lewis, a performer from Provincetown who describes herself on her website as a "Troubadour/vaudevillian/storyteller/singer-songwriter/piece of work!"
Randy Gummow said of the open mic he runs, "We get new people every year. Everything from three generations playing together to a guy with an accordion doing polka."

Music Shaped By Geography
"A lot of my songwriting reflects where I come from," said Brian Sances.
Some were born on Cape Cod. Some moved here. It seems quite a few musicians chose Cape Cod. Or maybe it chose them. "I always had a thing for Cape Cod," said Chandler Travis. "I remember being in prep school and fantasizing about Nantucket in the winter."
No matter how they got here, every musician cited the Cape as an inspiration, either directly or indirectly, on their creativity. Some cited specific songs written about Cape Cod. Others were more ethereal. "We're way more lazy and creative and inspired than we were in the middle of the San Francisco music scene," said Matthias Bossi, who performs and tours with his wife, Carla Kihlstedt.
Bossi grew up in Dennis, traveled the country, and settled back on the Cape three years ago. "I'm here for the peace and quiet that Cape Cod offers," he said..
"We're all kind of nutty about the ocean and the sand and the light and how beautiful it is here," said Kami Lyle. "It's like a big slumber party. We're all sleeping in the middle of the ocean. We're nuts."
As Michael Pearson of the Harvest Gallery Wine Bar said, "It's a place on a map. It looks like a creative point of view."
"I have tons of songs that were inspired by where I live," said Zoe Lewis. "We have a beautiful life. I wouldn't change it for anything."
"We're writing about people in our lives," said singer songwriter Isel Garcia-Renart of Woods Hole, "or that night this happened. or that happened."
Charles Parker Walton, drummer in Crooked Coast and three other bands, said, "Cape Cod influences the music a lot."
"There's an affinity for this place, said John Beninghof of the Old Silver Band. "We grew up going to Old Silver Beach."

Music Shaped By The Seasons
"It's interesting how the seasons affect the music being played," said Sara Leketa.
In fact, the extreme differences between tourist season and the rest of the year were noted by almost everyone contacted for this story. "I kind of live in two different towns. Provincetown in the summer, and Provincetown in the off-season," said Zoe Lewis.
As Luke Vose said, "The seasons are naturally in tune with human emotions and human life."
Musicians quickly discover how to naturally tune in with those seasons.
"There is way more of an audience for original music in the off-season," said Patrick Bonzagni, owner of The Beach House in North Falmouth.
"It's different in the summer than the winter," said Brian Sances. "In the winter there are less people and less money to be made. In the summer there are all the Parrotheads, and people that want to party."
"Beachy, hippie white guy music is definitely part of the scene," said Randy Gummow. "Having a Corona or whatever those guys like to do."
When gigs for tourists decline and Corona sales drop, musicians have more time for creativity.
"I'm like a farmer," said Chandler Travis. "We have a new crop of songs in the spring."
For many, the off-season is the most fertile territory. "Honestly, the type of music we play, wintertime is a time we always like," said Benjamin Lee Patterson. "We play hunker-down whiskey-drinking kind of music."
And in the off-season, especially, there is an audience for hunker-down whiskey-drinking music, and all other kinds of original music.
"Our weekends are busier in the off-season," said Dave Fenstermaker, owner of Grumpy's Pub in Falmouth. "Everything else about us is backwards too. We'd rather make our money off of the locals year round rather than three months of tourists. There are places to go see cover bands. We're not one of them."
And Beverly Dunn, owner of the Island Merchant in Hyannis, said, "In the winter, we have busier nights than we have in the summer."
It's an odd dynamic, somewhat difficult to understand. There is more opportunity in the winter. There is less opportunity in the winter. Both? Neither? It's just different.
Vose pointed out, "In the summer, the work is there. The opportunity in the winter is to travel."

Taking Cape Cod on The Road
When Kami Lyle travels off Cape, she tells her audience what town she is from on Cape Cod. "I show people the map and point. You know, my left arm."
Benjamin Lee Patterson said, "I always say we're the Brothers Rye from Woods Hole."
Cape Cod, musicians say, travels well. But not all musicians brand themselves as from this area. When the Catbirds travel, said Steve Wood, "We're just a band."
Musicians tour. It is part of the job description for most.
"We live in Harwich but we travel all over," said Lyle. "New York is only five hours away, or four hours if I'm driving."
Some have lived other places. Zoe Lewis has lived in many places, including New York. New York, she said, has "a whole lot of gigs but it's not very nice to have to get in a subway to get to them." In Provincetown, she said, "I can go to a gig on my bicycle."
Yet, as Luke Vose said, "If you're in a big city, there is a different energy,"
"There is a strength to being a Cape Cod band that travels to New York," said Vose. When Crooked Coast travels and he tells people they are from Cape Cod, Vose said, "I think they imagine a bunch of guys in pink polo shirts hanging around the Kennedy compound."
The Incredible Casuals have traveled to Japan, said Rikki Bates, the drummer. ""The room is full of these kids and most of them don't speak a word of English, and they were mouthing the words to our songs. It blew our minds. Over in Japan, they definitely know about the Cape Cod music scene. We have had fans from Japan come all the way out to Wellfleet to see us at the Beachcomber."

Staying Home – 15 Towns & 70 Miles Shaped Like An Arm
Cape Cod is 70 miles long and shaped like a flexing arm. There are 15 towns on the Cape. Barnstable alone has seven villages. Falmouth has eight.
"I grew up in the mid-Cape area," said Cat, the deejay. "We didn't get to Falmouth. We certainly didn't get up to Wellfleet.. People kind of stay in their own little town or village."
Even Bates, who noted the connection to Japan, said, "Falmouth is rather disconnected in a lot of ways to our end of the Cape."
"Falmouth is out of the way for people from Hyannis, and probably people from Boston," said Benjamin Lee Patterson "Why would they go to the armpit?"
And Dave Fenstermaker of Grumpy's Pub said, "Falmouth and Bourne are like an island for most of the Cape."
It turns out, there is not so much of a Cape Cod scene as a bunch of micro-scenes, often very under the radar.
"There are more talented people on this tiny little sandspit than anywhere else in the country," said Cat, the deejay. "You can't throw a rock without hitting somebody in a band."
"Some of the most amazing musicians on the Cape are making the most amazing music, but they just don't leave their houses to play out," said Cat. "Or if they do, they play house parties. You have to know about it."
And even if you do know about it, the music could be an hour away.
Many echoed the feelings of Randy Gummow, who said, "A lot of it has to do with if you are going to go out and have some beers, you want to be close to home."
It's simple arithmetic. Music and bars go together. Bars and drinking go together. Drinking and driving do not go together. But it's not just the audience that doesn't travel. "A lot of people stay in their towns because the traffic is so crazy," said Zoe Lewis.
"It's hard to get around the Cape to travel," said Beverly Dunn of the Island Merchant. "You make it in your immediate neighborhood."
"I'm sure there's guys in all these towns," said Chandler Travis. "I mainly know my own turf "
"I think it's definitely a scene, in different pockets," said Dunn. "When you think about the Cape, the atmosphere in different pockets is so different. The music scene kind of has been crafted around that."
Cat pointed out that, ""There are amazing musicians from one end of the Cape to the other."
For some reason, a lot of the original stuff seems to be coming from one end of the Cape, or the other. "Woods Hole certainly has a scene," said Patterson. "The outer Cape certainly has a scene."
In between? "You look at Main Street, Hyannis, you're looking at 90 percent tourists," said Sara Leketa.
Dunn described the Hyannis scene as city-like, like Boston, and the outer Cape and Woods Hole scenes as being like Cambridge, "more unique and adventurous."
Although there are mid-Cape outliers like Sara Leketa, and the unknown geniuses as described by Cat, there appears to be two distinct scenes producing the majority of the the original music on Cape.

The Incredibly Casual Outer Cape
The outer Cape, said Pearson of the Harvest Gallery Wine Bar, "is an art colony. It's probably the closest thing to the Florida Keys that the East Coast has."
"The further out on the Cape you get, the hipper, cooler, and more unique it gets," said Bruce Maclean of East Orleans, who has also been known to perform under the name "Link Montana."
Or, as Rikki Bates put it, "The further out on the Cape you get, the crazier it gets."
"It probably has to do with why there are more creative people out here," said Steve Wood. "We're all washashore. We found a cool place. It's cooler the further out into the ocean you get."
There is certainly more of an edge of the earth feeling to the outer Cape than there is in some of the more suburban, developed parts of the mid Cape and upper Cape.
And then there is this:
"My introduction to the music scene was the Sunday ritual at the Beachcomber," said Tony Pasquale, the deejay. "A friend of mine introduced me to it, and I was kind of floored. It was a ritual, like going to church every Sunday. Very few bands get that kind of crowd reaction. It was very intimate and personal and everyone knew what was what."
"There is a really good synergy between the band and the place," said Rikki Bates of the Incredible Casuals.
"We just very lucky to get in at the Beachcomber," said Chandler Travis of the Incredible Casuals. "It's the only bar that's right on a sand dune. We got the twilight slot. You'd have to be an idiot to not get that to work."
"I think they made it the coolest bar on the Cape," said Pasquale. "They created that scene. That was really magical, something about that place and that band. It was every Sunday for almost 30 years."
This year, there were only a few dates.
"We didn't stop doing it," said Travis. "We just do it less. It's still pretty glorious. There is something about the kind of music we do in that setting."
See 2-Minute Video, Incredible Casuals At The Beachcomber
"Chandler could have gone anywhere, but he's here," said Zoe Lewis, who described The Incredible Casuals as Chandler "and his band of misfits making this amazing sound and doing it in this rough and rugged fashion."
"The Casuals are local legends," said Matthias Bossi, of Dennis. "You don't grow up around here without knowing about the Casuals." Of Travis, Bossi said, "He, to me, is the king of the Cape Cod music scene."
"Chandler is sort of the musical godfather," said Pasquale. "You can do your family tree and see who splintered off and started another group."
One of Travis' groups, the Catbirds, features Steve Wood, who, according to Pasquale, "is one of the most amazing guitarists anywhere." Travis concurs. "Steve is the soul of rock and roll on the Cape. You've just got to see him play."
Steve Wood has played with Sarah Swain in The Greenheads.
Travis has the Incredible Casuals, the Catbirds, and, as Pasquale pointed out, "There's three versions of the Philharmonic so he can fit those bands into different venues."
"Chandler is very driven to write new songs, said Bates, who plays in most of Travis' bands. "He is an endless fountain of new material."
"I never would have done this on purpose," explained Travis. "I've written different types of music and I wanted to get it performed."
As Travis points out, the scene extends far beyond himself.
One can just look to Johnny Spampinato, the guitar player in the Incredible Casuals, who has played with the national act, NRBQ. Johnny also plays in the Spampinato Brothers with his brother, Joey Spampinato, a founding member of NRBQ, often called "the world's greatest bar band." Also in the Spampinato Brothers is Aaron Spade of The Incredible Casuals.
NRBQ is "a musician's band," said Cat, the deejay.
Joey Spampinato is "a world class musician," and "rock royalty," said Bruce Maclean "His coming here kind of stepped the whole thing up a bit."
"My music has been a mix," said Pearson, of the Harvest Gallery Wine Bar. "There are a lot of branches that came off the NRBQ tree."
[quid-slider initial=.99 min=".50″ text="Support Cape Cod Wave"]
"People sitting in a bar might not even know the guy sitting next to him is a great musician," said Kami Lyle. "They don't even know the half of it. There's world class talent on the Cape."
"There's definitely a lower Cape sound," said Sarah Swain, who cited the drumming of Rikki Bates of the Incredible Casuals, as something recognizable in many lower Cape bands. .
"There really is kind of a little scene. Our indigenous kind of version of rock and roll," said Bates. "Wrong is right. I'll just play a drum roll when I feel like it. Sometimes I do it in the wrong place and I make it work."
"I don't think there's so much of a Cape Cod sound," said Pasquale. "More of an attitude."
"Everything is lip-synched or on TV or coming over the Internet," said Maclean. "This is very real and joyful."

Woods Hole's Soul
"There's definitely a special vibe in Woods Hole," said Charles Parker Walton. "There's something in the air."
Tucked in the southern corner of Falmouth, Woods Hole, or "South Falmouth," as Craigo Carlson called it in one of his songs, is one of the most unique, transient little places in the world.
It is the home to only about 400 year-round residents, including Nobel prize winners, and the ferry terminal for boats to Martha's Vineyard. It is also home to the Woods Hole Oceanographic Institution, the Marine Biological Laboratory, a burlesque troupe, a whiskey-drinking bluegrass band, several singer songwriters, and at least a couple of rock bands.
"There's a ton of talent," said Luke Vose. "Woods Hole is a very special place."
Part of the reason, said John Beninghof, is that, "Randy Gummow has been holding the open mic at Pie in the Sky for years now. Randy has provided so many people the opportunity to play in front of people. It goes on every Monday in the summer. When I tried, I discovered, Okay, this makes sense. I'm bringing joy and excitement to all these people."
"Open mic night is one of the greatest things in the world. You never know if the person up there is performing for the very first time, and then they might develop this amazing following," said Beninghof.
"I first played guitar at an open mic when I was 14," said Gummow, who noted "An open mic is much better suited for an all ages audience than at a bar."
"I've seen some incredibly talented people singing songs they wrote on their own," said Gummow, who always starts the show by playing the first 20-minute set himself. "I like what I play. I hope they like it," he said.
Although the show has offered many an opportunity to showcase their talent, Gummow said his audience in the past has gotten out of hand, he said, noting the open mic attracts a young audience. "It's their first opportunity to be out at night. A number of years ago, we had to shut down halfway through the summer"
"We would get 250 kids in the summer. We had a kids' rap group and some kids were drinking 40 ouncers out a brown bag up on the library lawn."
As Benjamin Lee Patterson pointed out that, for young adults also, "Once you have a scene, a party draws a party."
"We know the words to each other's music," said Isel Garcia-Renart. "It is a Woods Hole music scene."
"Whenever anyone in this area is doing something, making a CD or something, it makes us all want to work harder," said Patterson.
While this vibrant little scene has sprouted up in little Woods Hole, Tony Pasquale, deejay from Provincetown said, "We don't get bands from that end of the Cape. They don't come up and play here at all."
By the same token, Dave Fenstermaker of Grumpy's Pub in Falmouth, said, as for audience turnout, "We never had a good show when Chandler Travis played here."
While musicians from several towns on the lower Cape seem intricately connected to each other but not connected at all to the Woods Hole scene, there is a growing connection between Woods Hole and Martha's Vineyard, said Vose and several others. "That's because you have the bloodline, the ferry," said Carlson.
Vose said he has shared stages on the Vineyard and in Woods Hole with a band from Martha's Vineyard, DCLA.
"There's not enough collaboration," said Vose. "There's not people saying let's get a place and put a show on with three bands. You don't make as much money, you have to split it three ways, but you do grow your audience."

The Business of Original Local Music On Cape Cod
"There's no scene unless there's gigs," said Bruce Maclean. "And there's so many more gigs than there used to be," said Maclean, who cited gazebo summer shows as an example of gigs that never used to exist.
"The Harvest Wine Gallery is the lynchpin of all of this," said Maclean. "It's kind of small, very intimate. It becomes very communal. People really experience it."
"It's turning into a little mini Austin," said Maclean. "It seems to be escalating. More spaces, more bands."
Other musicians lamented times gone by when there were more places to play. "The end of the Cape, for years it was friendly territory but it's becoming more of a retirement community and unfortunately that's killing some of the rock and roll scene," said Pasquale.
Musicians generally agreed that there are not a lot of places catering to original music
In fairness, almost every place that has cover bands allows originals. In fact, said Ryan Buckley of the cover band, Third Degree, "The bottom line is, Can you bring people in? I've never had any club owner ever refer to material."
Luke Vose said, "The culture around here at the bars and stuff is a cover band culture."
From Woods Hole to Provincetown, musicians lamented the lack of venues for original music.
"Practically all the stages in town have been removed because that's another dining table, and that's money," said Zoe Lewis of the shrinking original scene in Provincetown. Living in Provincetown, Lewis, said, "It's the summertime. You either do background music or showtunes."
"It's just plain hard," said Chandler Travis. "For one thing, there's only a few clubs that are set up like clubs with sound, lights and a stage. Mostly what you have are a lot of restaurants where you have to move the chairs and tables and then look and sound great all on your own."
"A lot of people that host music don't really care about music," said Travis. "They just want to get bodies in the door."

"Promotion is tough"
"Getting gigs is murder," said Chandler Travis. "Promotion is tough." He said he spends only 5 to 10 percent of his time as a professional musician actually playing music.
Luke Vose said the music business is difficult,especially on Cape Cod. "I have considered leaving the Cape," he said. At one point, after the breakup of a previous band, he said he quit music. "It can be very heartbreaking," he said.
He wasn't the only one to use the term.
"When you have a bad night," said Travis, "it's heartbreaking."
"Most of us are landscapers, waitresses," said Isel Garcia-Renart. "We work."
"I bang nails," said Steve Wood.
"You already know going into it, somebody's gotta pay the dues," said Rikki Bates. "Somebody's gotta pay Lady Gaga's dues. She ain't paying 'em."
There are rare Cape Cod musicians, such as Travis, who make a living full time with music.
"I've been a musician for so many years because I know how to live cheap," said Zoe Lewis.
Musicians making any sort of money have discovered ways to promote their music in this modern world.
"You've got to do your part and do your best to promote your own shows," said Brian Sances.
Mathias Bossi, who has made music for video games and even included Chandler Travis on vocals for one of those, said he and his wife, Carla Kihlstedt have a band called "Rabbit Rabbit," and an internet subscriber service called "Rabbit Rabbit Radio." They occasionally tour, and they put out about one song a month to their 1,000 subscribers, he said..
Bands will try new lineups. "I'm 58. I look 58. It's kind of hard to attract a younger crowd," said Craigo Carlson. "Young people look at old people and they go, 'Man, they're old.'"  So he added younger players to his band to attract a younger audience for his songs.
While everyone is trying to grow an audience, Michael Pearson of the Harvest Gallery Wine Bar said, "I don't think the audiences on the Cape are easily made into groupies."
But as Vose pointed out, "As long as you are coming out with compelling music, people will be interested."
Sarah Swain said the scene is "really supportive. All the musicians support each other. And when you get to know everybody, you see that there are so many people who are accomplished who live here. And if you're trying to do something, they pay attention and show up."
"There's definitely a Cape Cod scene of local music that sticks together and tries to help each other out," said Patrick  Bonzagni of The Beach House.
But Carlson said, "To me, it's cliquey. It's who you know."
As for something big ever coming out of Cape Cod, Swain said, "All the ingredients to make that recipe are in place," she said, including "really accomplished musicians."
"I think there is a great opportunity for people on the Cape to make it big," said Mary Lindberg. "But you have to go off Cape. You can become a big band on Cape, but it doesn't really matter that much in the big picture."
Or does it?
"I feel blessed and honored to be here with these other musicians," said Swain. "I don't feel a need to cross the bridge."

What was this about?
Compared to Nashville, said Kami Lyle, "It's a little more organic up here as far as why people do music. Nashville is where you go to get famous."
So then, what is the Cape Cod music scene? Well, in researching this story, I was mesmerized by videos from the Rabbit Rabbit Radio of Matthias Bossi and Carla Kihlstedt. I probably listened to the song "Start It Up Again" by the Brothers Rye 20 times.
I saw video of Steve Wood playing guitar that floored me, and I was hooked by all things Bruce Mclean. Sara Swain was beyond compelling, both musically and in my interview. The Ticks really are the coolest thing going, and I love that I heard about people dancing on the tables when they played at Liam McGuire's in Falmouth.
Sara Leketa oozes charisma.  John Beninghof sounds like the beach. Brian Sances is smooth and fun, while Charles Parker Walton and ever-smiling Rikki Bates in all of their bands proved beyond any shadow of a doubt that drummers are the most valuable players on either end of the Cape.
The original music being made on Cape Cod, if you take the time to look, will astonish you.
I have never seen a more joyful scene than the Incredible Casuals playing at the Wellfleet Beachcomber.
I saw The Incredible Casuals twice and the Chandler Travis Philharmonic once, and all three times I left with the smile muscles in my face literally hurting. I had the same reaction after seeing Zoe Lewis play a church, and Kami Lyle seduce an audience at the Mattakeese Wharf overlooking Barnstable Harbor.
And as for Crooked Coast, well, "Crooked Coast has an opportunity to do something really great," said Dave Fenstermaker.
I saw it immediately. The connection of Crooked Coast to the audience was electric. I fell right into the songs. I believe it.
But here's the thing. There is so much astonishing music coming out of this little peninsula, and a huge part of any fan has to want the whole world to know about it. On the other hand, the selfish part says it sure is fun to go to the local bar and see these guys.
After The Incredible Casuals finished their first gig of the summer, Memorial Day weekend, at the Beachcomber, I said to Chandler Travis that he looked like he was having fun.
"That's my job," said Travis. "God, what a great job."
– Please like us on Facebook.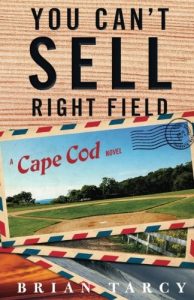 –PLEASE SEE You Can't Sell Right Field,  a novel from Cape Cod Wave…. about land for sale, a crooked developer, a softball team named The Townies, and an election. Based on the true story of a Cape Cod development from the early 1990s, and Cape Cod softball.