HYANNIS – "I did watch it," said Jesse Barboza of the video of the killing of George Floyd by the Minneapolis Police. "I kind of wish I didn't."
"It was really traumatizing," he said. "I don't think people understand the effect it has had on a lot of people."
For Barboza, 33, of Hyannis and the founder of the group, People Of Action, previous news of police violence against black men – a litany of names like Michael Brown, Eric Garner, Philando Castile, Alton Sterling and many more – "all seem like the same day to me."
It was, in fact, difficult for Barboza to recall which event was the impetus for the formation of People of Action, a loosely organized group of 12 African American men who have taken it upon themselves to do what they can to strengthen ties between their community and the local police department.
The group was founded in 2016, but Barboza and others from People of Action interviewed for this story at first recalled the police shooting and killing of unarmed teenager Michael Brown in Ferguson, Missouri as the reason for the group's founding. But that happened in 2014.

Unstuck In Time
With so many events, it is almost as if those interviewed for this story have become unstuck in time like Billy Pilgrim, Kurt Vonnegut's protagonist in the novel, "Slaughterhouse Five." 
"These timelines, I'm surprised by how far apart they are," said Barboza when told that the shooting of Michael Brown was in 2014.
During the summer of 2014, Eric Garner was suffocated on July 17 by police in a choke hold in New York City after being arrested for selling loose cigarettes. On August 9, 2014, 18-year-old Michael Brown, who was unarmed, was shot and killed by police during a confrontation.
But by tracing the timeline to the first event held by People of Action, the now annual Unity Day, Barboza was finally able to say that the July 2016 police shooting and killing of Alton Sterling in Baton Rouge, Louisiana was the catalyst for the formation of the group.
On July 5, 2016, Alton Sterling, a 37-year-old father of five, was killed after being shot in the chest and back by a Louisiana police officer outside a convenience store in Baton Rouge, Louisiana.
Two days later, Philando Castile was shot and killed in his car by a St. Paul police officer who had asked Castile for his license and then shot him, claiming Castile was reaching for a weapon. Castile had a license to carry the gun, which he had told the officer about.
"That summer was a real hot summer," said Barboza. "There was tension that whole summer. Just like right now," he said. "There was a real lot going on. There was a weird cloud hanging over everybody… At that point we wanted to try to see what we could do to bring our community together."
The first Unity Day, an annual picnic attracting about 1,500 people, including many local police, was in August, 2016 – about one month after the shooting of Alton Sterling, said Barboza.
"It was a way to interact with a police officer in a positive way, he said. "For a lot of people, their first time meeting a police officer may not be a good situation," he said.
On the other hand, if folks have first met at a picnic, there could be better understanding on all sides, he said. That is the hope of People of Action and their reason for creating Unity Day, he said.
---

NOTE TO READERS: If you like this kind of journalism and want it to continue on Cape Cod, please support Cape Cod Wave. In these fraught times, Cape Cod Wave Magazine is hoping to survive, like everyone else and we are asking for your help.  There is a donation button at the top of every page.
We set the amount, after seven years of never asking, at $10 for a one-time donation. (For perspective, the "local" corporate owned daily paper costs $3 a day, and $5 on Sundays) If you would like to give more, or less, you can send a check to Cape Cod Wave Magazine, Box 29, Falmouth, MA 02541
Thank you for reading Cape Cod Wave, and stay safe!
– Laura & Brian

---

It Can't Happen Here, Right?
"It comes to a point where you don't want to believe it can happen in your community. But then other people go on TV and they say I never believed it could happen here," said Barboza.
"We were frustrated," said Andre Barboza. Andre Barboza, 35, of East Falmouth, is Jesse's brother. The first person Jesse Barboza contacted after the Alton Sterling shooting was his brother, Andre.
"He wanted to start something in our community," said Andre Barboza of Jesse. "He wanted to get in front of any potential problems before it's too late."
"I got a text that we were going to meet," said Tim Lus, owner of The Flagman Store of Hyannis. "The idea was to get out ahead of it in our area."
Brian Morrison, of Hyannis, is a Barnstable Police Officer. "I'm the community liaison officer," he said. "That's how I got involved."
"Nationally, there were some bad incidents that happened," said Morrison. "The Barboza brothers approached the chief," recalled Morrison of how the group, People Of Action, started.
Police Chief Paul MacDonald, now retired, met with Jesse and Andre Barboza a few times in July 2016 and helped with the first annual Unity Day held in early August 2016, said Jesse Barboza.
Chief MacDonald, said Jesse Barboza, was very helpful. "It was inspiring. Really. How many members of the Barnstable Police Department really wanted to be part of it and make it happen, that inspired me," he said.
"We wanted to celebrate our community but still address the things that are going on," said Jesse Barboza about Unity Day.

The Murder Of George Floyd… "I've been checking on my friends who are black men… They are not well."
"I was scrolling through Instagram or Facebook and I scrolled right by it," said Jesse Barboza of George Floyd's killing by the Minneapolis Police. "Then it just started popping up over and over."
"I realized, here we go again," he said.
"To me, it's just about being a human being. If you are a human being and you hear this person pleading for his life…" said Jesse Barboza, his voice trailing off.
"It hurt. It hurt me to see that. It's tough. And the bystanders, if they intervene they are going to go to jail or worse," said Jesse Barboza.
"I'm more angry than before," said Lus about the video of George Floyd's killing by the Minneapolis Police. "I think everybody is at the point where enough is enough."
Jesse Barboza started naming names of other victims of police violence, and their stories.
"They replay over and over again in your mind, and it hurts," he said.
"You're frustrated, you're angry, and you don't know what to say. You just know that you're mad and you have to try to remain calm and try to think about how you can affect change in your community in a positive way," said Jesse Barboza.
"I've been checking on my friends who are black men or black women," he said. "They're not well. They're really not. It's mentally exhausting to see something like this play out on television or your computer."
"You kind of feel helpless," he said. "Like your voice is not being heard."
"It's not just George Floyd. You get these flashbacks to these high profile things that have happened," said Jesse Barboza.
"For me personally, it was a bunch of mixed emotions," said Andre Barboza I was hurt, angry, discouraged. And a part of me was also, here we go again. I hate to say that but the reality is that this isn't the first video we've seen.
"It makes you think about what my parents, people older than me had to go through without having video evidence," said Andre Barboza.
Morrison said, "As a police officer, as a human being, and as an African American male, I am disgusted by what happened. I am hurt by what happened. I feel for the Floyd family. I wish it didn't happen."
Derek Chauvin, the officer seen kneeling on Floyd's neck "took another man's life," said Morrison. "By saying that, I don't think it was his true intent. I would hope to God that he didn't intend to murder him."
But, said Morison, "I get it. I understand why people are angry."
"It's one person," said Morrison. "Or in this case four" [total police officers involved], he said. But putting it on the whole law enforcement community is unfair, said Morrison.
"Talking to people here [on Cape Cod], they understand that not all police officers are like that," said Morrison. "And we understand that not all people that commit crimes are bad people. They just made a mistake. We treat each other as humans, and that's how we keep the peace."
In fact, part of the reason for the formation of People of Action and the annual Unity Day is for community members to get to know police officers in a friendly setting in order for all to get to see the true humanity of each other.
SEE – CAPE COD WAVE SLIDESHOW ON UNITY DAY
"It's a big free picnic in a safe environment where people can get together, talk and enjoy each other's company and some food," said Morrison. 
"Getting to know who people are is just important in general," said Jesse Barboza. A person who gets in trouble should not be judged by what may be the worst moment of their life, he said. 
Also, he said, "When a person takes off their uniform and goes home to their family, they are who they are. The uniform should not define how that person is judged."

A Higher Standard & The Need For Good Police Officers To Condemn Bad Ones
When talking about George Floyd's murder, Jesse Barboza said, "At some point, out of those four officers, one of them has to say enough is enough. One of them has to intervene."
No one intervened. "There needs to be real justice when these things happen," said Jesse Barboza.
One encouraging thing during recent demonstrations, he said, has been the sight of many police officers denouncing violence and engaging the protesters.
"Good police officers outing and condemning bad police officers is going to be the easiest and least destructive way for us to see change in America," said Jesse Barboza.
"I know there are good police officers," he said. "I know plenty of them myself. And it's easy for me to say to good police officers that they have to say something. But that guy's got to make a living too."
Still, said Andre Barboza, "It starts with accountability. There's nothing to hold officers accountable." An arrest does not mean a conviction, he said. 
"Police officers have a hard job," he said. "It's a tough job, but they also selected that job. And with that duty they should be held to a higher standard than a normal citizen."

Meanwhile, On Cape Cod…
"Locally, we've been lucky," said Morrison. "I attribute that to our police officers. We're not without incidents. Things happen. But because of the way we interact with each other on a daily basis, with our community, for the most part we know each other."
"In these smaller communities, we interact with each other daily," said Morrison. "We know each other. We get along. We coexist. We treat each other civilly."
And while protests about the George Floyd have spread across the country and to the town of Barnstable, Jesse Barboza said, "People are protesting more against systematic racism. I don't think they are protesting against the Barnstable Police."
And yet, said Jesse Barboza, systematic racism "is a problem that has crept into every nook and cranny of the country. Everybody needs to address it."
When Jesse Barboza was growing up, he said, "There were times that as young black men we felt we were racially profiled." He recalled "run-ins with the police" while playing basketball behind the Hyannis East Elementary School.
Lus said that the Cape is such a small area that, "certainly, some of that [racism] goes on here too. But on lower levels. As men of color, it's not to say we haven't seen our share of racism on the Cape. But nowhere near what people in the inner city have to live with."
"All of our parents, I know mine did, told me that when I was going out there that some people are going to react and treat you another way because of your skin color," said Lus.
Andre Barboza said he had encounters with police when he was a teenager and he said, "my friends and I definitely felt like things weren't fair."
Teenagers of all races often feel like things aren't fair, but Andre Barboza said, "I'd like to say it was a teenager being a teenager, but I'd say a lot of it [his encounters with police as a teenager] was from being a young African American."
Andre Barboza recalled one incident in which he attended a teenage party of a white friend and he and his black friends got stopped leaving the neighborhood. 
"The question was, what are you guys doing here?" he said. None of his white friends leaving that same party were stopped or asked anything, he said.
But Andre Barboza, Jesse Barboza and Lus all said that relations between the African American community and the Barnstable Police Department have improved significantly in recent years.
"I'm very happy with the last two police chiefs," said Lus. 
"We do have people trying to do the right thing who are in the place that we need them," said Jesse Barboza of the leadership of the Barnstable Police Department.
"Do I think every officer is on board with that? No, I don't think that," said Jesse Barboza.
"But Chief [Matthew] Sonnabend is a good chief. He has a good understanding of the community. We're going in the right directon. But we have to keep getting better. That's not a knock on the work being done, but you're always either getting better or you are getting worse. So we have to keep getting better."
Being in a small community during such tension "is kind of a blessing," said Jesse Barboza. He acknowledged that some of the things that seem to be working in Barnstable could not work in a large city where it is impossible for the community to know officers as well as in a small town.
But the idea of recognizing the humanity in others is something he said he hopes will spread.
As for Unity Day, which was scheduled again for this summer before the Covid-19 Pandemic hit, Jesse Barboza said, "I don't know if we made a difference. I hope so. Do I think the police are doing a better job at the people they hire and better training. Yes, I do. That's a fact."
Andre Barboza said, "I'd like to think that Unity Day and the other things we try to be involved in have made an impact. I've seen first-hand better interaction between police officers and community members. There is more of an open door. I do feel there is more of a relationship."
And friendly get-to-know-you interactions between officers and members of the community "are happening more than they have in the past," he said.
One of the most important improvements to the Barnstable Police Department, said Andre Barboza was the "hiring of people on the force who are from here and care about the community."

The Local Protests
There has been no looting or vandalism during protests on Cape Cod.
"You like to be optimistic and say you don't think it would happen here," said Andre Barboza. "For a long time, this community has been good about getting their opinions across without causing damage or harm. I would hope that we would not have a problem here."
Morrison said, "I would like to think that we all respect each other and treat each other pretty humanely here." But, he added, "All it takes is one small pocket to cause something."
Jesse Barboza said, "I would like to believe that [vandalism and looting] would never happen here. I believe in protesting. I believe in peaceful protest."
Jesse Barboza said looters and vandals across the country "are highjacking the meaning of the protest."
He also noted that many protests across the country were peaceful but the violence caught the media's attention because "if it bleeds it leads. But the truth is that there were a lot of peaceful protests," said Jesse Barboza.
One other worrisome note from the protests, said Jesse Barboza, is, "I've really been thinking a lot about the Covid virus."
"People don't know what to do, said Jesse Barboza. "They have to make their voices heard so they take to the streets in the middle of a pandemic. It's a scary time. It really is. We don't know how it's going to affect people. We don't know if we'll see crazy spikes" in the number of cases.
"When you are talking about a lot of people that are that emotional and gathered for hours, it's going to be hard to do that safely and social distance," he said.
The reason there are so many people in the street across the country, said Jesse Barboza, "because people feel like they have no voice. They don't know what to do."
"If we knew what to do, we would have done it by now because people are sick and tired of it," he said.
– Please like us on Facebook.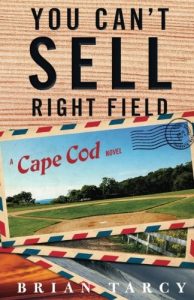 – A Novel By Brian Tarcy of Cape Cod Wave
"This is a terrific read. Brian Tarcy's style and sense of humor make it easy reading, while his subject matter is of more importance than most communities realize. If you care about growth in your community and the lack of thoughtful planning, you owe it to yourself to read this thoughtful piece of fiction that is all too real in smaller communities in our country."