CAPE COD – "I almost feel like I've gone back in time to the 60s and the 70s," said Darlene Johnson-Morris, Americorps Cape Cod program director. "This is generation aware."
Specifically, she is talking about the 32 Americorps Cape Cod members who live at the poverty level for one year in group housing in either Wellfleet or Bourne, and serve 51,000 combined community service hours, helping 60 service partners across the Cape. These service partners, nonprofit and government agencies from Bourne to Provincetown include town shellfish wardens, conservation groups, and even a marine mammal rescue organization.
"They help maintain the beautiful resources that we have," said Johnson-Morris of the environmental-specific Americorps Cape Cod, which has been operating since 1999. (See also, Americorps Cape Cod – A Slideshow)
"Their contribution to the community is really startling," said Lauren McKean, park planner for the Cape Cod National Seashore. "It's incredible, the things they've been able to achieve, and the quality of work."
And if disaster strikes, Americorps is part of Cape Cod's backbone of disaster preparedness. "They have this ideal. They want to help," said Johnson-Morris. "They want to make a difference. They want to serve."
Americorps members on Cape Cod get free housing, and they live on a stipend of $6,425 a year, said program coordinator Christin Marshall. They qualify for food stamps. While they are serving, college loan payments are deferred, and if they serve 1,700 hours in the year, they receive $5,500 towards education – either to pay student loans or further their education.
The Americorps Cape Cod program is paid for by a matching grant of $425,000 from the Corporation for National and Community Service, which funds Americorps programs across the country. Barnstable County matches the funding, including $250,000 in cash, as well as supply a house in Bourne. Two other houses are used by permission of the Cape Cod National Seashore.
Annually, the program applies for the grant and asks the county for funding, said Johnson-Morris. "Barnstable County has been the backbone of this program," she said. But she added, "Every year, you're singing for your supper."
---

NOTE TO READERS: In these fraught times of Covid-19, Cape Cod Wave Magazine is hoping to survive like everyone else, and we are asking for your help.  There is a donation button at the top of every page.
We set the amount, after seven years of never asking, at $10 for a one-time donation. If you would like to give more, or less, you can send a check to Cape Cod Wave Magazine, Box 29, Falmouth, MA 02541
Thank you for reading Cape Cod Wave, and stay safe!
– Laura & Brian

---

Win-Win
For 15 years on this peninsula, most identified with America's 35th president, who founded the Peace Corps, young people have been doing the people's environmental work under the direction of Americorps.
Americorps is a national service program. It has roots as far back as the Conservation Corps under FDR, said Johnson-Morris. There are 21 Americorps programs running in Massachusetts, said Johnson-Morris. While the focus nationally covers many areas of service, the Cape Cod program serves the needs of environmental groups.
Cape Cod has benefited greatly from the presence of Americorps, but the members who have gone through the program claim to have benefited just as much.
"I get good experience with a variety of things," said Miles Sabine, a member for New Brunswick, Canada.
"This program made me comfortable with the uncomfortable," said Adam DeVito of Walpole, who went through the program last year and is now the house supervisor for the Americorps house in Bourne, essentially doing everything members do.
"It's pretty transformational," said Marshall. "Many people, by the end of the year, transform the trajectory of their career." According to Marshall, 34 of the 350 people who have gone through the Americorps Cape Cod program have stayed on the Cape. Marshall is one of them.
Members come from all over the United States, and even Canada. With 34 graduates having stayed on Cape, many in leadership positions at various Cape organizations, Marshall said, "We like to joke that we're taking over the Cape."
"We have people everywhere," said Johnson-Morris. "They're a network." The reason, she said, is that employers learn about the members during the year of service. "You are able to tell what kind of person you are really getting," she said.

Starting With A Hug – A Memorable Year Of Service On Cape Cod
"When I go to the house and meet them together for the first time, I cry because I see ghosts," said Johnson-Morris, who can recite precisely how an Americorps calendar year will go, including the cabin fever the members experience by February and early March.
"Around this time, cabin fever has set in," said Johnson-Morris. They have been beat up by the weather. Then the weather breaks on April 1 and it flies by and all of a sudden they are standing on a stage and saying goodbye. They go from this individual to this team, all the way to the end when they're crying."
Johnson-Morris said she visited one of the houses recently. "They are already dreading the end," she said..
But in the beginning of each year, she said, "I look at the faces looking at me and I know what they are thinking: 'Here I am with 13 strangers. Clue: none. I'm 22 years old. There's a woman hugging me.' "
"To know Darlene is to get a big hug from her," said Ryan Burch, assistant shellfish and natural resource officer for the town of Brewster. Burch was an original Americorps Cape Cod staff member for the first two years, starting in 1999. "You really get a sense of love," he said.
And C.T. Harry, Assistant Stranding Coordinator for the International Fund For Animal Welfare of Yarmouthport, who has had Americorps members assist on marine mammal strandings, said, "Darlene is an extremely kind, giving woman. She loves all these kids. She treats them like her  own children. She is great at galvanizing passion and team spirit."
Johnson-Morris said, "I hug them all and I thank them for things that they don't even know they are going to do. I tell them, You are changing your life, and you have 300 other people counting on you to raise the bar."
At first, said Johnson-Morris, "They are looking like, am I really here?" There is a warming up period, she said. "All of a sudden they put the shirts on, with the "A" on the shirt, and they take the first group picture and they start to build this camaraderie."

See The Difference
They are reminded that they are on Cape Cod for a year of environmental service, not of their choosing. "The community has already said where the needs are," said Johnson-Morris. "You serve those needs."
Americorps does projects all over the Cape, said Marshall, citing a new boardwalk in Yarmouthport and a rehabilitated greenhouse in West Barnstable as examples. "A lot of stuff we do, you can't see it but we argue it is among the most important things," she said. She gave the example of shellfish propagation across the Cape.
"Americorps instills this value for public service," said Jessica Whritenour, administrator of 300 Committee Land Trust in Falmouth. Whritenour, who was in Americorps in the 2002-2003 year, is one of the 34 alumni still on Cape. "People really see, it makes a difference. You could see the impact that your work was making. Like clearing herring runs in Wellfleet and Dennis. These projects need to be done on a routine basis."
The 32 members are divided into three houses; two in Wellfleet and one in Bourne. Members work in groups for two days a week, and in individual placements – essentially internships – the other three days of the week.
Mondays and Fridays are group service days, said Marshall. Almost always, it's a one-day project, she said. Sometimes one house will work together on a project. Sometimes, all members were converge on a project, she said.
"It's a lot of labor," said Burch, giving as an example, "Removing invasive species."
"If I see an area recently cleared, I wonder if it was an Americorps project," said David Quinn, regional waste reduction coordinator for the Cape Cod Cooperative Extension. Quinn was in Americorps 2007-2008
Burch said, "We have better access in more areas. Better trails, better management plans, better research and better data. The Cape, 15 years later thanks to Americorps, has a much stronger and healthier environment, and it is also better prepared to deal with disaster."

Disaster Preparedness
When disaster, say a storm such as Nemo or Sandy, strikes, Americorps works with citizen volunteers and they stay when other can't, said Johnson-Morris. "We'll be there at 3 in the morning," she said.
"When 232 dolphins stranded in Wellfleet, who was there? Americorps," said Johnson-Morris.
And DeVito, who worked a shelter during Nemo said, "It was a real intense situation. There were 200 people in the shelter, most over 75. I thrived in that environment. I liked the way it made me feel. It was a genuine sense of happiness you get from helping someone who needs your help. It was a profound experience, something I wouldn't have gotten without this program."

Service At Face Value
Who serves in Americorps Cape Cod?
About 150 apply for the 32 spots each year, said Marshall.
"Their selection criteria, they take it very seriously," said Harry of the International Fund for Animal Welfare. "Their reputation is on the line."
"I swear, there's a formula we've stumbled upon," said Johnson-Morris. "They do it at face value. How can I serve? These are cause-minded people. They say, I want to make a difference. Not because I want a line on my resume, or because I want a job. Or because I don't know what I'm doing. We have ways of knowing how those people interview."
With service as a foundation, members often use that year to gain personal direction in their own lives. Johnson-Morris noted that there are those who graduate from college with an enormous debt and a realization that, "Gee, I don't really like to do this."
Going for a year of service with Americorps gave valuable experience, while members began to figure out their place in the world, said current members and alumni.
"It made me feel like it was okay for me to explore what I was going to do, and not just get on a track," said Quinn, who grew up in Waltham and worked two years for a management consulting firm before trying Americorps Cape Cod. He was impressed how it started. "Right away you meet the important people on the Cape doing the important work."
Marshall, who was raised in Knoxville, Tennessee, said she loved "getting so embedded in the culture here on Cape Cod. Working with so many different people . Every single day is new. I knew each day I am going to meet some Cape Cod character and they are going to train you. I learned so much every day, I loved it."
Jennifer Burkhardt, research assistant with the Provincetown Center for Coastal Studies, is originally from Rochester, New York. She dreamed of being a dolphin trainer. "Lots of little kids wanted to do that," she said. She was a member for two years, from 2009 to 2011.
"When you are in Americorps, you make connections with the environmental groups on the Cape," said Burkhardt. "It made a huge difference in my life. It's why I have my job now, and pretty much all my friends are Americorps alumni on the Cape."
Whritenour, originally of Des Moines, Iowa, had served in Americorps in Iowa when she decided to try the Cape Americorps environmental program. "The level of environmental work going on here was astounding," she said.
"I was here meeting people working for the National Park Service and it was a great experience to get to know them and be part of what they were doing," said Whritenour "I was learning from experienced true professionals."
Lindsey Zemler of Boulder Colorado is a current Americorps member living in the Bourne house. A graduate of the University of Colorado, Zemler spent "three years in Israel doing environmental work, peace work, and conflict resolution" before the Americorps Cape Cod program.
Of Cape Cod, she said, "We meet a lot of people who are very active in their specific field. I have this impression of Cape Cod of people being very involved in their community." And she said, "I am in the life stage of looking to connect."
Whritenour said, "In Americorps, you feel like you are grounded in the community." She added. "The fact that it's a residential program on the Cape makes a big difference."

Just Like MTV's The Real World, But Actually The Real World
There are 26 members in two houses, 13 in Bourne and 13 in Wellfleet. The third house, also in Wellfleet, has six members of the Americorps fire corps – working in the field every day with the National Seashore fire management team, said Marshall.
"You learn a lot about people, said Burkhardt. "Living with 13 similar people with like-minded goals."
Burch said, "We started at at time when "The Real World" was on MTV. It was very similar to that. We had 12 or 13 20-somethings living in a home, all coming together for a common good." He added, "The residential aspect adds to the experience."
"It's sort of a college setting, but more mature," said DeVito, the Bourne House Supervisor.
And Whritenour said, "Living and working with these people. You see them day in and day out. You build relationships and friendships. You have fun while you're working.
Everyone plays a different role. It takes a while as a group to become cohesive and figure these things out."
When Johnson-Morris first wrote the grant for the Americorps Cape Cod program, she said, "I wanted residential. I felt if we had a residential program, members would be able to focus on service."
"I know they will be close to each other and bond and have a camaraderie," said Johnson-Morris. "The living component is what bonds them together. As they serve, they become close to each other. It's an experience they will never forget for the rest of their life."
"There is a broad range with multiple backgrounds, said Burch. "Each year there were more women than men. They are from different areas of the United States with different backgrounds. A  lot of people had never been to Cape Cod before. We are mixing different personality types, but all have a common vision to come here and make a difference."
Of her time as a member, Marshall said, "I couldn't believe how lucky I was to be learning such interesting stuff, to be outside, and working with all my friends."
– Please like us on Facebook.
For more stories like this, please see Longform stories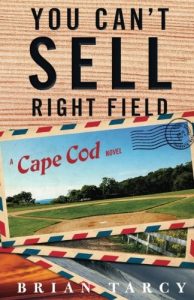 –PLEASE SEE You Can't Sell Right Field,  a novel from Cape Cod Wave about land for sale, a crooked developer, a softball team, and an election. Based on the true story of a Cape Cod development.