FALMOUTH – There's a reason people stand out in the rain waiting to enter for a Hyannis Sound performance. They are that good.
Hyannis Sound is an a cappella group made up of college-aged guys who perform all summer long on Cape Cod every year.
At a recent gig at First Congregational Church in Falmouth, they brought down the house with their rendition of Kenny Loggins' "Footloose."
The church was packed with more than 150 people who enjoyed a set list that featured a lot of cool renditions of familiar tunes, from Burt Bacharach's "Alfie" to George Michael's "Freedom."
Out front, that's Matt Goldstein, 21, from Sharon, MA, a recent graduate of Vassar College. This was his first summer performing with Hyannis Sound.
Seeing this all out performance of "Footloose," in a church–no less–was, indeed, uplifting.
Want to know more about Hyannis Sound? Here's a recent article we wrote on Hyannis Sound.
Please like us on Facebook.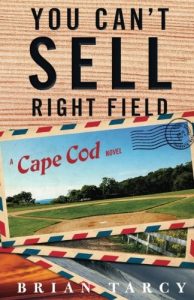 Please see, from Cape Cod Wave, YOU CAN'T SELL RIGHT FIELD, A Cape Cod Novel
– If you like Cape Cod music, here is a story that Cape Cod Wave did on the Cape Cod original music scene. We interviewed 20 musicians, four club owners, and two radio deejays – Cape Cod Music And The Joy Of Being Originally Alive
And here is a link to our growing collection of local music stories and videos –  MUSIC