TRURO – Going to see The Greenheads at Terra Luna on Wednesday night was essentially the same as seeing Bobby Vinton at the Copacobana in 1963.
All the coolest people were there, and it was packed. Several of our favorite musicians were in the crowd – always a good sign.
Thus, we felt compelled to use our "Goodfellas" pass to get in the back door to catch the band playing. While we can make no claim to being cool, clearly we know people and that's what counts.
It was Tony Pasquale, chef at Terra Luna (and the first person to welcome us into the kitchen in this video), who brought the Greenheads in for an evening of music and small plates of amazing creative food, along with a great raw bar.
It was a special evening, not a full menu – but a different version of Tony's delicious neo-pagan cuisine.
The crowd was mostly Cape locals who came out to support Pasquale, who is also a DJ at WOMR, and to listen and dance to the Greenheads.
Oh yeah, the Greenheads, the whole point of this story… 
Composed of Steve Wood one of our favorite rock guitarists anywhere, his son Sam Wood on drums, and Sarah Swain, of Sarah Swain & The Oh Boys! on bass, the Greenheads are a power trio that does not play out nearly enough, but when they do they play a lot of catchy hard-rocking original songs written by Steve Wood.
This original song is called, "Stoned."
Please like us on Facebook
– If you like Cape Cod music, here is a 6,000-word story that Cape Cod Wave did on the Cape Cod original music scene. We interviewed 20 musicians, four club owners, and two radio deejays – Cape Cod Music And The Joy Of Being Originally Alive
And here is a link to our growing collection of local music stories, and more than 100 music videos of local bands playing original music  –  MUSIC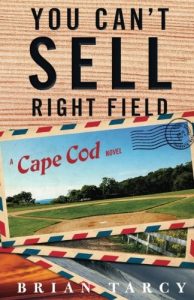 – A Novel By Brian Tarcy of Cape Cod Wave
"This is a terrific read. Brian Tarcy's style and sense of humor make it easy reading, while his subject matter is of more importance than most communities realize. If you care about growth in your community and the lack of thoughtful planning, you owe it to yourself to read this thoughtful piece of fiction that is all too real in smaller communities in our country." — YOU CAN'T SELL RIGHT FIELD, A Cape Cod Novel