WELLFLEET – While it is difficult to have the blues when one is in Wellfleet on a beautiful summer night, it was sure fun to listen to the blues by the great Steve Morgan and the Kingfish.
We have seen this tight, fun band once before and were impressed, as have judges been at the Cape Cod Talent Search and the Boston Blues Society's Boston Blues Challenge. They won both contests.
So seeing a great band at a really cool venue, which we had never been in before, The Well, was a treat after seeing a play at the great Harbor Stage Company. It was a full Wellfleet night finished by what Morgan called, with a laugh, an upbeat song, an original, "Lies, Pain and Misery."
It was the blues, sure. But we were pretty happy.
The band is Morgan on guitar, Ed Wanamaker on drums, Roe Osborn on bass, Pete Mann on keyboards, and Bryant Edwards, wearing the cast, on vocals.
Please like us on Facebook.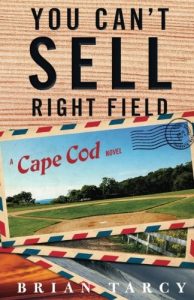 Please see, YOU CAN'T SELL RIGHT FIELD, A Cape Cod Novel
– If you like Cape Cod music, here is a story that Cape Cod Wave did on the Cape Cod original music scene. We interviewed 20 musicians, four club owners, and two radio deejays – Cape Cod Music And The Joy Of Being Originally Alive
And here is a link to our growing collection of local music stories and videos –  MUSIC