WOODS HOLE – While the Brother's Rye have become, essentially, part of the Woods Hole landscape, playing a weekly outdoor gig in the parking lot of the super cool Quick's Hole Taqueria, the band always seemed to us to be part of Americana.
As someone we guess is a rock fan wrote on their webpage in 2013, just about the time we discovered the band, "Holy Sh*t I didn't even realize I liked this kind of music!?!?"
On the other hand, we knew we liked it. We just didn't know how much.
Lead singer Benjamin Lee Patterson is as likely to pull out a kazoo or a banjo as he is to keep playing his guitar. But it's his voice, his lyrics, and his phrasing that have always impressed us.
Through various incarnations, Patterson, and the talented Josh Dayton on stand-up bass, have been the "brothers," while the other band members have changed. Each incarnation that we have seen was awesome because it revolves around Patterson, his songwriting and his singing. And he has always surrounded himself with first-class musicians, starting with Dayton.
But this version of the Brother's Rye, playing in a parking lot a stone's throw from the Woods Hole & Martha's Vineyard Steamship Authority Terminal, was a perfect version, not only musically because of the sweet harmonica of Geordie Gude and the really nice acoustic leads of Stu Gardner, but also because Gude and Gardner are from Martha's Vineyard.
The Brother's Rye are an outlaw jug band from Woods Hole and Martha's Vineyard. Thursdays in the summer. You can even walk by and listen from the sidewalk.
The band has released two EPs that are each really good. Yes, we are fans.
This is a new, as yet unrecorded song called, "I Will Go."
Please like us on Facebook.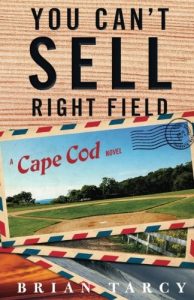 Please see, YOU CAN'T SELL RIGHT FIELD, A Cape Cod Novel
– If you like Cape Cod music, here is a story that Cape Cod Wave did on the Cape Cod original music scene. We interviewed 20 musicians, four club owners, and two radio deejays – Cape Cod Music And The Joy Of Being Originally Alive
And here is a link to our growing collection of local music stories and videos –  MUSIC