CHATHAM – An overcast summer day means little to the seals and seagulls gathered at Chatham Fish Pier.
The Chatham Fishing Fleet, in for the night, is visible through the metal fish net of artist Sig Purwin's classic sculpture, "The Provider," which was installed in 1992 and dedicated to the Chatham fishing industry,
The colorful boats bob on moorings. Seals, not shy, turn splashy summersaults close to the pier, as if to perform for those enjoying the harbor view while waiting for their fish & chips from the nearby Chatham Pier Fish Market.
The tide appear to slip low, suddenly revealing dozens more seal heads just above the water's surface further out in the mooring field.
"Look," a young woman says, "there must be hundreds of seals out there!"
Or thousands.
Chatham Fish Pier as seen through Sig Purwin's sculpture, "The Provider." CAPE COD WAVE PHOTO
– Please like us on Facebook.
For more photos from across Cape Cod, see Scenic Cape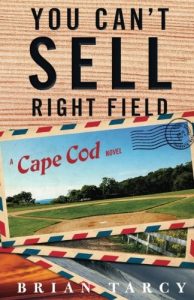 A new novel from Cape Cod Wave: YOU CAN'T SELL RIGHT FIELD, A Cape Cod Novel