FALMOUTH – They call it "the morning once-around," and it is how Falmouth lifeguards start their day.
No matter what beach they are assigned for the day, they all show up at Surf Drive Beach in the morning and go out for a swim. They swim around a couple of buoys that mark off the beach. It is maybe a quarter mile swim, or a little more.
I happened to be there one recent morning just after it started, and the line of lifeguards swimming around the buoy struck me as interesting. Plus, as a former lifeguard, I never had to do a morning once-around at the swimming pool I worked at in the Midwest. I was interested in watching this Cape Cod summertime routine.
Luke Vose, of the band Crooked Coast, donated a perfect bit of his own original music to this short clip of lifeguards swimming, an acoustic song called, "Paradise."
I think it works nicely. Thanks Luke!
– Please like us on Facebook.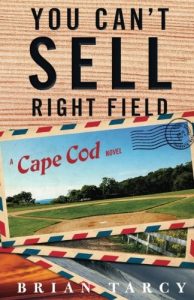 A new novel from Cape Cod Wave: YOU CAN'T SELL RIGHT FIELD, A Cape Cod Novel