FALMOUTH – Crooked Coast unplugged their guitars and took to the stage for an early evening show at Grumpy's Pub on Saturday. It was our favorite show we've seen them do.
The charismatic foursome normally play high-energy, loud, electric late-night gigs that can get its many passionate fans dancing and bouncing into what is best described as organized chaos on the dance floor.
This was more of a listening crowd.
The music was plenty high energy, and the crowd was enthusiastic and as engaged as always. It was just different, with more attention on the music and the words than on their stage presence as local heroes, which is how they are described in a promotion for their upcoming show at the Cape Cod Melody Tent on July 21.
They deserve the big stage but it was a joy to see them unplugged on the small local stage of Grumpy's where they performed, among many, this song, "Rumrunner's Prayer," featuring John McNamara on harmonica. The band also includes singer, guitar player, Luke Vose; bass player Ben Elder, and drummer Charles Parker Walton.
One note about this video: the band's fog machine seemed to mess the focus of our camera for a few seconds in the middle of the video. It doesn't last long. It's all part of the show.
** Sign up for our newsletter to get our latest stories ** 
– Please like us on Facebook.
---

** Please support independent local journalism.
See the DONATION BUTTON AT THE TOP OF THE PAGE **

---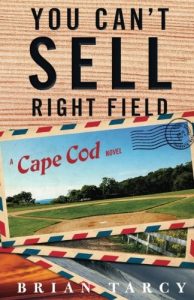 –PLEASE SEE You Can't Sell Right Field,  a novel from Cape Cod Wave about land for sale, a crooked developer, a softball team called, "The Townies," and an election.
Based on the true story of a Cape Cod development.
---
– If you like Cape Cod music, here is a story that Cape Cod Wave did on the Cape Cod original music scene. We interviewed 20 musicians, four club owners, and two radio deejays – Cape Cod Music And The Joy Of Being Originally Alive
And here is a link to our growing collection of local music stories and videos –  MUSIC
Here is an easy link to our first 100 Videos – Cape Cod Wave has 100 Music Videos! Essay + Links