FALMOUTH – Puffy Elvis, the popular group of rock and roll local school teachers, are much like Sgt. Pepper's Lonely Hearts Club Band. Puffy Elvis is guaranteed to raise a smile.
At an early evening fundraiser for The 300 Committee Land Trust, the ten-person Puffy Elvis had the crowd dancing and enjoying this adult version of homework at the always fun Grumpy's Pub.
We thought the song, "Heard It Through The Grapevine" was a good one for a small town gathering. Enjoy.
– Please like us on Facebook.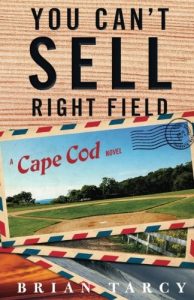 Please see, by Brian Tarcy of Cape Cod Wave
A novel about a big development and a small town (does this sound familiar?) —
About the author
Brian Tarcy
Brian Tarcy is co-founder of Cape Cod Wave. He is a longtime journalist who has written for the Boston Globe, Boston magazine, the Cape Cod Times and several other publications. He is the author of "YOU CAN'T SELL RIGHT FIELD; A Cape Cod Novel." He is also the author or co-author of more than a dozen mostly non-fiction books, including books with celebrity athletes Cam Neely, Tom Glavine and Joe Theisman. His previous book was, "ALMOST: 12 Electric Months Chasing A Silicon Valley Dream" with Hap Klopp,who created the iconic brand, The North Face.
For more information, see Briantarcy.com
Brian is a long-suffering Cleveland Browns fan with a long-running NFL predictions/political satire column connecting weekly world events to the fate of his favorite team, now at Whatsgonnahappen.com.