DENNIS – Lily Mae Harrington has already starred in a movie, "Some Freaks." And she was a contender on the second season of The Glee Project.
So when this small-town girl making it in the big time world of entertainment came home to Dennis to play some covers and original music at the Harvest Gallery Wine Bar, it was a treat for the packed house of supportive fans.
When she played this song, "This Morning," she announced it will be on an upcoming CD, which we imagine will be excellent if the rest of it is as good the haunting way she delivers this tune.
By her talent, it was no surprise to learn that Lily Mae is the sister of one of Cape Cod Wave's favorite performers, Will Harrington,
Finally, we'd like to note that we wish more businesses on the Cape were doing what Michael Pearson and the Harvest Gallery Wine Bar are doing – hosting early shows of great local musicians. It's a winning formula. The Harvest often hosts two shows of local musicians a night.
And while most live music shows on Cape Cod don't start until 10 p.m., on this night we saw the second half of Lily Mae Harrington's show, the first half of a wonderful show by Monica Rizzio, and we were home from Dennis to Falmouth by 9:30 p.m..
Early show, great music. Kudos. The place was packed, because it's a winning formula.
– Please like us on Facebook.
– If you like Cape Cod music, here is a story that Cape Cod Wave did on the Cape Cod original music scene. We interviewed 20 musicians, four club owners, and two radio deejays – Cape Cod Music And The Joy Of Being Originally Alive
And here is a link to our growing collection of local music stories and videos –  MUSIC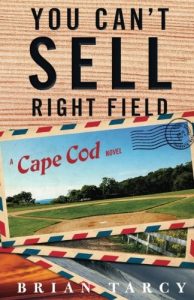 A Novel By Brian Tarcy
A softball team called the Townies. A slick developer with a sketchy story. A town divided over a zoning change….— YOU CAN'T SELL RIGHT FIELD, A Cape Cod Novel