FALMOUTH – As the shortest day of sunlight of the year ended, we counted 20 people standing on the Knob watching the winter solstice sunset show.
While it is a long, slow trek back to the craziness of Cape Cod summer, it's clear that even winter is an attraction here. We stayed with the crowd for a minute, to get the photo that they were getting, and then we wandered back to take in the whole Knob.
Some people like crowds and parties this time of year. We like solitude. But everyone loves the Knob at sunset.
– Please like us on Facebook.
For more photos from across Cape Cod, please see Scenic Cape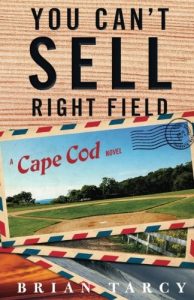 – A Novel By Brian Tarcy of Cape Cod Wave
A softball team called the Townies. A slick developer with a sketchy story. A town divided over a zoning change….— YOU CAN'T SELL RIGHT FIELD, A Cape Cod Novel