DENNIS – Who knew that relish was the perfect condiment for a song? The Grab Brothers, that's who.
Playing a Saturday gig inside the charming O'Shea's Olde Inne, the Grab Brothers drew a full house. As someone said to us as we were walking in after getting the last parking spot, "It's a lot of fun in there."
And the Grab Brothers were making the fun. Playing covers and originals, the band had plenty of people up dancing and many others moving in place.
But to get back to the important musical business of condiments, in this song there is plenty of ketchup and mustard. But, seriously, where's the relish? That's the name of this song, "Where's The Relish?"
It's pretty great, and even the name of the new CD by the band.
– Please like us on Facebook.
– If you like Cape Cod music, here is a story that Cape Cod Wave did on the Cape Cod original music scene. We interviewed 20 musicians, four club owners, and two radio deejays – Cape Cod Music And The Joy Of Being Originally Alive
And here is a link to our growing collection of local music stories and videos –  MUSIC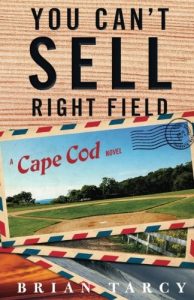 A Novel By Brian Tarcy of Cape Cod Wave
A softball team called the Townies. A slick developer with a sketchy story. A town divided over a zoning change….— YOU CAN'T SELL RIGHT FIELD, A Cape Cod Novel