PROVINCETOWN – There is, in fact, peace on Earth. Actually, peace is on Provincetown Town Hall.
We noticed the reflected peace sign after the communal lobster pot Christmas tree lighting ceremony on Saturday night.
We thought it made a cool image, and statement.
Lobster Pot Christmas Tree Lighting, "as Cape Cod as it gets" – VIDEO
Behind Town Hall is the Pilgrim monument, decorated famously as a Christmas tree as well. Provincetown is putting on a festive face as the weather grows colder and the season draws nearer.
– Please like us on Facebook.
More Provincetown stories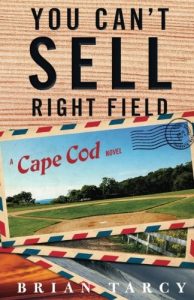 A Novel By Brian Tarcy
A softball team called the Townies. A slick developer with a sketchy story. A town divided over a zoning change….— YOU CAN'T SELL RIGHT FIELD, A Cape Cod Novel