PROVINCETOWN – Joy to the world, the lobster pot Christmas tree has been lit.
This kind of thing, the lighting of a Christmas tree and the communal singing of Christmas carols, is happening all across America. But no one does it quite like Provincetown, with its lobster pot Christmas tree.
One hundred and thirty five lobster pots, with a star of buoys that was placed by a crane on top of the pots was lit Saturday evening in a ceremony that, as Deborah Urbanti of New York put it, "I think this is as Cape Cod as it gets."
This is the first year that the tree was lit without its creator, Julian Popko, who died on September 24. His daughter, Crystal Popko, was at the ceremony and noted that the tree was first put up in 2003 with "30-something traps" and has grown by more than 100 since. "It gets taller and brighter every year," she said.
Pam Kana, of Tampa, said she came to the lighting "because it's cool and because it's Provincetown. There's nothing else like Provincetown."
David Levangie, of Provincetown, said he has seen the lighting of the pots many times before. "It's just small town stuff. It's something to do in the winter."
Small town stuff. As Cape Cod as it gets. Yes, that sounds about right.
As Barbara Cope of Carver said, "It's even better than I thought it would be."
– Please like us on Facebook.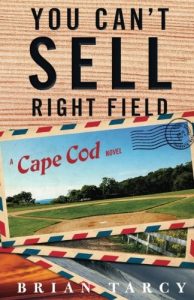 A Novel By Brian Tarcy of Cape Cod Wave
A softball team called the Townies. A slick developer with a sketchy story. A town divided over a zoning change….— YOU CAN'T SELL RIGHT FIELD, A Cape Cod Novel