DENNIS – This radio-ready catchy song by the Horton-Christiano Duo features some nice harmonies, heartbreaking lyrics, and the oh-so-sweet guitar stylings of Dennis Christiano.
We caught the duo at one of our go-to spots for Cape Cod original music, the friendly Harvest Gallery Wine Bar. The Horton-Christiano Duo played the early show to a growing crowd that was sure to be later entertained by the Rip-It-Ups, who always live up to their name.
But this early show was a treat. Mixing originals with some covers of the Grateful Dead and others, the duo sounded great and Horton's vocals were spot on.
This original song, which you'll probably want to play more than once, is called, "Oli Anna."
– Please like us on Facebook.
– If you like Cape Cod music, here is a story that Cape Cod Wave did on the Cape Cod original music scene. We interviewed 20 musicians, four club owners, and two radio deejays – Cape Cod Music And The Joy Of Being Originally Alive
And here is a link to our growing collection of local music stories and videos –  MUSIC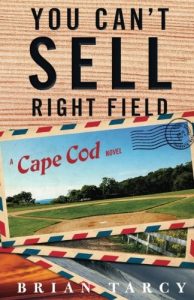 A Novel By Brian Tarcy of Cape Cod Wave
A softball team called the Townies. A slick developer with a sketchy story. A town divided over a zoning change….— YOU CAN'T SELL RIGHT FIELD, A Cape Cod Novel