DENNIS – The first time we saw the soothing majesty of Fred Fried playing eight-string jazz guitar was at the Christmas Cavalcade where we heard him described as "a musician's musician."
High praise indeed. So what a pleasant surprise to stop into one of our favorite spots on the Cape, the friendly Harvest Gallery Wine Bar, and find Fried performing.
Here, with our apologies for the crowd noise in this video, from early Saturday evening, is Fried's original song, "I Always Thought."
– Please like us on Facebook.
– If you like Cape Cod music, here is a story that Cape Cod Wave did on the Cape Cod original music scene. We interviewed 20 musicians, four club owners, and two radio deejays – Cape Cod Music And The Joy Of Being Originally Alive
And here is a link to our growing collection of local music stories and videos –  MUSIC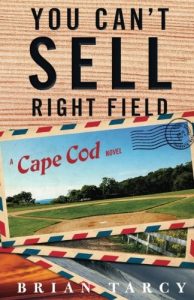 A Novel By Brian Tarcy
A softball team called the Townies. A slick developer with a sketchy story. A town divided over a zoning change….— YOU CAN'T SELL RIGHT FIELD, A Cape Cod Novel