BREWSTER – Some photos last longer than others, and some photos go farther than others.
In Brewster, we found one photo being taken that will last a lifetime, while another will soon be going away, for a month, to South America.
On Saturday, five days after her senior photo was due, Hayley Gregoire of Harwich, a senior at Dennis-Yarmouth Regional High School, was posing for her mother at the Stony Brook Herring Run.
Earlier, they had shot photos at West Dennis Beach, but the people in charge of the yearbook told her that the photo would zoom in on her face, and there was hair in her face. Thus, this re-shoot of her senior photo.
Hayley's mother, Martha Storer of Harwich, said, "She poses the way she wants. She has an idea of what she wants and I just go with it."
Hayley said that when she graduates, on June 9, her plan is to attend Cape Cod Community College to become a firefighter.
Next to her photo in the yearbook will be her Likes – "My bed, food, and music"
Dislikes – "high school" (After Hayley said this, her mother added, "I think that's everybody.")
Ambition: firefighter/EMT
Quote: "Fly high Dad. Going to make you proud. I love you."
Her father recently passed away. She said she chose the Herring Run because of the beauty of the area.
The story of the second photo we witnessed being taken involved a mother with two young sons trying to get a photo for her husband, who works one month at a time as an engineer on a ship off Suriname in South America.
Meghan Homer of Sandwich was with her two boys, Grady, 5, and Finn, 2, at the Herring Run taking photos for her husband, Brandon. She happened to be in Brewster visiting her aunt for her grandmother's 100th birthday celebration. Her grandmother, she said, died two years ago at 98.
While she aimed the camera, the boys fidgeted, or smiled like hams, or looked at the scenery, or acted like perfect little gentlemen… the way little boys do.
Finn had a nap in the car, she said. She got them to come and pose for pictures by "bribing them with their own Halloween candy," she said.
They are still too young to have discovered her trick, she said with a smile.
But they were old enough to give most of their candy to the troops, she said. They only kept a few pieces each.
It doesn't require a photo of food to tell a simple, sweet story.
– Please like us on Facebook.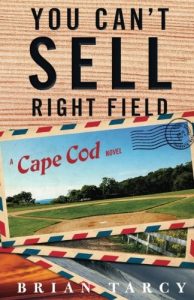 A Novel By Brian Tarcy
A softball team called the Townies. A slick developer with a sketchy story. A town divided over a zoning change….— YOU CAN'T SELL RIGHT FIELD, A Cape Cod Novel
See also