WELLFLEET – This would certainly qualify as an Atlantic thrill. It started as an ordinary walk on the extraordinary beaches of Wellfleet. We walked down Cahoon Hollow Beach and heard music about a mile way.
The sun was setting. We set out walking. And when we arrived and climbed up the dune to the parking lot at Whitecrest Beach, we found the very fun and energetic Providence band, Atlantic Thrills, finishing up their set at a free concert by several bands that was going on in the parking lot.
We caught the last minute of their final song, and it was perfect, a surf song from 1964 in Peru called Demolition, written by a band called Los Saicos. A surf song at a favorite spot of Cape Cod surfers. Yes, that's an Atlantic thrill.
Atlantic Thrills is Eric Aguiar on bass and vocals, Dan Tanner on guitar and vocals, and Mark Ferrara on drums.
Please like us on Facebook.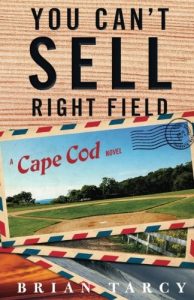 Please see, YOU CAN'T SELL RIGHT FIELD, A Cape Cod Novel
– If you like Cape Cod music, here is a story that Cape Cod Wave did on the Cape Cod original music scene. We interviewed 20 musicians, four club owners, and two radio deejays – Cape Cod Music And The Joy Of Being Originally Alive
And here is a link to our growing collection of local music stories and videos –  MUSIC
Here is an easy link to our first 100 Videos – Cape Cod Wave has 100 Music Videos! Essay + Links