CHATHAM – There are great musicians on Cape Cod, and in the world, And then there is Zoë Lewis, who is one of the most charming, compelling, talented and funny performers anywhere. Maybe ever.
Just like every time I have seen her perform, by the time Zoë's show was over, my smile muscles hurt. She played First Night in Chatham, at the Orpheum Theater all by herself. She is usually with a band, but the musician who calls herself a "band in a body" needed no one else.
This song, which is one of the best songs ever about anywhere on Cape Cod, proves the whole band-in-a-body thing, even though it doesn't show off another one of her many skills, playing the trumpet without a trumpet.
It is called, "Bicycle" and it is about her riding her bicycle on Commercial Street in Provincetown. And it's amazing.
So here is your New Year's resolution, guaranteed to make your 2018 better: You will see Zoë Lewis, who travels all over the Cape and the entire country, perform live.
You are welcome.
– Please like us on Facebook.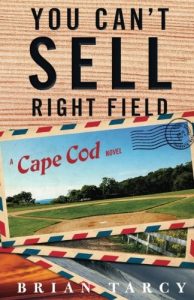 – A Novel By Brian Tarcy of Cape Cod Wave
A softball team called the Townies. A slick developer with a sketchy story. A town divided over a zoning change….— YOU CAN'T SELL RIGHT FIELD, A Cape Cod Novel