CHATHAM – One of the many joys of living on Cape Cod is getting to see a wide variety of great music, including this fabulous bluegrass band, CrabGrass, who played First Night Chatham inside the accoustically beautiful Methodist Church.
We dig bluegrass and we have seen this band before so we were excited to learn they were on the list of First Night Performers. It was wonderful.
This old bluegrass standard, sung by banjo player Les Beavan, is called "If I Should Wander Back Tonight." The rest of the band is Katy Boc on fiddle, Dan Fortier on guitar, Ted Mello on bass, and Chris Miner on mandolin.
Not only are they are fun band, but we really enjoyed reading their bios on their web page.
– Please like us on Facebook.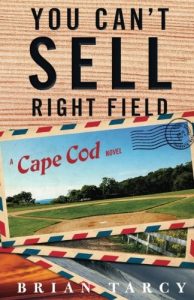 – A Novel By Brian Tarcy of Cape Cod Wave
A softball team called the Townies. A slick developer with a sketchy story. A town divided over a zoning change….— YOU CAN'T SELL RIGHT FIELD, A Cape Cod Novel
See Also First Night Chatham, VIDEO + Slide Show