CHATHAM – One of the enduring talents on the Cape, who seems to only play about a show a month, is George Gritzbach.
We were lucky enough (okay, we planned our night around it) to catch him at the St. Martin's Lodge at First Night in Chatham, where Gritzbach played a fantastic show with his super tight band.
The George Gritzbach Band showed off a lot of originals, including some great new ones. Gritzbach is an accomplished performer, who has been playing at a high level for a long time. We first heard of him decades ago.
This show in Chatham was a real treat, and we can't emphasize enough how impressed we were with his entire band – especially in the high energy first set that had many people, including us, up dancing.
The George Gritzbach Band is Gritzbach on guitar, harmonica and lead vocals; Scott Lariviere on bass and backing vocals; and Johnny Menezes on keyboards; and the very impressive Christian McCarthy on drums, percussion and backing vocals.
This new high energy original song is called, "The Chase." It's fantastic.
– Please like us on Facebook.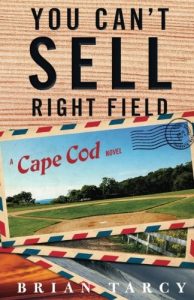 – A Novel By Brian Tarcy of Cape Cod Wave
A softball team called the Townies. A slick developer with a sketchy story. A town divided over a zoning change….— YOU CAN'T SELL RIGHT FIELD, A Cape Cod Novel
See Also First Night Chatham, VIDEO + Slide Show