PROVINCETOWN – The Broke Brothers left the cozy confines of their forever home, the Old Colony Tap, to enter into the sunshine on Saturday and show the world a family-friendly version of what happens at the Old Colony Tap on Sunday nights. It's usually the only place they play.
The band has a repertoire of fun, tight music from blues to calypso and more, and some of the funniest lyrics we've heard in ages.
It was so good that the Broke Brothers instantly became one of our favorite Cape Cod bands when they took the stage on Ryder Street during the Portuguese Festival on Saturday.
Singer/songerwriter and rhythm guitarist Joe "Bones" Basine is the central character of the band as his lyrics and singing, from sweet and melancholy to raunchy and hilarious, had us laughing and wanting more.
But it was his sidekick/backup singer, Jerome Greene, on the ice cube tray who really took the band to the next level… a level we've never before seen.
The musicianship of the band, Bill Evaul on bass, Treg Kaeselau on lead guitar, Basine on rhythm guitar, Peter Tighe on drums and Kevin Maul sitting in and lap steel guitar, was top rate. But, again, it was Greene on the ice cube tray percussion that really topped it for us. He may be the best ice cube tray player we have ever seen. He is certainly the only one.
It's no ordinary ice cube tray, Greene pointed out. "It's a 1947 Kelvinator," he said.
This Broke Brothers song is called, "Silver Fox."
– Please like us on Facebook.
– If you like Cape Cod music, here is a 6,000-word story that Cape Cod Wave did on the Cape Cod original music scene. We interviewed 20 musicians, four club owners, and two radio deejays – Cape Cod Music And The Joy Of Being Originally Alive
And here is a link to our growing collection of local music stories and videos – MUSIC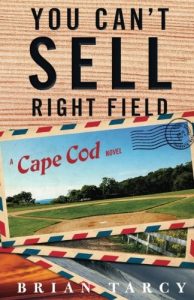 – A Novel By Brian Tarcy of Cape Cod Wave
"This is a terrific read. Brian Tarcy's style and sense of humor make it easy reading, while his subject matter is of more importance than most communities realize. If you care about growth in your community and the lack of thoughtful planning, you owe it to yourself to read this thoughtful piece of fiction that is all too real in smaller communities in our country."