CHATHAM – "Hey kid, here you go," said Gregg Witter, a second-year dockworker at the Chatham Municipal Fish Pier. He was talking to a seagull, one of the many seagulls that hang out near the fish pier for obvious reason.
"As soon as he lands, I know him," said Witter.
The seagull, standing on his left leg, looked over and Witter tossed him a mackerel. "He showed up last year," said Witter. "He has a defective right leg. I felt bad for him and his obvious disadvantage."
And so Witter occasionally throws fish to the one bird. "Just him," he said. "I try to hook him up to keep him alive."
Witter even has a name for the bird. "I call him broken leg guy."
He has been feeding broken leg guy at the pier since the bird showed up at the working pier, which is also a major tourist attraction. "The tourists get a kick out of it," he said.
Witter said he does not have any pets at home. "I just put a 16-year-old Sheltie down in the spring," he said. "It broke my heart.
So is broken leg guy a pet? "Not really," he said. "All he does is eat and shit."
– Please like us on Facebook.
Click here to see our Fishing stories.
See also Chatham Municipal Fish Pier & 10 Million Pounds Of Fish
See also What Happens Inside The Chatham Municipal Fish Pier: 3-Minute VIDEO
See also Cute Seal Jumps While Fighting Seagulls For Fish At The Chatham Fish Pier – VIDEO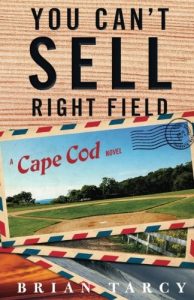 A Novel By Brian Tarcy
A softball team called the Townies. A slick developer with a sketchy story. A town divided over a zoning change….— YOU CAN'T SELL RIGHT FIELD, A Cape Cod Novel