FALMOUTH – The idea of this New Motif song is that the band feeds off the audience and the audience feeds off of the band and then it all becomes a "Reciprocal Boogie."
Seeing this insanely tight, creative band interact with the audience at Grumpy's Pub Friday night, it all made perfect sense and it was unclear who was having more fun.
The self-described psychedelic funky jamband, New Motif, is comprised of Cory Schectman on saxophone and keyboards, Dennis Christiano on guitar, Jason Womboldt on drums and Dan Kelly on bass.
We had seen them earlier in the month at the Spire Center in Plymouth, which was an awesome concert hall-type of setting with amazing lighting. They rocked a sold out, dancing-the-aisles crowd.
The show at Grumpy's was more intimate and the big crowd inside reciprocal boogied through a series of mostly original songs featuring some of the most fun showmanship and tight musicianship we have seen on Cape Cod.
Please like us on Facebook
– If you like Cape Cod music, here is a 6,000-word story that Cape Cod Wave did on the Cape Cod original music scene. We interviewed 20 musicians, four club owners, and two radio deejays – Cape Cod Music And The Joy Of Being Originally Alive
And here is a link to our growing collection of local music stories, and more than 100 music videos of local bands playing original music  –  MUSIC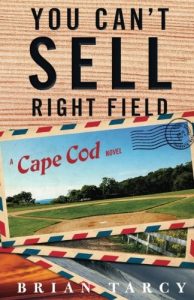 – A Novel By Brian Tarcy of Cape Cod Wave
"This is a terrific read. Brian Tarcy's style and sense of humor make it easy reading, while his subject matter is of more importance than most communities realize. If you care about growth in your community and the lack of thoughtful planning, you owe it to yourself to read this thoughtful piece of fiction that is all too real in smaller communities in our country." — YOU CAN'T SELL RIGHT FIELD, A Cape Cod Novel