FALMOUTH – One of the first names we heard when we started covering local music in 2013 was Brian Sances. It's easy to see why.
This veteran Cape singer/songwriter knows his way around a guitar, and he writes some beautiful tunes, including this ode to his girlfriend called, "Lightning Lydia."
We have previously seen Sances accompanied by a pedal steel guitar, and another time with a keyboard player.
At this show at the very cool Fisherman's Pantry, owned by a fishing family from Alaska and Cape Cod, Sances was alone with his guitar and the several pedals that he used to create his looping magic while he performed live above it all.
Cape Cod Wave has mostly avoided live music since the pandemic began, but this winter solstice show by Sances beckoned us. It was wonderful. We were mostly masked. It felt safe in the small crowd.
Plus we went home with some beautiful Alaskan salmon to plan for our Christmas dinner. Seafood and music is a nice way to enter into winter.
Click here for information on Brian Sances, and to buy his music.
– Please like Cape Cod Wave on Facebook.
---

** Please support independent local journalism.
See the DONATION BUTTON AT THE TOP OF THE PAGE **

---
Cape Cod Wave Magazine covers the character & culture of Cape Cod. Please see our Longform stories.
All Cape Cod Wave Falmouth stories
All Cape Cod Wave music stories and videos
---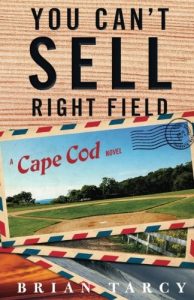 –PLEASE SEE You Can't Sell Right Field,  a novel from Cape Cod Wave about land for sale, a crooked developer, a softball team called, "The Townies," and an election.
Based on the true story of a Cape Cod development.