WELLFLEET – So what did you do on Sunday? Did your Sunday afternoon cause you think, as ours did, "I wonder if Woodstock was this good." In other words, we went to the first annual Beat The Heat Summer Music Festival at Wellfleet Preservation Hall.
Many of our favorite bands were there. And we discovered one performer we had not seen before, Tianna Esperanza, who absolutely wowed us.
It was especially thrilling to see Zoe Lewis host with her array of joy, plate spinning, and humor, although we admit to wishing for more music from her. Still, the audience was treated to a between-bands performance of one of our favorite songs of hers, about empathy, "These Shoes."
Yes, Sunday was hot. We beat the heat. This is how.
In this video, we mashed together performances from the bands, not necessarily in order, giving each about a minute a song to give just a taste of what happened.
It starts with some video of Lewis spinning plates with the sound and then video of Rose Clancy and Max Cohen playing a traditional Irish song, "Farewell to Ireland," followed by Tianna Esperanza with her thought provoking song, "Lewis," then Sarah Swain joining her old band, the Oh Boys! to play a catchy original with great lyrics, "Ain't Going Back," and then In The Pocket with Chev Hardy with a captivating and sultry version of George Gerswin's "A Foggy Day In London Town," followed by The Rip-It-Ups original, "Midnight Ride," and finally the Catbirds with a song by D-Coy called, "Bad Times."
But wait, there's more… coming soon.
Yes, we loved the show so much, that there will soon be three more full-song videos coming of
Tianna Esperanza
The Oh Boys! with Sarah Swain, featuring Liam Hogg
The Catbirds, featuring a Steve Wood epic guitar solo
Trust us, you can't wait.
Please like us on Facebook.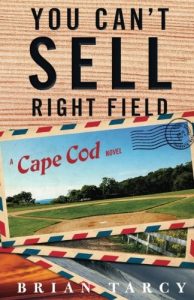 Please see, by Brian Tarcy of Cape Cod Wave
YOU CAN'T SELL RIGHT FIELD, A Cape Cod Novel
– If you like Cape Cod music, here is a story that Cape Cod Wave did on the Cape Cod original music scene. We interviewed 20 musicians (including Travis), four club owners, and two radio deejays – Cape Cod Music And The Joy Of Being Originally Alive
And here is a link to our growing collection of local music stories and videos –  MUSIC