WELLFLEET – "It's easy to tell the fishermen," said Louis MacKeil, Field Interviewer for the Massachusetts Division of Marine Fisheries.
Sitting on a bench watching the traffic of boats coming onto the boat ramp at Wellfleet Harbor, Mackeil's job is to talk fishing with recreational fishermen. He travels from Provincetown to Falmouth.
"The information we get is crucial to helping create management plans for different species of fish," he said. "The only way to get the information is to interview the fishermen."
MacKeil, of Harwich, is not just some guy working for the state asking fishermen questions. He has been fishing "for 75 of my 80 years." He has been teaching fishing classes since 1989. He knows a thing or two.
As a field interviewer, he does not talk to commercial fishermen. He focuses on recreational fishermen, who are under no obligation to talk with him. "For the most part," he said, "I find a lot of cooperation."
He asks basic questions like what did they catch, and what was their target fish.
"People are looking for a wide variety of fish but the number one fish for most people is striped bass," said MacKeil. "Next are bottom fish, scup, fluke, and black sea bass," he said.
The reason why people like striped bass, he said, is because "they are accessible and available. They are plentiful and, for some, they are easy to catch."
This alone, he said, shows that the state's regulations are working. Plus, he said, he is getting reports of people catching many young stripers and throwing them back. "It's working so well, I am seeing the benefits. There are so many striped bass."
Of course, his opinion is not shared by all fishermen. Some tell him their own negative opinion of the state regulations when he introduces himself. He puts it this way: "There are a group of people that are prone to blaming the fishing agency for their lack of prowess."
As for state regulations limiting the number of striped bass recreational fishermen can catch to one over 28 inches, he said, "It works. I don't care what anybody says," said MacKeil. And he said he can recall when fishermen could catch as many striped bass as they wanted, if they were over 16 inches.
MacKeil is one of a half dozen field interviewers working for the state on Cape Cod, he said. The state is broken up into regions, and there are other interviewers in other regions, he said.
He works from March to December, normally from 11 AM to 5 PM but on this particular day he was working 11 to 8 PM. On a beautiful August evening, his office on Wellfleet Harbor was summer magnificent.
"The only time it gets uncomfortable is when there is no wind and the no-see-'ems think you taste rather good," said MacKeil.
When the weather is bad, he said, he sits in his car during his shift.
And when he is not interviewing fishermen, he is liable to go fishing, or teach fishing. Because of what he knows, he said, "there are people who want to put a GPS on my car."
The worst thing that has happened to fishing is the internet, said MacKeil. "Curse the internet," he said. "Somebody catches a fish and posts it on social media and the next day instead of two or three people in that spot there are 20 to 30," he said of modern fishing.
Thus, Mackeil is free with advice and full of secrets.
MacKeil's fishing strategy, he said, is, "I know when I am going fishing and what I am targeting. I know when to go, what tides to go on."
"You make your luck when you study it in terms of is this the place to go to get this particular fish at this particular time," he said.
The old saying, he said, is that you've got to put your time in.
But does he have a favorite place to fish?
"Yes," he said, "Cape Cod."
– Please like us on Facebook.
Click here to see our Fishing stories.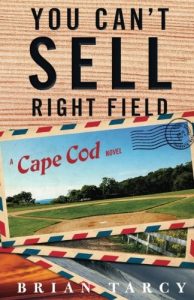 Please see, OR EVEN BUY, a novel about development pressure and softball in a small Cape Cod town, FROM CAPE COD WAVE — YOU CAN'T SELL RIGHT FIELD, A Cape Cod Novel