ORLEANS – Kent's Point Conservation Area in Orleans is a superlative conservation area, just a few miles from the center of town. You'll need a map to find it but it is well worth exploring.
Kent's Point is known for being dog-friendly. One of us is a self-proclaimed dog person. The other sometimes mistakes enthusiastic dogs for vicious coyotes. But all dogs we met were delightful and well-behaved. We didn't see too many other walkers without dogs but no-one seemed to look at us and our dog-less status with suspicion.
As to the Point: wide, lovely trails, and views, first peekaboo and then panoramic, of waterways. Looking at a map for confirmation, we caught glimpses of no less than four waterways during our walk: Lonnies Pond; the River; Frost Fish Cove and Little Pleasant Bay.
The area is known for birdlife but we didn't see too many. Mostly, we admired boats, bobbing lazily down the adjacent waterways. A perfect place to be on a Cape Cod summer day.
– Please like us on Facebook.
For more photos from across Cape Cod, please see Scenic Cape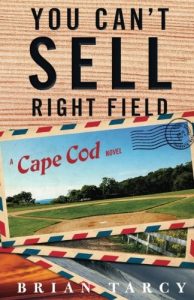 – A Novel By Brian Tarcy of Cape Cod Wave
"This is a terrific read. Brian Tarcy's style and sense of humor make it easy reading, while his subject matter is of more importance than most communities realize. If you care about growth in your community and the lack of thoughtful planning, you owe it to yourself to read this thoughtful piece of fiction that is all too real in smaller communities in our country."