PROVINCETOWN – For one sunny utopian afternoon, Commercial Street was a place where Vikings, mobsters, dalmatians, Romans and witches lived in perfect harmony.
"Provincetown is special. Halloween in Provincetown is more special," said Matt Fogo, dressed as Alternative Kellyanne Conway. Fogo, of Provincetown and Virginia, added, "Everyone is friendly and over-the-top dressed up. Everyone is just so nice."
On the Saturday before Halloween, the crowd on Commercial Street evolved over several hours, and was expected to continue its evolution long into the night.
We left shortly after sunset. More than one costumed reveler told us they had a second outfit planned for late night, when things were expected to get crazy.
Marcus DeCosta, of New York City, was dressed as a farmer but planned to change for nighttime. "You can't be seen in the same thing twice, he said.
Halloween in Provincetown, said DeCosta with a laugh, is "adults behave badly."
"This is the best Halloween anywhere," said Phil Mackay of Yarmouth. He was dressed as a witch doctor. "There are no inhibitions here. On Halloween, all bets are off in Provincetown."
Dan Maloney, of New York, was dressed as a rugby player. "Tonight you'll see crazy costumes," he said. "People go above and beyond what you expect on Halloween."
So to be clear, it is said these afternoon costumes were apparently the tame costumes.
Some took more effort than others. Robert and Claire Golden of Arlington said they did not have to put much effort into their 1920s mobster and flapper attire.
"If you take off the hat and the carnation, this is me going to work," said Robert.
"I don't really consider this a costume. This is just a dress I own," said Claire.
But add in a cigarette holder for her and his aforementioned hat and carnation and these two seemed straight out of the 1920s.
"People seem to enjoy seeing other people who are dressed up," said Claire, as the couple were stopped several times for their photo.
"It's like being a kid again," said Robert, about Halloween in Provincetown.
Kevin Mooney, of Provincetown, was dressed as Clark Kent. We discovered that he was also Superman. "Don't point that out, nobody knows," he said.
Patrick Wendell, of Yarmouth was dressed as a "Trump rider" – someone riding the shoulders of President Donald Trump.  "Halloween in Provincetown is the best Halloween, even better than Salem," he said. "People that are here are the most free, the most welcoming and the most friendly."
Michael Tobey, of Salem, agreed. Although Salem is known for its Halloween celebration, Tobey said, "I don't know if I can go back to Salem and have the same spirit.
Tobey was dressed as, "my own art project." He had worn a stained seersucker suit to a white party and carried a pocket full of sharpies for people to sign the suit. And he carried the sharpies on Commercial Street to gather more signatures.
"Halloween is probably my most favorite holiday," said Tobey. "I love the creativity of it all. People dig deeper into their closets and their creativity."
And, he added that while "many people do it in groups. I do it alone."
But he soon became friends with Wendell, the Trump rider. And then they went their separate ways
While America's 45th president and his staff were certainly part of the Commercial Street scene, there was a wild randomness to everything that made it seem like a friendly version of the famous Star Wars bar scene.
Speaking of movies, we ran into more than one character from a current movie that we had never heard of. Our pop culture ignorance was made clear on more than one occasion when we asked, "Who?", and were than asked, "Haven't you seen the movie?'
For instance, Seth Rieder of Brooklyn, was dressed in orange as Korben Dallas, the Bruce Willis character from the film, "Fifth Element." His 9-year-old Jack Russell terrier was dressed as Leeloo Dalllas from the same movie, he said.
"I just like Halloween," said Rieder. "It's one of those times when you can be whoever you want for one day, or three."
It continues through Tuesday.
– Please like us on Facebook.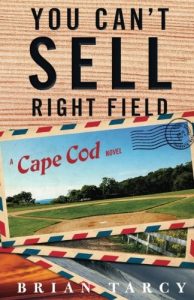 A Novel By Brian Tarcy
A softball team called the Townies. A slick developer with a sketchy story. A town divided over a zoning change….— YOU CAN'T SELL RIGHT FIELD, A Cape Cod Novel