EASTHAM – That hour after work. Through the eternity of hard labor, it has been celebrated in many different ways.
On Cape Cod, some workers unwind by parking their truck next to a local pond and casting a line to play a few games of catch-and-release with the local fish. Instead of going to a tavern, a golf course or straight home to a TV remote control, they go fishing after work. "It's stress relieving," said Randy Gifford, 51, of Dennis.
He had just cast from Fisherman Landing on Herring Pond, one of more than 300 Cape Cod ponds between the bridges and Provincetown.
Just down the beach from him was Matt Milliken of Eastham. Asked his age, Milliken said, "I'm gonna plead Jack Benny for the rest of my life. I'm 39."
Milliken wore a red jacket and a blue knit hat and he rolled his own cigarettes. When Gifford showed up at the pond in his black truck, Milliken had been fishing for about a half an hour and had already caught three large-mouthed bass, he said.
Gifford, taller and wearing a black hoodie, said, "This is just quick, easy and accessible after work. You just stop by after work and throw a line," he said.
The evening glowed a light pink at the horizon past the calm pond. Nearby a great blue heron lurked, and then flew. Looking around, it was not hard to figure out why they came here. SEE SLIDE SHOW BELOW
Gifford said, the fishing does not compare to the fresh water fishing he did when he lived in Oklahoma. "They catch really big catfish. You can get spoiled down there," he said.
They both said they do not eat the fish, mostly bass and perch, that they catch in the pond. Instead, they come for the relaxation.
"It's like going to the movies," said Milliken. "It's a couple of hours away from reality. You can pay attention to something other than your worries."
This is the time of year the ponds are accessible, he said. "You can't do it in the summer. This is a swimming beach in the summer," he said.
And Milliken added that the best part about fishing is, "You meet cool people. You see these old coots out here, and they always got the best stories."
– Please like us on Facebook.
Click here to see our Fishing stories.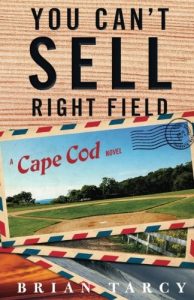 A Novel By Brian Tarcy
A softball team called the Townies. A slick developer with a sketchy story. A town divided over a zoning change….— YOU CAN'T SELL RIGHT FIELD, A Cape Cod Novel