FALMOUTH – This is a hard-driving, theatrically lit, charismatically-performed original song, "Akrasia," by Crooked Coast, one of the most popular bands on the Cape. It is a powerful three and a half minutes from Friday night at Grumpy's Pub.
Featuring the strong lead vocals of John McNamara, as well as the driving bass of Ben Elder, the song seemed to pull its momentum from Charles Walton on drums, who is not only a fabulous drummer but, like the rest of the band, a great showman. He's fun to watch.
The whole band is fun to see. Of course, Luke Vose, who often sings lead, was great and ever-charismatic on this song, with backing vocals and guitar. The band is more than the sum of their parts, and it becomes clearer in each second of this hard-rocking song.
Crooked Coast has been traveling and making new friends, which is good for Cape Cod. They invited Freeway Revival, a fun jam band with great harmonies, from Asheville, North Carolina to open for them.
But it was Crooked Coast, as you will see, if you haven't already, that stole the show.
Finally, "akarasia" is an interesting word… "The state of mind in which someone acts against their better judgement through weakness of will." Kudos to the band.
Please like us on Facebook
– If you like Cape Cod music, here is a 6,000-word story that Cape Cod Wave did on the Cape Cod original music scene. We interviewed 20 musicians, four club owners, and two radio deejays – Cape Cod Music And The Joy Of Being Originally Alive
And here is a link to our growing collection of local music stories, and more than 100 music videos of local bands playing original music  –  MUSIC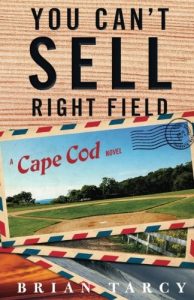 – A Novel By Brian Tarcy of Cape Cod Wave
"This is a terrific read. Brian Tarcy's style and sense of humor make it easy reading, while his subject matter is of more importance than most communities realize. If you care about growth in your community and the lack of thoughtful planning, you owe it to yourself to read this thoughtful piece of fiction that is all too real in smaller communities in our country."