EASTHAM – It was the kids that started the WOMR conga line. The band, Funktapuss, dug it so much, they filmed it along with us.
It was one of those Cape Cod moments spurred by community – in this case, community radio.
Funktapuss was rocking the Elks Lodge for Provincetown community radio station WOMR's 36th birthday party when a little boy noticed, we assume, his younger brother walking through the crowd.
The older brother put his hands on his little brother's shoulders. Their mother, we assume, noticed and followed along. Next thing we knew, this happened.
By the way, if you have never seen the documentary about WOMR, "Outermost Radio, The Film" we highly recommend it. We saw it at the Provincetown Film Festival, which we attend every year, and it was amazing.
Sort of like this conga line. Community radio, obviously, starts with community.
Please like us on Facebook
– If you like Cape Cod music, here is a 6,000-word story that Cape Cod Wave did on the Cape Cod original music scene. We interviewed 20 musicians, four club owners, and two radio deejays – Cape Cod Music And The Joy Of Being Originally Alive
And here is a link to our growing collection of local music stories, and more than 100 music videos of local bands playing original music  –  MUSIC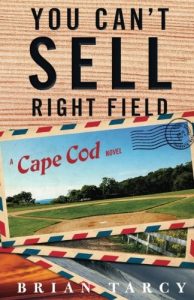 – A Novel By Brian Tarcy of Cape Cod Wave
"This is a terrific read. Brian Tarcy's style and sense of humor make it easy reading, while his subject matter is of more importance than most communities realize. If you care about growth in your community and the lack of thoughtful planning, you owe it to yourself to read this thoughtful piece of fiction that is all too real in smaller communities in our country."
— YOU CAN'T SELL RIGHT FIELD, A Cape Cod Novel