WOODS HOLE – If one were to draw up the perfect Cinco de Mayo, it would involve a three-mile sunshine-filled bike trip from Falmouth to Woods Hole on the Shining Sea Bikeway, and then alternating music sets by the bands Brothers's Rye and Crooked Coast.
Following this blueprint, we found ourselves at one of the best parties on Cape Cod, where the Brother's Rye were playing at Quick's Hole and Crooked Coast was playing at the Landfall, each in front of an enormous, joyous all-ages crowd.
Kudos to the owners of Quick's Hole and the Landfall for putting this together. It was as good of a party as we have seen on Cape Cod – right up there with Wellfleet Oyster Festival. 
For a taste of what happened, check out this video, with portions of songs by both bands, and few photos mixed in. Here is Brother's Rye, playing part of an old Hank Williams song, "Jambalaya (On the Bayou)," and Crooked Coast playing part of their great original, ""Go Slow."
Please like us on Facebook
– If you like Cape Cod music, here is a 6,000-word story that Cape Cod Wave did on the Cape Cod original music scene. We interviewed 20 musicians, four club owners, and two radio deejays – Cape Cod Music And The Joy Of Being Originally Alive
And here is a link to our growing collection of local music stories, and more than 100 music videos of local bands playing original music  –  MUSIC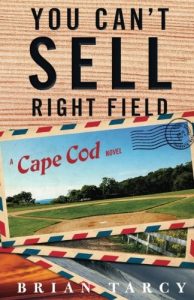 – A Novel By Brian Tarcy of Cape Cod Wave
"This is a terrific read. Brian Tarcy's style and sense of humor make it easy reading, while his subject matter is of more importance than most communities realize. If you care about growth in your community and the lack of thoughtful planning, you owe it to yourself to read this thoughtful piece of fiction that is all too real in smaller communities in our country." — YOU CAN'T SELL RIGHT FIELD, A Cape Cod Novel