FALMOUTH – In this time of sports-less uncertainty, finding a group of kids on a baseball field taking batting practice felt like winning tickets to the seventh game of the World Series.
Baseball! Something finally was right with the world again.
This was a tryout at the Lawrence School for travel team for the Falmouth Babe Ruth League, and it was also a tryout to be on one of the four Babe Ruth teams of the league itself. Some kids are on two teams, their league team and the all-star travel team, explained Phil Maseda, Vice President of the league.
In about two weeks, Maseda said, an umpire should be yelling, "Play ball!" No sweeter words have ever been heard.
We interviewed Jared Lopes, one of the players on the travel team, who talked about how great it was to play again, his nervousness at the first ball hit to him but not the second, and how great it felt to hit a baseball again: "It was great… like the first time up at bat again, the first time playing again."
---

NOTE TO READERS: If you like this kind of journalism and want it to continue on Cape Cod, please support Cape Cod Wave. In these fraught times, Cape Cod Wave Magazine is hoping to survive, like everyone else and we are asking for your help.  There is a donation button at the top of every page.
We set the amount, after seven years of never asking, at $10 for a one-time donation. (For perspective, the "local" corporate owned daily paper costs $3 a day, and $5 on Sundays) If you would like to give more, or less, you can send a check to Cape Cod Wave Magazine, Box 29, Falmouth, MA 02541
Thank you for reading Cape Cod Wave, and stay safe!
– Laura & Brian

---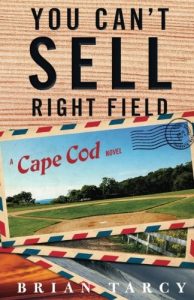 –PLEASE SEE You Can't Sell Right Field,  a novel from Cape Cod Wave…. about a huge piece of land for sale, a crooked developer, a softball team named The Townies, and an election. Based on the true story of a large Cape Cod development from the early 1990s, and Cape Cod softball.