ORLEANS – In this lower Cape town boasting Nauset Beach, Skaket Beach, and Rock Harbor, a 1946 Chevrolet Fleetmaster police cruiser is a tourist attraction.
"My God, you wouldn't believe the number of pictures people take with it," said Lt. Kevin Higgins of the Orleans Police Department.
This police car is a rock star, and it is part of the family history of the town of Orleans.
The '46 Chevy will appear in a movie, "The Finest Hours," filmed recently in Chatham. It has also appeared in television commercials for W.B. Mason, and is often requested for weddings. Plus, it is featured in parades, and on display at the town block party every summer. During events such as parades, officers with the car even wear old Orleans Police uniforms.
This winter, as the snow piled up, so many people expressed concern about the well-being of the car, the department turned to social media and wrote: "For those of you that have expressed concern for our '46 Chevy and where she has been during those snowy, cold days and nights….rest assured, she's in a heated garage in an undisclosed location."
We are now authorized to disclose the specific location of the garage as somewhere in Brewster. But it doesn't matter because soon it will be back outside; yet another sign of spring on Cape Cod. "April 15 is the day we push for," said Higgins.
The car has been undergoing some TLC this winter, said Higgins. On the day Cape Cod Wave visited in late March, he started the engine for the first time since December, and it started right up – VIDEO
Compared to the power steering of a modern car, Higgins said the '46 uses "armstrong steering." In other words, your arms better be strong.
"It's a lot of work, but it's a lot of fun to drive," he said. "Our mechanic said the best thing you can do for that car is to run it every day."
So in the summer, they try to run it every day. "If the car sits for more than two days, there is flash rust on the brakes. I have to be prepared. I don't know how it's going to pull when I hit the brakes, he said. "If I took it out today, I'd purposely drive the backroads."
Although the car is not an official police cruiser, it does have a radio, and one day a couple summers ago, Higgins was in the car when he got a call about a girl who had been in a bicycle accident.
In the '46, he was the first to respond to the accident. The girl was from Russia and as he was treating her, she suddenly noticed the car and said, "Really? That is a modern American police car?"
"There was no way to really explain it to her," said Higgins.
---

** Please support independent local journalism.
See the DONATION BUTTON AT THE TOP OF THE PAGE **

---

The Soul Of A Tourist Attraction
"Some kid last summer saw it, and he wrote in later and donated $45 that he had saved up. He wrote, 'I want to be a policeman some day. Please take my $45 to help preserve the car,' " said Higgins.
Why? What is it about this old police car?
"That old car means different things to different people," said Higgins. "It harkens back to a time when things were a little bit more laid back, maybe safer."
The story of a 70-year-old car wanders down many tangents. And like the roads a police car  often travels in this small town in the summer, they are familiar and each has its own unique subset of stories. Perspective, remember, explains everything.

The Original? — A Detective Story
Is the car in a heated garage in Brewster the exact same car that once patrolled the streets of Orleans?
In its 1946 town meeting, Orleans voted 45 to 38 to establish a police department. It also allocated $1,200 to buy a police cruiser, which was a 1946 Chevrolet Fleetmaster four-door sedan, This information comes from one-page history written by Lt. John C. Fitzpatrick, who died in November 2013.
Fitzpatrick, according to Higgins and others interviewed for this story, was the person most responsible for the town's acquiring a car, decades later, that is the exact same model as the town's first cruiser.
A 1946 four-door Fleetmaster was the town patrol car from 1946 to 1952, when it was traded in for a Ford, said Higgins.
From there, the story gets cloudy.
In either the late 1980s or 1996, the Orleans Police Relief Association, a group of about 30 current and retired officers who gather for social purposes and charitable work, purchased a four-door Chevrolet Fleetmaster in either New Jersey, New Hampshire, or a radiator shop in Worcester.
That much is clear.
Higgins, 53, is one of two members of the antique car committee of the Orleans Police Relief Association. The committee takes care of the car. Several officers volunteer, said Higgins.
Higgins said he has some reason to believe the tourist attraction is actually the town's original cruiser. "I heard that when they were doing body work on the car, there were holes in the fender where the antenna was mounted," he said. No regular person's car would have had an antenna, he said. "Fitzy bought the car from the estate of the guy who actually bought the car" from the dealership where it was traded in, said Higgins.
"Warren Quinn helped Fitzy bring it back," said Higgins. Quinn, 85, moved houses for a living and owned a trailer and helped get the car.
"That's not the original cruiser," said Quinn. "I remember driving the original. My cousin was a lieutenant. That car is painted so it would look like the original."
Three people picked up the car, said Quinn – Fitzpatrick, himself, and Kevin Wells, now 60, who retired as an Orleans Police lieutenant in 2009. Wells now lives in Freedom, New Hampshire.
According to Wells, "We researched it all the way back… This car did come from Cape Cod. The last time it was registered was in Dennis to a woman."
Wells is positive the cruiser the town displays every year is not the original.
A written history seems to have disappeared, said Wells. "John (Fitzpatrick) wrote everything down and put a journal in the car," recalled Wells.
That journal cannot be found. "I've never seen the journal," said Higgins.

Where Did It Come From?
Dick Smith, who retired in 1998 as a sergeant after 30 years on the Orleans Police Department, said,  "I think that was bought down in New Jersey. But I'm just guessing."
"He ended up going to different places," said Erin Stratton, the daughter of Fitzpatrick. "The one they got, I believe they found in Worcester, and brought it home."
Higgins said he has heard more than one story, including that the car was purchased in New Hampshire, "but I'm sticking with Worcester."
"I know they looked at a couple of them that were pretty rusted and they wouldn't touch them," said Smith.
Wells said he can recall picking the car up with Fitzpatrick. "He was my sergeant when we first started. We worked together," said Wells. "We were good friends. He said to me one day, 'We got to buy a '46.' He said, 'Yeah, the first police car in town was a '46.' His dream was to find a replica of the first police car. It became a real thing for him. So we started scouting around."
Wells recalled going to Tom's River, New Jersey to see a car and found a car in really bad shape. They did not buy it. "The car was full of Bondo and magnets. We looked at a bunch of cars," he said.
And then one day, said Wells,  they "got a call from a summer resident in Wellfleet, who knew of a radiator shop in Worcester" that had a four-door 1946 Chevy Fleetmaster. "A gentleman in town, Warren Quinn had a trailer and helped us pick it up," said Wells.
Quinn said they picked it up 'around the Boston area somewhere." Quinn didn't remember exactly what year the car was picked up. "Time gets away from me, you know," he said.
Higgins recalled that he was new on the police force at the time the car was purchased. Higgins worked two years as a Summer Special Officer from 1985 to 1987 before being hired full-time. He was also a new member of the Orleans Police Relief Association. "A discussion started. Sergeant Fitzpatrick wanted to get the original cruiser back," recalled Higgins.
The association purchased the car for $2,500, said Higgins.
And while the late 1980s seems familiar to Higgins, Wells is certain they bought the car in November, 1996. "The truck I owned at the time was a 1994," he said. "I remember."
Told of Wells recollection, Higgins said, "he must be right. Every guy remembers what car they drove when they did something." But still, Higgins said, he recalls the car being purchased earlier.
And Stratton said, "I'm going to say it was the mid-90's. It came after my husband and I got together, and that was the early 90's."
"Somebody had taken really good care of it," said Wells. "We scraped it down that winter.. It had been in one auto accident, and we found they had used lead for body filler."
Wells cited many in town who helped, including students at Cape Cod Tech, Nauset Auto Body, and several others.

One Man's Vision
"My dad started on the department in 1961," said Stratton. Her father, Fitzpatrick, retired in 1998. "For a few years he talked about trying to find a '46 Chevy to bring back to Orleans. He had a seen a lot of pictures of it," she said.
At first, she said, she was nonchalant about it. "When I first saw it, I was like okay, it's an antique car,. Now I look at it, and I'm that many more years older and I have more of an appreciation of it. More of an appreciation of what it meant to my dad..The sense of pride he had for this car, I kind of have for it too because it makes me feel warm and fuzzy every time I see it."
She added, "When my kids (Cody, 7, and Lydia, 4) look at that car, they say, 'Mom, look, it's Papa's car.' The first time my son said it after my dad died, it brought tears to my eyes."
"Fitzy was a gentleman and an awful nice guy," said Quinn.
Fitzpatrick was the one who convinced Higgins, who was thinking of joining state police, to join the Orleans Police instead.
And Wells, who picked the car up with Fitzpatrick, said, "He was my sergeant when I started."
And while they knew Fitzpatrick as a friend and police officer, they also knew of his passion to bring back a '46 Chevy – the same as the town's original cruiser.
Smith said, "Fitzpatrick was kind of in charge of it." Smith said, "To be honest with you, I was against buying it. At the time they were buying it, I just thought it was kind of crazy. I thought it was kind of silly to buy it and keep it going all the time."
Higgins said, "A lot of the guys didn't have the foresight that Sergeant Fitzpatrick had. It's the cynical side of police work. If I said to one of the guys now that I wanted to save the last of our Crown Victorias, they'd have the same reaction," he said. A reaction of why would you want to save this piece of junk?
Smith has long since changed his mind. "I think it's a good calling card," he said. "I live up the street and whenever I go by, I always see people out taking pictures with it… It just got very popular with people. And we all fell in love with it after that."
Fitzpatrick was the driving force. But Stratton said, "I don't think that he actually thought it would blossom into what it has become today. It's now in a movie."

History & The Small Town Movie Star Car
Higgins is the 15th generation of his family in Orleans. "I'm a descendant of the Anne, not the Mayflower," he said.
Orleans is a small town. The town's first patrolman, and perhaps the first person to drive the '46 was Higgins uncle, Joseph W. "Jack" Higgins. He later became the town's second police chief.
In February 1952, when Jack Higgins was police chief, "He got a phone call at home from the Chatham Police Department," said Kevin Higgins. "They were seeking help for a boat rescue. He thought it was a fishing boat. He threw his overcoat on and went to Chatham. He didn't know until he arrived that the rescue was for the Pendleton, which broke in half with 41 people on board. Nine died; the others were rescued.
Higgins speculates that his uncle drove some of the survivors to the hospital. But he is unclear for sure on his role, except that the car is going to be in a movie based on the rescue, "The Finest Hours," starting Casey Affleck, which recently filmed in Chatham and is due to be released later this year.
Higgins said the car would most likely have transported survivors because, "there was only one ambulance, the tri-town ambulance of Orleans, Brewster and Eastham. One ambulance for three towns. This town now has four ambulances," said Higgins.
A lot has changed since '46 patrolled the streets of Orleans.
Smith remembers the original car. "The guy always sat up town in front of the gas station That's as I remember him as a kid. I used to drive him crazy, and then I turned out to be one (a police officer) myself."
All interviewed for this story suggested that things were simpler back then. "We never even had lockup facilities in Orleans until the station was built in 1966," said Higgins.
The 1946 has no cage or barrier at all between the back and front seat. Often, Higgins said, prisoners rode in the front seat with the officer.
Smith said, "We probably had house breaks back in those days."
"Basically drunkenness," said Wells about what officers most likely dealt with in 1940s and 1950s. "It was against the law to be drunk. You would get arrested for that."
According to Higgins, one call that "probably became an urban legend in the police department was there was a horse in a bar. A guy got kicked out of a bar, and he went home and rode his horse into the bar."
And then there's the story of the wagon wheel. "Lt. Fitzpatrick's father owned a diner," said Higgins. "It was called the RENO Diner. It was going to be called the ORLEANS Diner but the letters 'L' and 'A' were damaged in transport, so the sign said Reno Diner. Well, a bar in town  had a wagon wheel outside and some kids dislodged it from where it was and rolled the wagon wheel down the road and lost control of it and it rolled right through the front of the RENO Diner," he said.
According to Wells, there was a radio in the original '46, but it only worked in the cemetery. The system back then, he said, was if the telephone operator on Main Street received a call, the operator would "turn a light on to indicate to the police officer that she needed him." And when an officer doing his rounds drove by and saw the light, he would contact the operator, said Wells.
"Going back to Orleans way back then, it was a totally different social world. Way back then, everybody knew everybody. Back in the 40s and 50s, you had the hometown feel of taking care of your neighbors," said Wells..
And while the car harkens back to that simpler time, Higgins said his job now as a police officer deals with much different types of incidents, and entails the philosophy of, "I enjoy catching bad people doing bad things to good people."
A different world indeed.
For more stories like this, please see Longform stories 
– Please like us on Facebook.
---

** Please support independent local journalism.
See the DONATION BUTTON AT THE TOP OF THE PAGE **

---
---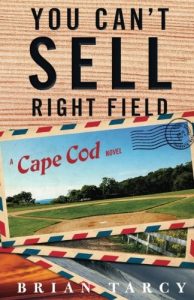 –PLEASE SEE You Can't Sell Right Field,  a novel from Cape Cod Wave about land for sale, a crooked developer, a softball team called, "The Townies," and an election.
Based on the true story of a Cape Cod development.