CHATHAM – They were casting their lines from the beach off the town landing at Minister's Point, catching and releasing schoolies in the mid-day fog.
Katayana Bowen, 50, of Pittsfield, said, "We were catching a lot of fish today. There were so many, I didn't even count them any more. They were all schoolies. It was fun."
Geoffrey Gold, 53, of North Chatham, said, "They're small but full of vim and vigor." Gold, self employed, said he caught about a dozen in a hour. 
"It's not about the fish, it's about the fishing for me. To be out in nature, standing and looking out at North Beach and Monomoy. And to match wits with these fish," said Gold. "Some days you know what you're doing, and other days you do not."
One day after the attraction of the Cheeky Schoolie Tournament, with more than 400 entries, a handful of folks in waders were casting into the Atlantic to catch fish that, according to Chris Roller, 42, of Chatham "just got here this week."
"I fish a lot in the spring in my waders," said Roller, who works in finance. When the weather gets warmer, he usually heads out on a boat. "This is usually a great May/June spot," he said. 
"Look at this water," he said, pointing to a corner where the currents seemed to cross and a few folks were gathered. "It's ripping."
And so with young striped bass, known as "schoolies" just arriving in waters off of Cape Cod, folks with fishing poles were drawn to the shore, especially for the tournament, said Mike Bias, 56, a fishing guide who came to the tournament from Twin Bridges, Montana.
And here he was the next day at Minister's Point. "This is three best days of striper fishing I've had," said Bias, who said fishing in Montana is much different.
"I guide on the three best rivers in the country," said Bias. Unlike saltwater fishing, Bias said, "We use smaller rods back there."
He said he was excited to be striper fishing on the Cape. "There's nothing like a striper hit on Cape Cod. The only thing more iconic might be on Montauk on Long Island, but who wants to go to New York?"
When asked if Montana or Cape Cod has better fishing, Bias answered, "I live in Montana. I'm visiting Cape Cod." In fact, he lives in Montana for the fishing, and he was visiting Cape Cod for the fishing.
Bowen, a speech language pathologist, is also a fly fishing instructor for women recovering from breast cancer. She said she had made incredible connections through fishing and is amazed that "something you do in your spare time for your own enjoyment can affect another so deeply."
In addition to that volunteer work, she has a strong circle of fishing friends, and even met her wife through fishing. "Spiritual is a very overused word," said Bowen. "I don't know if that is the correct word but being outside in nature in a very primal way maybe is spiritual."
– Please like us on Facebook.
Click here to see our Fishing stories.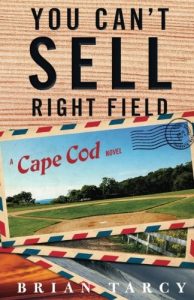 – A Novel By Brian Tarcy of Cape Cod Wave
"This is a terrific read. Brian Tarcy's style and sense of humor make it easy reading, while his subject matter is of more importance than most communities realize. If you care about growth in your community and the lack of thoughtful planning, you owe it to yourself to read this thoughtful piece of fiction that is all too real in smaller communities in our country."