ORLEANS – Rick Weeks' "first surf awareness" happened exactly like this.
"My family was driving over the Bourne Bridge," recalled Weeks, 69, of Orleans.
It was the 1950s and his parents had a summer home in the Megansett section of North Falmouth, a place he described as "the summer of '42 frozen in time."
"At the time, there was a Howard Johnson's at the bridge and there was a surfboard on a car there as we went by," he said. "I made my parents drive around the rotary so we could drive through the parking lot and I could see it up close. I just wanted to see it."
The family had an "English Ford station wagon, a little tiny thing, Mini-Cooper sized," he said. Although his parents had that summer home in North Falmouth, he was a kid from the landlocked town of Cheshire, Connecticut, in "the only coastal state in America where there is no surf," said Weeks.
But there it was, in the parking lot of a Howard Johnson's, strapped to the roof of a car.
It was something from his imagination, or from a magazine.
But he could see it. A real surfboard.
It was so real and so significant that that boy who first saw that surfboard in the 1950s on top of a car in a parking lot near the Bourne Bridge now says of his life, at almost 70, "Surfing was too important to me to have a real job."
"Anybody who feels a passion for surfing feels exactly the same thing," said Weeks. "Your life alters from that moment forward."
And John Butler, a surfing friend who has known Weeks for more than half a century, said of Weeks, "He has donated his whole life and his whole being to surfing. It's his identity. It's his love. It's everything to him."
---

** Please support independent local journalism.
See the DONATION BUTTON AT THE TOP OF THE PAGE **

---

The First Wave
While surfing was something of a magazine mirage to the landlocked kid who dreamed of skiing Aspen in the winter and Portillo, Chile in the summer, his family did drive out in that little station wagon to Nauset Beach on occasion and he would ride air mattresses in the waves. Same at Chapoquoit Beach in West Falmouth.
"We loved riding the waves," he said. "We'd go to Chapoquoit Beach all the time and ride the waves."
Near the end of the summer of 1964, when he was 16 and his family had a summer home now in Scraggy Neck in Cataumet, he and his brother walked to the corner of Route 28 and Route 151 in North Falmouth and stuck out their thumbs. "We used to hitchhike all the time. Our parents didn't care. They didn't want to give you a ride, so you hitchhiked." They got rides on backroads all the way to Nauset Beach in Orleans.
"On my first wave, I had no idea what I was doing. I paddled out, I caught a wave, I stood up and rode it all the way to the beach. I never stood up again for the next two weeks. But that first wave hooked me." – Rick Weeks
They went to a place called Surf City and rented a board from a guy named "Scoop" for eight dollars for the day. It was a cheap manufactured board, what surfers called "a popout", which Weeks said is "a derogatory term for a not good board." The brand of his rented popout, he recalled, was a Newporter.
"When we went to Nauset Beach, they charged a dollar per surfboard to get in," said Weeks. "That only lasted one year. There was a little outrage about it."
And then they went down to the beach. "On my first wave, I had no idea what I was doing," said Weeks. "I paddled out, I caught a wave, I stood up and rode it all the way to the beach."
"I never stood up again for the next two weeks. But that first wave hooked me," said Weeks. "I'm so glad I caught that first wave. It seemed so easy that I kept trying."
That winter, he said, "I got obsessed." He spent a lot of time thinking about surfing and reading magazines. "I was never really a great student in school, but I could tell you every caption I ever saw in a surf magazine from the very first day."
It was, he said, the early stage of the surf culture emerging from Gidget movies and Beach Boys songs. And Weeks, like many landlocked kids, caught the fever. "It was just the whole aura of it," he said. "I was just consumed by it."
"My hometown didn't do much for me," said Weeks. He described Cheshire as a farm community of 1,000-acre truck farms. "When we went skiing, that was exciting to me. I identified with out-of-town things."
While Weeks' exposure to surfing when he was young was from magazines and atop a car in a parking lot, his family often took him skiing. He began skiing at 5 years old. It was what he lived for. As a young skier, he said, "I kept maps of all the ski areas. I would write on the maps, 'Get excited. You're about to go skiing.' "
In Cheshire he went to a private academy for high school but, unlike most of the students who boarded there, he lived at home. He was on the ski team and swim team and, it was on there that he met some other surfers and began to chase the waves. They'd go to Rhode Island.
Butler was often among that crew, even organizing some of the trips himself.  "We were crazier than he was," said Butler. "We'd go pick him up." That meant, said Butler, skipping school.
"I'd pick everybody up at 3 AM. In those years, car heaters didn't work," he recalled of the chilly trips. Two hours later they stopped in Stonington, Connecticut at Bill Spicer's bait and tackle shop. They'd knock on the door at 5 AM and they could hear Bill's wife yell, "Is that those surfers again?"
They were there to rent wetsuits, heavy scuba diving wetsuits that didn't offer much dexterity but did keep them warm enough to surf.
"Bill would come out in his long underwear with a belt and a knife attached to it and let us in the bait shop," said Weeks. "Of course we were broke. We would almost never pay him. Bill was a wicked nice guy."

College And A Job
Weeks graduated from high school in 1967. "It wasn't my idea to go to college," he said. "It was my father's idea that I go to college. All I wanted to do was surf."
Back then, Weeks said, getting into colleges was difficult. "My father made me cut off my long hair and beard and put a suit on. We went to seven colleges. I had no transcript, it was just him selling me. He was a salesman."
He got into Hawthorne College in New Hampshire at the height of the Vietnam War. At the time he said, "If you weren't in college you were off to Vietnam."
While in New Hampshire, Weeks said, "I had no plan. It was a great way to stay out of Vietnam."
And then when he was in college, the country had its first draft lottery and his birthdate came up near the end. Unlike everyone he knew, he didn't even have to take a physical. "My draft number was so high," said Weeks.
Weeks said he was a good student in college. "I learned how to read the professors and I was good at giving them back what they wanted to hear." He got a degree in business administration.
All through high school and college, he said, he worked at an M-16 factory, making muzzles and other parts for the guns soldiers were carrying in Vietnam. Surfing, working in a factory and going to school – that was his life.
His parents ran out of money for school for his senior year of college so he went to Florida and surfed all winter. But he ended up back in school and in the factory and when he graduated from college, the factory offered Weeks a manager's job.
"I said no, I'm a surf bum. I'm out of here," recalled Weeks.

The Surf Life
During college, Weeks and four friends moved to the Cape for the summer. He decided he wanted "to be close to the city of Hyannis. All of Cape Cod was college students. They were everywhere," he said.
He lasted three weeks in Hyannis. "I was done with any place that didn't have surf," said Weeks. "I moved to Eastham and started the surf life full on."
And that was how he found Jasper's Surf Shop. "That was our magnet. That was the flame we all flew towards."
It was a scene. "Three hundred people hung out at Jaspers," he said. "We got drunk, we all had fun, but nobody did anything bad."
Butler was part of the Jasper's scene, a place he fondly remembered for its sand floor and the "really tight group" that hung out there. We surfed it up. We all just loved each other, and we had a blast," said Butler.
Butler said that said that Weeks and Foley, being older than Butler's peer group, "kept us clean and out of trouble."
It was surf fun. "We used to have a lot of parties at the surf shop, showing eight millimeter surf movies."
Another friend, John Ball, described the group as "a gang where you all hung out on the beach and ate oysters and stuff…. Surfers are like a tribal crew. You gather."
Ball said, "Rick was a pretty straight shooter. He wasn't partying like the rest of us. He never got into the drug scene. He always kept himself clean. A lot of guys I know went down that trail and they're dead. They didn't make it out of their 50s."
Weeks was dedicated to surfing.
Kevin "Foggy" Foley worked at Jasper's at the time and said there was a gas station in front and "Rick started pumping gas at the gas station at night so he could surf all day."
As Weeks dedicated his life to surfing, he became good. "Everybody is driven to compete," he said. "Our district in the Eastern Surfing Association was New England, from Maine to Connecticut."
His first try for competitive surfing was when he tried out for the Will Jacobs Surf Team, which was sponsored by a store in West Hartford, Connecticut. "I didn't make the team but I got points in a meet. To me, that was unbelievable that I got points. I found out later that everybody got points."
But later he did begin to compete "against everybody in New England" at two-day events.
It was a time, he said, when "16- and 17-year-old kids would stay beachfront in the middle of summer. The economy was not that good. We could gang up together and share a room and party with all the kids from New England. Just a big group of friends."
Because of those experiences, he said, "I could go into any surf shop in New England and I could say I surfed against the owner. He is my friend. There is a strong community of surfers in New England."
Foley remembered, "He was one of the best surfers in New England."
And then one year Weeks went to a surf contest in Cape Hatteras, North Carolina. "In my heat, the surf was eight inches to a foot. I never surfed another contest until a month ago. It seemed stupid to me to hold a big important contest like that in no surf."
And since then, he has chased the surf for the joy of the ride.
He has chased waves all over the world.
Weeks lived in California, 20 miles north of San Diego, for four winters in the 1970s. "It was great surfing, only an hour from Mexico. I'd go to Baha during the weekdays and surf empty waves," he said.
But in California, he said, "There were too many people surfing, it was too crowded, too expensive, not as friendly and very territorial. Surfing is very territorial anyway, but this was particularly territorial."
He tried Florida. "That was fun to live in but it doesn't have enough waves," said Weeks.
He once told a friend after a night of drinking that he would go find him surfing on a beach in France, and then he actually went to France and, by asking if anyone knew a curly-haired American surfer, tracked down his friend.
"I lived on a castle on the beach in southern France and surfed some great breaks all summer," said Weeks.
"I went to Australia," he said. "I liked it, but that's a long way to go."
He lived in Hawaii. After a while, "I couldn't wait to leave. I was ready to leave. I wanted to get in the car and go someplace. The island thing gets a little too restrictive after a while," he said.
Weeks went to New Zealand. "It was great," he said. "Every place I went was great."
But Cape Cod has always pulled him back. "I have never come back over that bridge onto the Cape where I wasn't happy to do so," said Weeks. "The Cape has a draw that is hard to walk away from."
And, he said, "Every time I come back I am stunned by how much better the waves are here than almost anywhere on the East Coast," said Weeks.
As Ball said, "If you are familiar with Cape Cod, you know the surf on the Outer Cape can get pretty juicy."

Cape Cod: Rick's Outer Bar & Living To Surf
"If you are not the master of your universe, if you can't go right now, you are not really a surfer," said Weeks. "You have to be in a job where you drop everything and go surfing, and in a relationship that understands."
"No one I know has a real job," he said. "A lot of modern surfers have a landscape business. Most of the surfers I know are hard workers. They need to be hard workers because surf is what it is."
Butler remembered Weeks "made his car into his house. He tore out the seats and made it so he could sleep in the car. Money meant nothing to him. It just meant he could be closer to the waves."
"In those early days," said Butler, "we didn't care about anything else but surfing. When there was surf, no matter when or where it was, six of us bolted to the beach."
It is, said Weeks, a specific way of living. "Success doesn't mean you have enough money to have a waterfront house in Chatham. It means you get to have a life on your own terms. Surfers have always known how to live waterfront and have carefree days," said Weeks.
Weeks said he has never worried about money. "When I was a little kid, I raked lawns, I shoveled snow, I mowed lawns… making money was never a mystery to me. It was always sort of easy."
He had several different jobs through the years. "I worked at night, restaurant work, bartending, whatever gave me the most money in a short order of time." Eventually he opened a bar, Rick's Outer Bar, which was a surfer hangout for 30 years. He no longer owns it.
"If you are not the master of your universe, if you can't go right now, you are not really a surfer." – Rick Weeks
Butler remembered that Rick's "was such a unique bar." There were a lot of photos of Weeks surfing all over the world, and there were surf movies there, he said. "Anybody that surfed went to Rick's Outer Bar," said Butler.
And while Weeks never had a job that would interfere with surfing, he also no longer has a crew of fellow surfers. "The wind, the tide, everything has to be right,' he said. "I can't exist for other people's schedules."
"I've never been a group surfer," he said. "I know people wherever I paddle out. But surfing is too important to me to go with a crew. I don't want to call anybody and discuss where to go."
He is consumed by chasing waves.
"I have no money, no retirement funds, no investments and I have absolutely no fear about tomorrow," he said. "I've always figured it out. It's part of being a surfer. You move through the universe on your own terms."

SUP, An Old Surfer Stands Up
As Weeks got older, he began to have shoulder problems. "I have fought my weight my whole life," he explained. "I weighed up to 285 pounds. It was hard to push myself up on the board. But once I discovered standup (Stand-Up Paddle – SUP), it was like being born again," he said.
"I was a fat, old has-been surfer that was declining, and this brought me back," said Weeks.
And he now has the same passion for SUP that he once had for surfing. In many ways, said Weeks, it is the same.
"I was 30 years younger the moment I learned to catch a wave standing up," said Weeks. "My world changed."
He has since lost 50 pounds but still describes himself as a big guy or sometimes "an old fat guy that has balance issues like all old guys do."
And it is from that perspective that he began writing reviews of SUP boards in online forums, and posting Youtube videos of himself riding his favorite brand of board, Sunova of Australia.
"I am their mascot," he said. "They don't pay me, but they give me boards for me to ride. I review them. I take videos. I try to show the boards as they really are."
It is his passion for SUP that compels him to do the reviews, he said. "Stand-up brought me back to the world of the living," he said.
And he said that comparing stand-up surfing to surfing, "There's nothing missing."
And when the water is calm, he said, he can go exploring Cape Cod. "There is no where I like paddling as much as Cape Cod," he said.
"Last year I surfed or paddled 238 days on Cape Cod or somewhere else," he said.
Butler said, "Today, right now, if there's four-foot waves anywhere on Cape Cod, he's there stand-up paddle boarding, and he rips it."

Shark Worries
One day in late May, Weeks was out off Coast Guard Beach with three others, riding the waves and looking for waves. Well, there were more than three others in the water but a lot of the bobbing heads seen that day by Cape Cod Wave, as we shot photos, were of seals.
"I almost landed on one as I fell off," said Weeks after more than three hours in the water.
Weeks said, that with all the seals out there, he is worried about the potential for a shark attack. He thinks that potential isn't being taken seriously enough by town officials considering, he said, "They think it's big business. But just wait."
He said that if he is eaten by a shark his final thought will be, "I just ruined the economy of Cape Cod."
Yet it doesn't stop him from getting into the water as much as possible.

Surfing: "It's breathtaking."
"When you drop down into your first wave and look down at the big hole, it's breathtaking."
Weeks said he has spent a lot of time pondering the appeal of surfing and he said, "It starts with the energy of a wave. There is no moving water on a wave, just an energy. Think of a 50-foot long rope and you shake it to create a wave. The rope doesn't move, just the hump moves," he said.
"Surfing is falling," he said. "There are so many forces at play. You are moving in and down and sideways. It's extremely sensual."
"The water is soft under your board, and silky," said Weeks. "And when you turn on it, it is sensual. There are so many moving parts and it's all so free. It's all that you can't get from skiing when you are going down the mountain. The mountain doesn't move."
And, said Weeks, "once a wave goes up on the beach, it's gone. You didn't touch anything. You didn't ruin anything. It's there for a moment and then it's gone, never to be repeated."
And the best part, he said, "I can do it over and over again."
All Cape Cod Wave Surfing Stories
For more stories like this, please see Longform stories 
---

** Please support independent local journalism.
See the DONATION BUTTON AT THE TOP OF THE PAGE **

---
– Please like us on Facebook.
---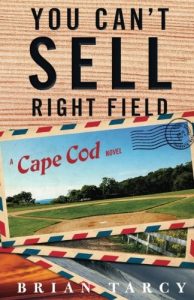 –PLEASE SEE You Can't Sell Right Field,  a novel from Cape Cod Wave about land for sale, a crooked developer, a softball team called, "The Townies," and an election.
Based on the true story of a Cape Cod development.