WOODS HOLE – The last time P.K. Simonds, a screenwriter with a long track record in television, was involved in theater was decades ago as a student at Harvard University when things changed for him in minutes from "completely excruciating" to "one of the best experiences in my life when the audience started laughing."
Decades after directing that one play in college, Simonds, is venturing back into the world of live theater with a reading for the Cape Cod Theater Project at Falmouth Academy on Sunday, July 22, of his new play, Bearded Ladies.
The play takes on the complicated #metoo subject matter. Written after the Roger Ailes sexual harassment scandal but before the Harvey Weinstein scandal that prompted the accelerating social change, Simonds said, "I started wondering how woman survived in a working environment like that. What their survival strategies might be."
"I came up with sort of a comic premise that became more serious as the idea developed," said Simonds of the two years he spent working on his play.
"It is very accomplished writing, very mature writing, and it's an interesting subject matter," said Hal Brooks, artistic director for the Cape Cod Theater Project, which develops new plays for the American theater by putting on staged readings with professional actors.
After the reading on Sunday, Simonds said, "from what I understand, the next step is to find a festival or theater company that's looking to produce original work."
For the reading of Simonds play, television star (Law & Order) Sam Waterston will be one of the actors. Waterston is a cousin and former producing partner of Simonds wife, Beth Colt, said Simonds. 
"It's thrilling," said Simonds about Waterston's involvement. "He's a terrific actor and having a terrific actor like Sam will inject energy into the reading, which will feed everyone, including the other actors."
Simonds understands the importance of casting. All those years ago when he directed the play at Harvard, he said, "Luckily we cast the central role well." But that main character didn't come out for the first few minutes of the play and before he did, "there were a lot of jokes but not a lot of laughter."
That was the excruciating part. But when the main character walked on stage and the audience responded, Simonds said he found it to be "incredibly powerful."
And now he is back to the theater after all these years, this time with a script he wrote. After working on the script for two years and having it read but not performed out loud for an audience, he knows the reaction will be raw and immediate.
"There's no place to hide anymore," he said. For a writer used to being insulated from his audience, he admitted, "It's a crazy risk."

A TV Writer Writes A Play
After a long career of writing for television, including Party Of Five and Beauty & The Beast, Simonds said he was "intrigued" by the idea of writing a play. "I have been writing dialogue for actors for 30 years," he said. "But I had not ever written a play."
"In theater you can take your time," said Simonds. "You can take risks with characters and story and rhythm. Those risks are harder to take in television."
"The best plays challenge people and don't give easy answers," said Simonds.
"Plays are very freeing," he said. "You can take a lot of liberties in playwriting that are difficult to take, certainly in television… one of the pretty hard and fast rules about television is short scenes. Audiences are assumed to have limited attention spans."
The job of a television writer, said Simonds, is to write something great and then do it over and over. "A lot of things have to happen, and a lot of things can't happen," he said.
"You can't kill people, by and large," said Simonds, of the restrictions of a TV series. "You can't kill certain characters. You can't rupture relationships by and large. A play doesn't have that burden. It has a beginning, a middle and an end," he said.
"Television is never just about the first episode," said Simonds. "No one ever bought a pilot they didn't think could be duplicated again and again."
But in theater, he said, "there's a lot of freedom. You can jump around in time. You can have the characters talk directly to the audience. You can be creative in a lot of other ways… I'm using all those techniques."
"It's a balancing act," said Simonds. "I don't want to over do it, but I'm using all those techniques to make the storytelling clearer, to make the rhythm easier to understand."
And while Simonds, who lived for 25 years in Los Angeles, is debuting a play in Falmouth and is eager to talk about the creative freedom it allows him, it does not mean he has given up writing for television shows. He continues to get work from 3,000 miles away.
"It's a little bit like the Godfather," he said. "I thought I was done but they keep pulling me back in."
As Laurie McCarthy, a writer who has worked with Simonds on several shows, said, "Everybody who's ever worked with him, including the studios, wishes he would come back to L.A.. But I think he's really happy in Woods Hole. He just loves where he lives."
Eight years ago, Simonds and his wife Beth Colt, a successful Hollywood talent manager, left Los Angeles and moved to Cape Cod and bought the Woods Hole Inn, which Colt now runs while Simonds writes.
"We always say, we're living a cliche," he said. "Especially buying the bed and breakfast."
It is the perfect turn in the story of a storyteller who has been studying plots since before he even knew he was doing so.

Raised On Television
Simonds, 58, was born on Long Island and spent his early childhood in New York City and then Connecticut, he said.
His parents were divorced when he was 4 years old and he was raised in the kind of family, he said that, "They used to call it Yours, Mine & Ours." He has one full brother, two half sisters, one half brother, and four stepsisters.
"I don't think I have any real memories of my parents being together," he said. He was young enough that it didn't affect him, he said, and his parents "remained civil and friendly and really agreed on any parenting questions."
After his parents divorced, his father moved north of Boston so he spent a lot of his childhood in Massachusetts.
But mostly, he spent it watching television.
"My family used to joke you could light my feet on fire when I was watching television and I wouldn't notice," said Simonds.
He described himself in childhood as "a big fat nerd. I was into comic books and photography and adventure novels and television like you read about. I knew the entire TV schedule, all the channels, all the hours of the day."
He loved the classic 1960s television shows like Get Smart and Batman and Hogan's Heroes. "All the stuff that was on back then," said Simonds of his TV watching habits.
"One of the reasons I was obsessed with television was I started to see patterns," he said. "It became a game of guessing what was going to happen in a story, and to appreciate well-told stories."
While he evolved in childhood into imagining himself being a writer, if anyone had asked him "when I was really little" what he wanted to be when he grew up, "my answer was I wanted to be a millionaire. I watched Gilligan's island, what was his name, Thurston Howell III… I might have been taken with that suitcase full of money."
But as he got older, he became intrigued with storytelling and it wasn't just because of his constant exposure to television. "My stepfather was a book publisher and editor in New York," said Simonds.
"We had authors around the house," he said. "It seemed like something you could do. Writers weren't mystical to me.  They were people who came by and shared meals and jokes with my family so it did feel like something in the realm of possibility."
In fact, said Simonds, "I said that to my stepfather on his deathbed. I probably wouldn't have been a writer if it weren't for him. He made writing seem like it was possible. Not just the people I was exposed to, but the encouragement he gave me."

Europe – The Informal Education Of A Writer
"Certain movies, like ET and Star Wars had an intense emotional effect on me," he said. Simonds at a young age was not only understanding patterns in storytelling, he was grasping its power as well.
While he did some writing in high school, he said, he knew that it is "a very challenging craft."
There was room to grow, apparently in a few ways. "I didn't have many options coming out of high school. I had kind of a checkered high school career," said Simonds.
His parents did some research and found out about a small American college in Switzerland. He attended Franklin College, now called Franklin University, for two years before transferring to Harvard.
Unable to get into Harvard for the first two years, Simonds said, "My parents were huge proponents of travel and seeing the world." 
"I learned what it meant to be an American. It's a vague, abstract idea to many Americans who haven't seen more of the world. When you do see more of the world and meet more people outside of America, you begin to understand what's different about yourself. The freedom of thought and the idea of limitless possibility is a gift and a birthright to Americans."  – P.K. Simonds
His parents thought it would be horizon broadening. He said, "It was an amazing experience. I did what you do when you backpack through Europe. I went to Eastern Europe… I went to Israel. I just went everywhere."
And he learned.
"I learned what it meant to be an American. It's a vague, abstract idea to many Americans who haven't seen more of the world. When you do see more of the world and meet more people outside of America, you begin to understand what's different about yourself. The freedom of thought and the idea of limitless possibility is a gift and a birthright to Americans," said Simonds.
"In a lot of countries, there's sort of this sense that you need to accept a lot of things about life. The class system is more ingrained," he said. "In other parts of the world, there isn't always a dream like the American dream."

Harvard, Then Hollywood
He transferred to Harvard, where his father had gone, and he eventually graduated with an English degree. While at Harvard, Simonds took some time off to work on a political campaign, he said, but he returned to direct a play as well as finish his formal education.
 "I was briefly a philosophy major and a psychology major, but I ended up in English," he said. "I tried to be a film major but there were too many requirements to squeeze in at the time."
When he graduated from college, he had an idea for a movie that he pitched to an executive in New York. The executive couldn't help with the movie, but he offered Simonds a two-year internship; a year in New York and a year in Los Angeles.
"It was that first job I got out of college that set my path," he said.
Although the internship didn't pay very much and the work in the New York office had a lot to do with "sales and marketing and financing and deal making" Simonds was beginning to learn the business.
He wrote annual reports, quarterly reports, and the company newsletter. And he observed.
He knew that one of the interns before him was already building a career. That intern was David Frankel, who went on to direct The Devil Wears Prada.
In New York, Simonds said, "I learned a fair amount about the business. But it wasn't the part of the business I was particularly interested in. That was happening in L.A.."
It turned out that the Los Angeles part of the internship wasn't much more interesting, but it offered something New York could not – geography.
He started to meet people in the business.
In fact, he left the internship early after getting a job as an assistant to a producer and director, who were partnered.
That producer, Mark Gordon, hadn't done much other than a couple of After School Specials at the time, said Simonds. Gordon went on to produce Speed, Saving Private Ryan, Grey's Anatomy, and many other TV shows and movies.
Simonds' job working for Gordon entailed answering the phones and reading scripts. "There's a whole subculture of people in Hollywood who write coverage of a script. They write a synopsis and a little bit of an analysis about the writing quality, and how it might fit in to the market," he said.
"Most of what you read is not good," said Simonds.
"That's both good and bad for an aspiring writer," he said. "It makes you feel like you could do that. But it's bad because you're not necessarily learning a lot. You're learning a lot more don'ts than dos, but it's all valuable."
While Simonds was working, the young aspiring writer was also writing. "I started writing movie scripts," he said. "Generally speaking, they weren't that good."
But he had a friend who worked in television who started getting Simonds interested in writing for television shows.
Despite early struggles, he said, he kept at it due to "the arrogance of youth. You feel like you know better than the people who are doing it professionally," he said. "That was reinforced by a friend group, some of whom were having success that was encouraging."
Simonds was showing his work to others in the business and he kept getting "little bits of encouragement," but he was running out of money.
"I got the proverbial phone call from my mother," he recalled. "She'd been supportive for a couple of years at that point but she said, 'Maybe you should consider law school or something.'"
It was a moment of clarity. "I sat down and wrote a TV script," he said. The script, which took him about two weeks to write, was "the first TV script I wrote."
The script was for a show called Hooperman, created by Steven Bochco and starring John Ritter. "It was a precursor to Brooklyn Nine-Nine… It was the right kind of material for me. There were dramatic elements but also some comedic elements."
And while the episode to Hooperman did not get made, it did not matter. He wrote more scripts and got interest from the right people.
"I got my scripts to a bunch of agents. A handful of them read the material, and two of them wanted to sign me," he said.
"It was the most exciting thing that ever happened," said Simonds. "Suddenly everything seemed possible."
"Of course," he added, "it's just the beginning of more hard work."

The Business Of Writing For Television
 "When you write something good, it doesn't matter if you show it to the show in question," said Simonds of his experience with the Hooperman script.
"There's a never-ending appetite for capable writers," he said. "Agents are constantly on the lookout for new talent they can market."
Of course, the caveat to that is they will market talent that is either well established, as Simonds from 3,000 miles away is now, or if they are in Los Angeles, as he was for 25 years of his career.
"I teach a symposium every winter about television writing," said Simonds. "The first thing that I tell people that unfortunately is very true is that it's difficult to break into the television industry if you are not in L.A.."
And so he set down roots in the hills of the industry town, marrying Colt, whom he has known all his life. "Our Dads were best friends in Boston when they were growing up," said Simonds, making the cliched story of their lives feel even more so.
He began getting jobs and "basically I never stopped working after that," he said. "Television is very systematized. Once you work on a writing staff of a television show, if you work hard and do a good job, you're going to keep working."
Simonds quickly learned that writing for television is "one of the last apprentice systems. You start out as what is called a baby writer. If the show is successful, you can rise through the ranks. As you do that, you wear different hats, and have different levels of responsibility."
"Every TV show is written by a collection of six to 12 writers in the trenches together day in and day out," he said. The workload is divided by episodes. After the entire writer's room has broken down the story, he said a team of writers with various levels of responsibility is assigned to write the scripts of certain episodes
Through the years, he has been at all the levels, including the top level, called the show runner, "basically the head writer," he said.
"I've been show runner a number of times. It's a lot of creative control and very satisfying," said Simonds, "but it's a butt-load of work. You are responsible for every single episode, 22 episodes in ten months."
The first time he was a show runner, "and I realized that there was no one between me and the actors and the production company and ultimately the audience," he said he suddenly "saw the script through different eyes."
"I went over that script and made it as good as I possibly humanly could," he said. "There's a clarifying moment when you realize the script isn't just going to be read, it's going to be heard." 
Besides the writing, the show runner has to "supervise the casting of the episode, supervise the production of the episode. There is a long meeting with the director before the director begins shooting. There is post production. You have to supervise the selection of music. The editing…"
Someone running a show, he said, is "typically involved in eight different episodes at the same time, in different stages of creation."
For years, this was his life. The grueling schedule, the glamorous parts of the life, the creative control, and, not unimportantly, said Simonds, "the money."
It was what kept him going for all those years on the West Coast.
"I've been very, very lucky," he said. "I've had a good amount of success in Hollywood. My boss with the Beauty & The Beast told me the reason to do television is to pay the bills and that will buy you the freedom to do what you want in other realms."
But eight years ago, Simonds said, he realized that the job was "so incredibly grueling and time consuming that I never saw the kids." At the time, his son Charlie was 12, and his other son Sam was 9.

Moving To Woods Hole
After 25 years in Los Angeles, with their children halfway to adulthood, Simonds and Colt left Hollywood.
"For us, if we were going to move across the country, it needed to be for a life that was different in some substantial way," he said.
They had been coming to Woods Hole for summers for long time, he said.
"Beth grew up coming to Woods Hole. And our kids grew up coming to Woods Hole," said Simonds. So it was a natural choice for such a drastic cross-country move, he said.
And while he continued to get lots of work in Los Angeles, Simonds said one of many reasons for the move was, "Creatively and professionally, I started to feel like I wasn't learning anything. I was having the same conversations over and over again. While every show is different, and every episode is different, a scene is a scene," he said.
"It's a skill and I was good at it," he said. "But just because you're good at making omelettes doesn't mean you want to make omelettes the rest of your life."
He was ready to move on. Both he and his wife have family on the East Coast, and, he said, he thought his children would benefit from a change in perspective.
In fact, he said, "When we moved from Los Angeles to Woods Hole and found ourselves surrounded by scientists, my oldest son's interests shifted from the entertainment industry to science. Now he's studying engineering," said Simonds.
"Woods Hole itself is a really unique place because it's like a small college town," he said. "It has all the kinds of eclecticism of a small college town with an interesting collection of people who know a lot of things about stuff we don't know much about."
The only question the family had about the move, he said, was what Colt would do for work. There wasn't a lot of opportunities for a Hollywood talent manager in Woods Hole.
And so they bought the inn and Colt, running the popular Woods Hole Inn and Quicks Hole Restaurant, as well as Quicks Hole Taqueria, has since become one of the most visible non-scientists in Woods Hole.
Simonds keeps a somewhat lower profile. But he's not invisible. 
"Whenever I hear his name, a smile comes to my face," said Arlene Lowenstein, who serves on the Board of Directors of the Woods Hole Historical Museum with Simonds. She described Simonds as "tremendously respected throughout the community," and "very involved."
"We're lucky to have him in our community," said Lowenstein, who said she had no idea of Simonds Hollywood background when she first met him.
"I knew he was smart, I knew he was funny, and I knew he was very creative. But I had no idea. He doesn't wear it on his sleeve. He's a very humble person," said Lowenstein, who noted that as a volunteer, "If he's passionate about something, he just goes for it."

Stretching Boundaries In Theater
Simonds, the brand new playwright, with the financial and creative freedom that comes directly from a career in television, is testing his own boundaries.
"Entertainment is always about testing boundaries," said Simonds, who noted that, as a child, "the most outrageous thing that happened on TV was in I Dream Of Jeannie when you saw her belly button."
"There was a tiny bit of diversity sneaking into popular culture," he said. "And a lot more female empowerment."
Still, as he learned as a child and then re-learned as a professional, television has its own rules.
One of those rules is that a writer like Simonds, with his long track record, can keep getting work even though, "I thought I was done. I thought I would never make another dollar in the TV business."
McCarthy, who has worked with him, said Simonds is "a real mix of things in terms of his writing and interests. His real love, I think, is politics. And he's an extraordinarily emotional writer. He's able to dig deep and find that emotional part of himself and put it on the page."
And as a genre writer, she said, "He's good at world building."
Simonds said there are advantages to working from 3,000 miles away. "Working on shows from a distance means it gets me back to the roots of what I do, which is just the writing," he said.
Coming to Woods Hole has taken him to creative places he had not gone in Los Angeles, he said. Besides the play, he is finishing a book, "a middle grade sort of whimsical science fiction fantasy for kids from 8 to 80," he said.
He is also developing a new show with a friend who created Party of Five about "the early days in the formative stages of a fictional cult."
His new play, Bearded Ladies, is about gender politics, what he calls "one of the most complicated, thorny and important issues that our culture has to grapple with. Anything connstructive I can add to the conversation is worth the effort."
Asked what made him, as a middle aged male, the right person to write such a play, he said, "That's a totally fair question… My only answer is that it's a story that came to me that I tried to write about honestly."
He described himself as "a touchy feely guy who cries at commercials. I'm in touch with my emotions. I have sisters and mothers, I have nieces. I have lots of women in my life who I sometimes feel I understand better than the men in my life," he said.
And while Simonds continues to work in television, he said, "I feel much less pressure to turn my work into money."
His successful career, he said, gives him "the freedom to turn my work into a meaningful experience for myself and whatever audience it finds. I don't care much about the size of the audience. I want the audience that experiences the work to be affected by it."
– Please like us on Facebook.
For more stories like this, please see Longform stories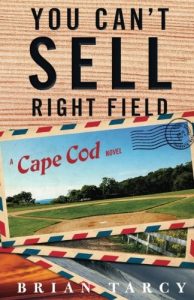 – A Novel By Brian Tarcy of Cape Cod Wave
"This is a terrific read. Brian Tarcy's style and sense of humor make it easy reading, while his subject matter is of more importance than most communities realize. If you care about growth in your community and the lack of thoughtful planning, you owe it to yourself to read this thoughtful piece of fiction that is all too real in smaller communities in our country."