WELLFLEET – On Saturday, we looked up in the sky over Whitecrest Beach and we saw something flying. Was it a bird? No. Was it a plane? No. It was paragliders in flight, and it sure looked super fun.
So we shot this video and paired with with new original music, "Carry Me," by one of our favorite Cape Cod bands, The Grab Brothers. We have collaborated several times with this great band for obvious reasons, their music fits Cape Cod so perfectly. Please check out their website and support them.
"I think everybody dreams of flying," said Barry Kriger, a certified paraglider pilot from West Springfield. Kriger was one of about 10 paraglider pilots who took advantage of an east wind to soar over the crescent of the dune cliffs along the beach.
"We launch with our own feet, just as man was intended to fly,'" said Jeff from metrowest Boston. Jeff, unlike Clark Kent, who also flies incognito, declined to give his last name.
The mysterious Jeff said conditions have to be right for a paraglider to be able to fly. 
"We only fly on a east wind day, when the wind comes in from the east," said Carl Sjoquist of Scituate.
When the wind comes in from the east, said Jeff, it hits the dunes and then goes up. This rising air is what the paragliders are riding on, he said.
Whitecrest Beach, is a "world class" flying site, said Kriger.
But the season for flying at the beach closes from April 15 to October 1 for piping plover nesting season, said Sjoquist. 
Jeff said the group is very careful to take care of the environment, follow the rules, and stay off the dunes. But it is those dune cliffs that makes flying here so special, he said.
"If the wind is just right, you can sort of park by aiming out, looking out at the ocean. I've seen whales, seals, more," he said. But a paragalider must be moving, he said. "It's a wing, not a parachute," he said.
"We are an aircraft," said Jeff.
In order to fly, pilots must go through a certification process, said Jeff.
A wing can cost $3,000 or more, said Kriger. And there are other expenses, including a helmet, electronics, a harness, a radio and more.
Most of the group were with the New England Paragliding and Hang Gliding Club, said Sjoquist. There are 200 dues-paying members of the club, he said.
The club was started in 1993 "to better the safety of free flight in the New England region," according to its website. The group provides mentors, planned events, access to flying sites and more.
In order to fly, pilots must get certified – passing a written test as well getting several hours of instruction and then passing a practical test.
Kriger, a former television reporter in Springfield, said he was working  20 years ago when one of his producers showed him video of paragliders in flight that he had shot while hiking on Mount Tom in Holyoke.
Kriger's immediate reaction was, "Holy shit, I've got to do that."
He took some flight lessons and got certified at a school in Charlestown, New Hampshire, he said, and has been hooked ever since.
"This thing sort of consumes you. I am an addict for something for which there is no 12-step program," he said.
– Please like us on Facebook.
---

** Please support independent local journalism.
See the DONATION BUTTON AT THE TOP OF THE PAGE **

---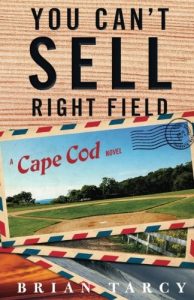 –PLEASE SEE You Can't Sell Right Field,  a novel from Cape Cod Wave about land for sale, a crooked developer, a softball team called, "The Townies," and an election.
Based on the true story of a Cape Cod development.