DENNIS – It's pretty simple, of course. "I just came out here to enjoy the fresh air and the sunshine, and maybe catch a fish," said Randy Foy, who stood in his waders in the recently unfrozen water of Scargo Lake.
He was trying to catch trout. The lake is stocked with them, he said. Foy, of Dennis, has been fishing for 65 of his 68 years. "It's what I like to do," he said. "It's a nice day, I live close by."
He was born in Plainfield, New Jersey and has lived on the Cape for more than 40 years, he said.  Foy said he is a retired carpenter and builder and now enjoys fresh water fishing.
"I don't do any more saltwater fishing," he said. "They drove me away. It's a new culture of fishermen. They're very inconsiderate, always in a rush. It's a sign of the times, I guess," he said.
"It happens most at launch points," said Foy. "There have been tense discussions, even fisticuffs."
So he instead opts for the calm of fresh water fishing. He gets some worms for four or five dollars, and I just watch the bobber. It's as simple as it gets. I could be here an hour, or I could be here until sunset. It's therapy. It's relaxing. It's calming, I can think about things."
The bobber had not moved. It floated. He said he catches fish "more often than not." But, Foy added, "I may go home with all my worms today. That's why they call it fishing. Catching is the other thing."
Still, he enjoys just being at the lake. "I like to fish when there are not any people around bothering you," he said to this reporter.
– Please like us on Facebook.
Click here to see our Fishing stories.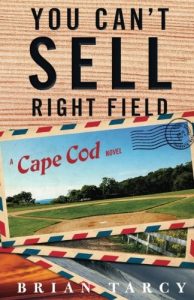 A Novel By Brian Tarcy
A softball team called the Townies. A slick developer with a sketchy story. A town divided over a zoning change….— YOU CAN'T SELL RIGHT FIELD, A Cape Cod Novel