EDITOR'S NOTE – This is a short film by independent filmmaker Bob Burnett is about a painting, a painter, a Truro house, and its occupants. The below text is by Burnett.
—
The idea for a film about Marshall's House started in the fall of 2015.  My wife, Susan, and I had been invited to stay at our friends, John and Susan Marshall's family house in South Truro.  Somewhere in the conversation John mentioned rather casually that Edward Hopper had painted a watercolor of the house in 1932.
I had a "wait a minute, what?" moment hearing that.
I knew very little about Hopper's time in South Truro so, just like in Hopper's painting "Rooms by the Sea", finding out about the "Marshall's House" painting made the door swing open and in came the sea and sky.
I ended up bringing a camera along on trips over the following two years, not really knowing how a film would develop.
I initially tried an art-focused approach about how the Hoppers would drive around Wellfleet and Truro and stop to sketch from the back seat of their car.
Over time, rough cut edit after rough cut edit led to reduction: reducing the art facts and the historical details of Marshall's house and the region.
The strength of the story for me became the connections between the painting itself and the Marshall family's five generations of love for the house.  Marshall's House is quiet, a place of reflection due to the family treasures and generations of photos.
It is settled in time—not frozen. John told me he sometimes thinks he hears Red Sox games from grandmothers' radio floating in the wind.
John's mother, Joan told me that after years of looking at posters and postcards of "Marshall's House" she saw it for first time at the 2007 Hopper Retrospective and promptly burst into tears.
I realized I needed to advance this film from being not just a montage of lovely Cape Cod shots.  It needed the art of Hopper and the thoughts of those who could help tell this story.  I needed the financial means to make it all come together.  The Robert P. and Arlene R. Kogod Family Foundation made that happen.
The plan became to make a short film, make it available to museums, art galleries—anyplace and anyone who wanted to show the film and to share it with film festivals worldwide.  The film was completed on Valentine's Day and initial response has been wonderful.
—
Bob Burnett is an independent filmmaker who lives in Washington, DC. creating documentary and media productions for a wide range of foundations and public policy organizations.  He has received more than 150 film festival and industry awards for his work. His last film, "The Art of Richard Thompson" screened in film festivals worldwide.  His webpage is boburnett.me 
– Please like Cape Cod Wave on Facebook.
[quid-slider initial=.99 min=".50″ text="Support Cape Cod Wave"]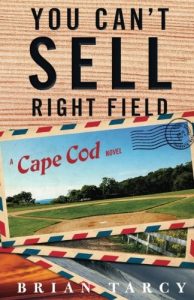 – A Novel By Brian Tarcy of Cape Cod Wave
"This is a terrific read. Brian Tarcy's style and sense of humor make it easy reading, while his subject matter is of more importance than most communities realize. If you care about growth in your community and the lack of thoughtful planning, you owe it to yourself to read this thoughtful piece of fiction that is all too real in smaller communities in our country."