FALMOUTH – We always thought it was magic, or perhaps Santa and his elves that put the lights on the top of the trees in downtown Falmouth every holiday season.
It's even better than that. It's the guys in the parks department of the Falmouth Department of Public Works.
With the proven stealth technique of using big trucks and plain view, these workers go unnoticed year after year as the decorations get all the glory.
But by using actual shoe leather journalism, we found them and even filmed them in Peg Noonan Park in the act of transforming a regular tall tree into a soon-to-be lit-up tall tree, with lights all the way to the top.
But wait, there's more. The Village Green itself, it turns out, is also their concoction. Again, not elves. We, in fact, found additional parks department workers on the Green, making Falmouth festive again.
It's crazy. Do they go to every town in the world doing this?
Well, at least they do so in this town, which will soon look like a perfect New England holiday postcard – just add snow.
And now we know how it happens every year. It isn't elves. It is the town of Falmouth parks department.
Which is cool and all but, we now we wonder about Santa Claus. You don't think that these guys… nah. Couldn't be, Could it?
The lighting of the tree (the "tree" is actually lights strung to the flagpole… shhh) is this Saturday on the Village Green. The caroling and lighting ceremony begins at 7 p.m..
– Please like us on Facebook.
For more photos from across Cape Cod, please see Scenic Cape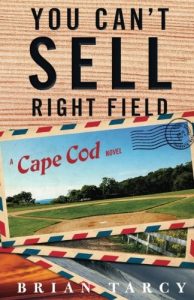 – A Novel By Brian Tarcy of Cape Cod Wave
A softball team called the Townies. A slick developer with a sketchy story. A town divided over a zoning change….— YOU CAN'T SELL RIGHT FIELD, A Cape Cod Novel